Inside Katie Holmes and Jamie Foxx's Secret Romance: The Tom Cruise Factor and More
When it comes to celebrity divorces, things can get really messy, and some stars have pretty unusual requests laid out in their settlements. It's been reported by some media outlets that this was the case with Tom Cruise and Katie Holmes when they ended their marriage on July 9, 2012. A source claimed that as part of their divorce settlement, the actress could not publicly "embarrass" the Mission Impossible star by going public with another relationship until five years had passed.
This would explain why Holmes and Jamie Foxx went to great lengths to keep their romance a secret for so long. Now that the five-year mark is up, the two have finally come out as a couple. However, another outlet reports that the "Cruise ban" is totally made up.
Here's a list of everything we know about Holmes and Foxx's romance, including the star who accidentally outed their relationship (page 6).
Holmes filed for divorce because she didn't want her daughter raised as a Scientologist
After six years of marriage, Holmes filed for divorce from Cruise reportedly because she did not want their daughter, Suri, raised as a Scientologist and becoming a member of the Church's Sea Org.
They finalized a settlement just 10 days after the filing. Both parties reportedly agreed that Suri would not be involved with Scientology in any way.
Next: Did Cruise really prevent Holmes from dating after their divorce?
The so-called 'dating ban' was part of the divorce settlement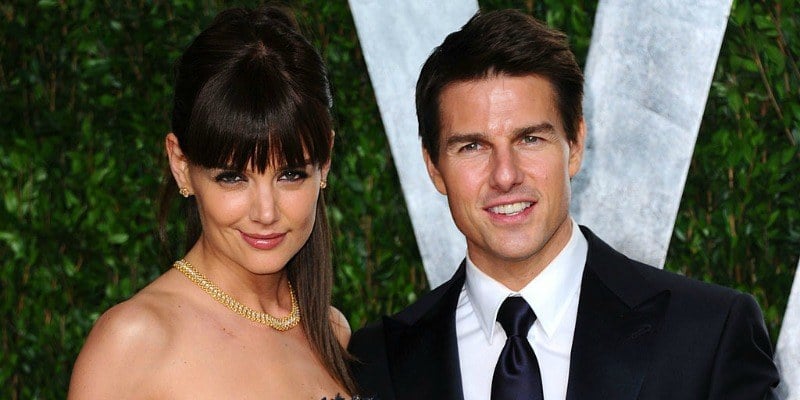 A report from Radar Online surfaced in 2016 that claimed the reason Foxx and Holmes had to hide their romance was because of a dating ban Cruise included in their settlement.
"Katie signed a clause in her quickie divorce settlement that prevents her from embarrassing Tom in various ways, like talking about him or Scientology, or publicly dating another man for five years after the divorce," a source told the publication, also adding, "Katie wanted out of the marriage so badly, she agreed to the terms — and got $4.8 million in child support, plus another $5 million for herself."
Gossip Cop has since disputed this story and called the allegation of the ban put in place by Cruise "fiction."
Next: The dating rumors with Foxx and Holmes started here.
Foxx and Holmes first sparked dating rumors in 2013
The Oscar winner and Dawson's Creek alum first sparked dating rumors back in 2013 when they were spotted dancing together at a charity event.
Those rumors never died down, but the pair still seemed determined to try and keep their relationship private. This included Holmes wearing a disguise when she would visit Foxx.
Next: These are the excuses Holmes and Foxx gave when asked about their relationship.
They denied being a couple for years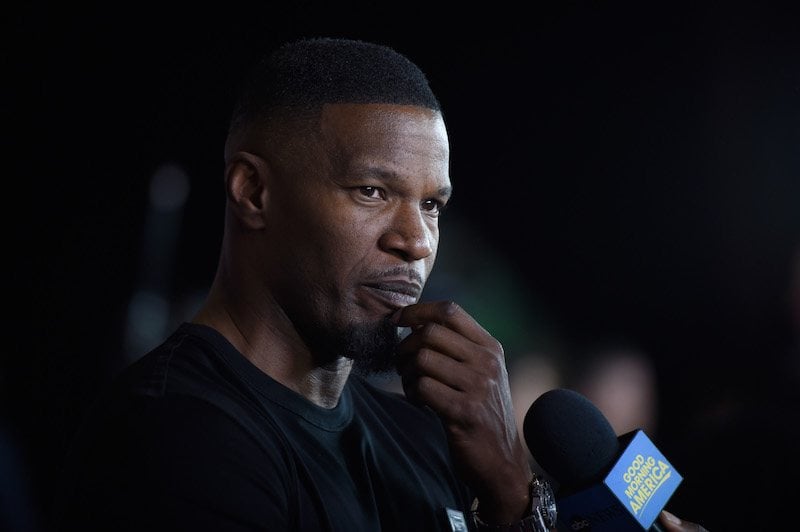 Even though everyone believed the two to be a couple, the duo never admitted it. When Holmes was asked if they were dating she flat out refused to answer the question, and when Foxx was asked, he denied it and instead gave the line that they were "just friends."
When pressed more by the paparazzi, he responded that they were hanging out because they were working on a project together. "That's all it is," he said.
Next: Holmes is spotted with a ring on an important finger.
Engagement rumors swirled after Holmes wore a ring on that finger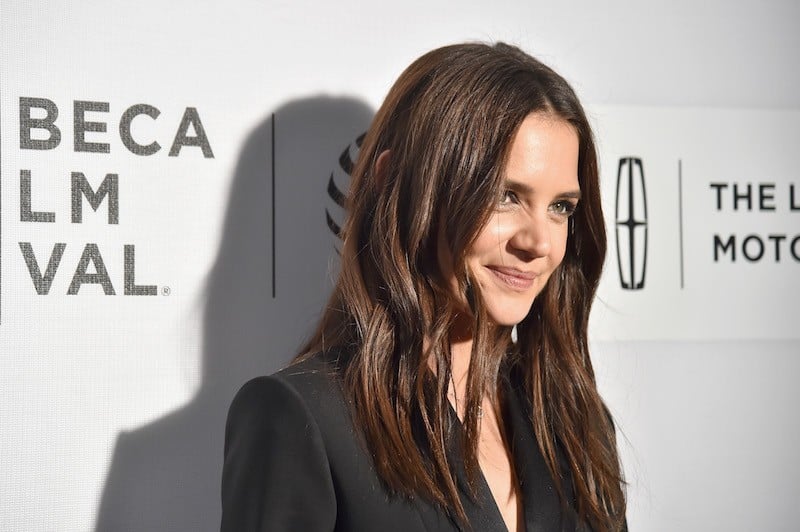 While Holmes would not acknowledge the status of her relationship, she had engagement rumors swirling when she was spotted with a ring on that finger.
Sources close to her and Foxx quickly debunked those reports before they got out of hand. The insiders explained that the stars were not engaged and that the ring was simply a piece of jewelry that Holmes liked wearing.
Next: This star outed the couple during a podcast.
RHOA star Claudia Jordan outed the couple during a podcast
A hiccup that disrupted all the work to keep their relationship a secret occurred in 2016 when Foxx's pal, The Real Housewives of Atlanta star Claudia Jordan, outed the two actors as a couple. The reality star accidentally let the cat out of the bag when she joined the Allegedly podcast and said, "[Foxx] is very happy with her [Holmes]. I like that he seems very happy."
Once the tabloids jumped on Jordan's accidental outing of the pair, she quickly backtracked. "I have no knowledge of Jamie with Katie at all," she told ET. "I've never seen them together. He's never told me he's dating her."
Next: The photo that finally confirmed the relationship status.
Holmes and Foxx's relationship finally confirmed
Jamie Foxx and Katie Holmes Finally Out in Public As a Couple https://t.co/rIedjohu12

— TMZ (@TMZ) September 6, 2017
The couple's relationship was finally confirmed in 2017 when they were photographed together in Malibu, California, over Labor Day weekend, smiling and walking along a beach hand in hand.
If there was really some type of ban in place restricting them from making their relationship known, they seem to be relieved that it's out now — especially Holmes, who has been seen beaming from ear to ear after the big reveal.
Next: Foxx and Holmes have never done this.
Foxx and Holmes have never confirmed their relationship
Even though the cat is out of the bag, Foxx and Holmes have never actually confirmed their relationship. In fact, they did the opposite and denied it on many occasions by pulling the old "just friends" line.
So, despite their Labor Day PDA photo, or picture of them grabbing dinner in NYC, or gazing into one another's eyes at a pre-Grammy event, we shouldn't expect these two to suddenly do red carpets together anytime soon.
Next: Foxx ended an interview over this surprising question.

Foxx ends interview after being asked about Holmes
During NBA All-Star weekend in February 2018, the Oscar winner showed everyone that he doesn't appreciate being asked about his lady by abruptly ending an interview when a journalist went there.
Referring to some pictures that were published a day earlier, ESPN's Michael Smith asked, "Did you and Katie Holmes play basketball for Valentine's Day?" Foxx responded by saying nothing at all and simply removed his microphone and walked away, proving that if you want to talk to him, don't bring up Holmes.
Next: The deal not to speak might just involve Foxx and Holmes.

They agreed not to talk about the relationship
One of the main reasons, Foxx and Holmes have chosen not to discuss their love life is because it's something they agreed upon early on.
"Katie and Jamie have an agreement that they'll never talk about their relationship or each other in the press," a source close to the Dawson's Creek alum explained to Us Weekly.
The source added that Holmes was happy with the way Foxx handled the ESPN interview because she "felt he was respecting their agreement."
Next: They are still going strong. 

Why it works for them
Something these two have proven is that keeping things private works for them. A source told Us Weekly that their relationship also works "because of the love, compassion, trust and support they have for each other."
The source further explained that while they "lead their own separate lives, they confide in and rely on each other pretty heavily."
Next: They don't need to give attention to these nasty rumors. 

They don't have to deal with cheating, split rumors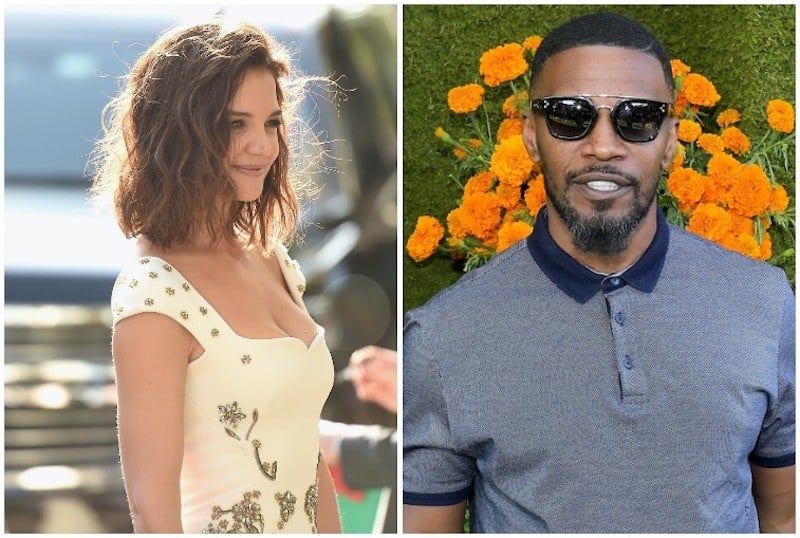 Finally, there have been reports about Foxx allegedly cheating on Holmes, and the pair breaking up. But since the couple makes it a point to not talk about their relationship, they never have to address the made-up splitsville rumors put out there by the tabloids.
Follow Michelle Kapusta on Twitter @philamichelle.
Check out The Cheat Sheet on Facebook!