Inside Kim Kardashian's Heated Feud with Male Model, Tyson Beckford
Over the years, Kim Kardashian West has feuded with many fellow A-list celebrities.
From Chloë Grace-Moretz to Taylor Swift, there have been a handful of people the reality star has had public spats with and each one was equally entertaining as the next.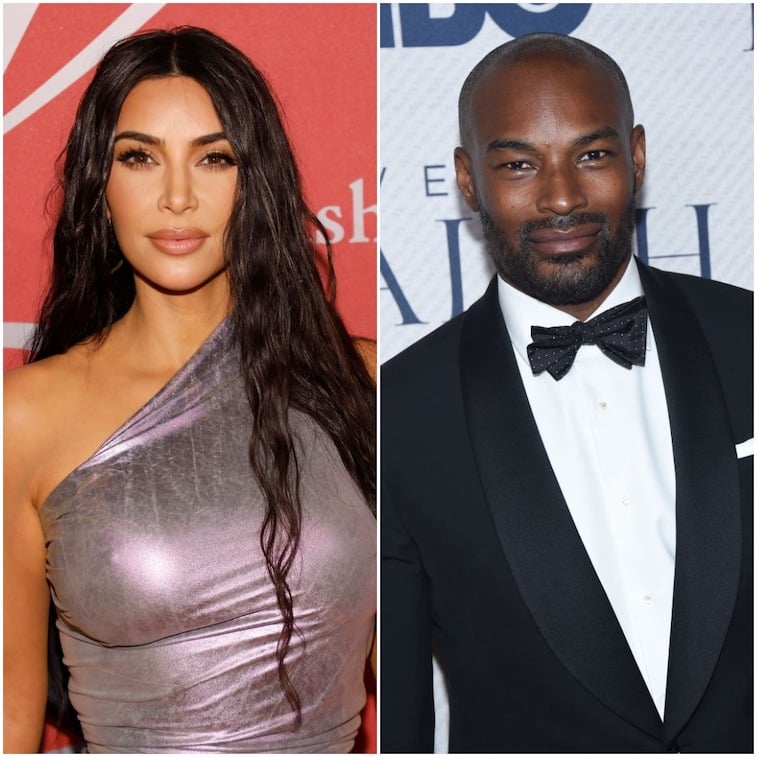 While some of Kardashian's feuds have been more intense than others, her heated quarrel with Tyson Beckford was definitely one for the books.
Tyson ignited the feud by sharing a few choice words about Kardashian
It does not come as a shock that Kim Kardashian West is a lot of people's least favorite person.
The reality star is not only known for her iconic E! series and brand, she's also known for her heated feuds with fellow celebrities.
Kardashian has found herself in so many feuds over the years, it's kind of hard for some of us to keep track of all of her public disputes.
While we can't remember every single one of her past feuds, the reality star's previous quarrel with Tyson Beckford is one that many of us still talk about today.
Back in July 2018, Kardashian got into a tiff on social media with the male model and their wordy exchange quickly turned into a pretty heated dispute.
It all started when The Shade Room shared a photo of Kardashian ahead of her appearance on "Jimmy Kimmel Live!" on their Instagram account.
The KKW Beauty maven was wearing an all-black ensemble, with tight velvet pants and an asymmetrical top.
While many of us are used to Kardashian's interesting fashion choices, Beckford had a few things to say about the reality star's getup.
In the comments under the post, the model wrote, "Sorry I don't care for it." He went on to comment again but this time, he seemingly accused Kardashian of going overboard with plastic surgery. "She is not real, doctor f*cked up on her right hip" he wrote before adding a green vomiting emoji.
Of course, the reality star didn't take kindly to Beckford dissing her on social media and clapped back at the model the following day.
Under The Shade Room's post, Kardashian commented,  "Sis we all know why you don't care for it" along with the tea, frog and painting nails emojis.
Things didn't get better from there
Shortly after she responded to Beckford's comments, fans began calling out Kardashian for alleging that the model was homosexual.
Though she didn't initially respond to the ongoing backlash, Beckford took to Instagram to seemingly touch up the reality star's comment.
In a now-deleted Instagram photo, the model showed off his muscular physique all while he denied being gay in the caption.
"Train 5-6 days a wk,(sic) weights Martial Arts and Firearms and I defend those who can't defend themselves!" he wrote. "I support LGBTQ 🏳️‍🌈, even though I'm not Gay. It's just the Human thing to do."
While Beckford seemed to have put his ill-feelings for Kardashian to rest after sharing his post, the reality star had a few more things to get off of her chest.
A week following the whole debacle, Kardashian shared her true feelings about Beckford and his bullying during her radio interview on Real 92.3.
"Really, dude? Like, you're going to body-shame me? Like, okay. Okay. Okay, sis. You're going to body-shame me?" she said. "People were sending me stuff on his page, he keeps on going and going and going, and I'm just like, dude, that's so female lame to me. That's just lame to me."
After her interview went live, Beckford took to his Instagram Stories to diss the KKW mogul yet again and double down on his previous comments about her appearance.
"My opinion on women who do plastic surgery stays the same, not for me! I personally don't care for it! End of story," he wrote. "Always gonna pick a Beyoncé over anyone else." He later added, "No surgery just gym it ladies."
Have Kardashian and Beckford put their differences aside?
After Beckford called out Kardashian once again on his Instagram, it seemed as though the two celebrities were done with the petty drama.
Although the model might still be a little upset about Kardashian's "sis" comment, he and Kardashian haven't bought up their beef since.
The only person to speak on the matter in the months following was the reality star's husband, Kanye West, who called out Beckford during an Instagram rant back in September 2018.
"As far as Tyson Beckford go, don't speak on my wife, bro. Like none of y'all speak on my wife period," he said in the now-deleted video.
Now that a full year has gone by since this feud made headlines, many people can't help but wonder if Kardashian and Beckford still have ill-feelings toward one another?
While we can easily assume that they might not have forgiven each other for their past comments, the two celebrities seem as though they aren't dwelling on the past.
Both Kardashian and Beckford are extremely busy in their careers and probably haven't even thought about their feud.
Although their dispute is now a thing in the past, we're pretty sure their feelings for each other haven't changed in the slightest.