Inside the Epic Bromance of 'Star Wars' Actors Oscar Isaac and John Boyega
John Boyega and Oscar Isaac play Finn and Poe in the Star Wars sequel trilogy, where the characters initially bonded over Poe's jacket. Off the set, the actors bond in some very unusual and funny ways — especially when it comes to fans bonding with them.
As toxic as fandom sometimes gets, it's easy to forget that although the toxic fans are the loudest, most fans are quite willing to roll with the new crew, including Daisy Ridley. By now, they mostly take this whole adventure in stride, although they're probably also relieved it's almost over with the release of Episode IX this December.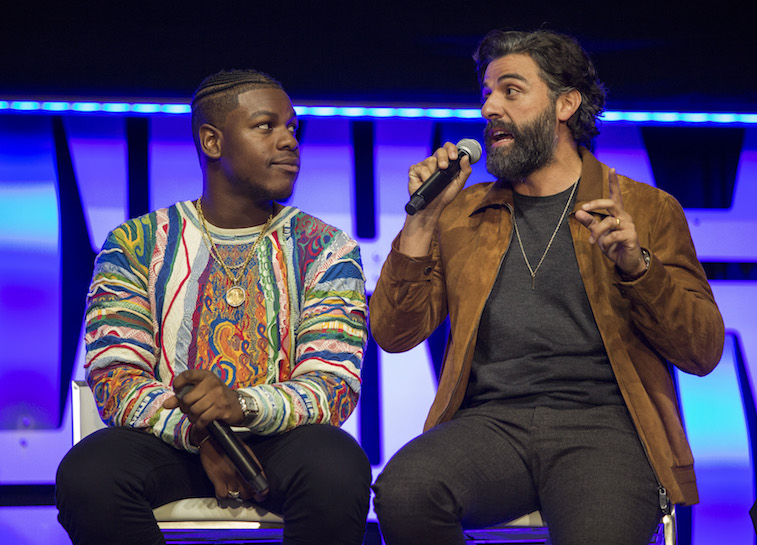 Boyega and Isaac make the best of their fame
Both Boyega and Isaac were known before The Force Awakens — Boyega with the cult sci-fi film Attack the Block and Isaac with acclaimed roles in Ex Machina and A Most Violent Year. Now, with the two having sort of a bromance onscreen, they carry it on offscreen as well. It's a good way to stay sane with the madness that inevitably comes with Star Wars.
Someone made a "mashup" of Boyega and Isaac's faces, with the result looking … not that creepy, actually. Boyega asked on Instagram "Who did this?" and he also shared a story screenshot of a dialogue between himself and Isaac.
Boyega: Did you do this?

Isaac: Babe. It's our babe.

Boyega: Bloody (h)ell, Oscar man
Boyega and Isaac: Rated PG-13 for suggestiveness
The actors have not been at all hesitant to play up the bromance between themselves or between their characters, especially if they publicly joke about a Finn/Poe baby. But their adventurousness goes even further than that.
On Buzzfeed, they agreed to read Thirst Tweets about themselves to each other. It's sort of like Jimmy Kimmel's Mean Tweets, except instead of being mean, these are lustful. For example:
Tweet: In other news, Oscar Isaac is still inexplicably, extremely hot to me, a giant lesbian

Boyega: Worldwide domination man, congrats

Isaac: Thanks, I appreciate it very much.

Tweet: I would like John Boyega to crush me between his thighs.

Isaac: That would happen, I think, With those luscious legs.
Don't forget Daisy Ridley
One shouldn't talk about Finn and Poe without bringing up Daisy Ridley's Rey. Ridley had a lot of scenes with Boyega in Force Awakens, but not many with either him or Isaac in The Last Jedi. By the looks of the footage already released, the three of them will get more screen time together in The Rise of Skywalker.
Boyega thinks he won't be playing Finn again after Episode IX, saying, "Honestly, the bottom of my heart, I don't think I am [coming back]. I don't think I am. I really do feel that way. This really is that movie, I think everyone doesn't believe it, but this is that war that just ends everything."
Ridley also doubts that she'll continue herself. Careful not to give anything away, she says the ninth episode brings this part of the story to an end and that it would be better for any subsequent movies to explore new characters we haven't already met.
Plans for future Star Wars movies are a bit up in the air, but all indications are that they will not focus on characters from the Skywalker saga.
That's why the trio formed such a bond and why they were so emotional on the last days of filming. When Ridley wrapped the film, she became so emotional that "I literally cannot remember what JJ (Abrams) said or what I said. I was wailing. It's been wonderful," she said.