The Internet's Best Reactions To Ashley Benson & Cara Delevingne's Sex Bench
Ashley Benson and Cara Delevingne certainly enjoy keeping us on our toes, inadvertently or otherwise. The actresses made waves last year after word got out that they might be dating one another. But things got even more interesting Tuesday when they were spotted carrying a sex bench into their West Hollywood home. Naturally, the Internet erupted into sheer pandemonium following the event. Two women!? Hinting that they might be having a healthy sex life!? Everyone was simply "unable". Let's take a look at some of Twitter's best reactions.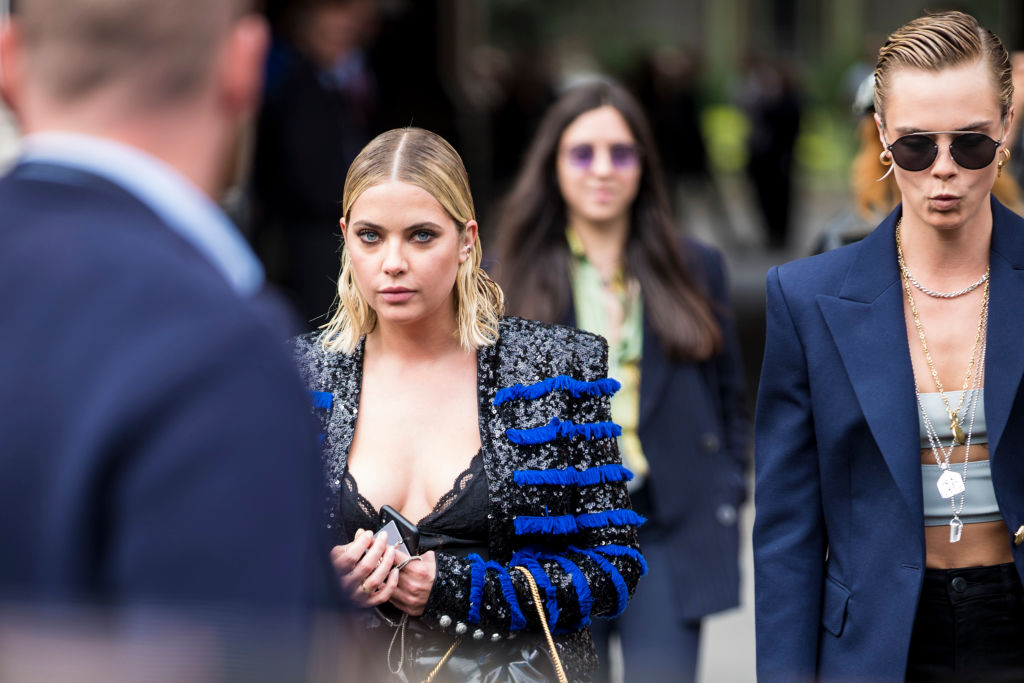 Dating
Sparks and rumors flew back in 2018 when The Pretty Little Liars star and the model were seen holding hands last Spring. A seemingly innocuous gesture generated lots of questions about whether or not the pair were dating. There are speculations that they met and began dating while filming their movie Her Smell together. The film released earlier this month, and is so far is being received well by critics.
The film follows a rockstar, Becky Something, who is on the road to fame and success with her band. However, due to her toxic behavior, the band ends up breaking up just when they are on the brink of superstardom.
Delevingne plays Crassie Cassie and Benson plays the role of Roxie Rotten. Both characters are members of the band, Akergirls.
Girlfriend
While neither woman has officially claimed the other as their girlfriend (and really they shouldn't feel compelled to) many fans began to ship the alleged couple when pictures leaked of them kissing and staring at each other intimately at London's Heathrow airport. This sent some members of the LGBT community into a frenzy, prompting hilarious tweets like "Heteros can sit down Ashley Benson and Cara Delevingne are taking over 2018." that showed support for the new couple.
Sex Bench
The Internet went wild over the couple kissing, but people really lost their sh*t when the pair were seen carting a $384 sex bench into their home on Tuesday afternoon while incessantly giggling. Whether they were planning to use this bench themselves, plotting a bachelorette party, trolling the paparazzi, or hoping to give it as a gag gift (no pun intended), is really none of our concern. Still, we can't help but chuckle over the way people are losing their minds over the actresses leading sex-positive lifestyles. Here are some of our favorite reactions.
1. Shooketh
Naturally, there were a fair amount of fans who didn't know anything about the rumored romance. Gotta admit that finding out that two of your favorite actresses are dating one another by seeing them schlepping a sex bench into their home is pretty hilarious.
2. The delayed reaction
Who doesn't love a delayed reaction? We can almost see the lightbulb going off in their head.
3. Kicking off Pride in style
Many fans were pleased to see that the pair was possibly getting a head start on Pride, which officially begins Saturday, June 1.
4. The number 1 stan
Naturally, there was a fair amount of stanning for this picture and the relationship, and many fans wanted to make sure that they forever ingrained the event into their memories. We're supportive too, but this seems a little much. But hey, whatever floats your boat.
5. The boring shopper
Us too Lisa, us too.
Her Smell
Whether Benson and Delevingne are dating on not, we're supportive of whatever type of relationship they're choosing to have. We hope that Her Smell continues to get great reviews and we can't wait to see future projects from both actresses.