No, Really — There's an 'Iron Man' Statue in Italy Honoring His Cinematic Death in 'Avengers: Endgame'
We're not crying; you're crying. After more than ten years of Iron Man and Avengers movies, the character's time in the Marvel Cinematic Universe has come to an end. As a result, an artist erected the first monument to Iron Man in Italy, honoring the character's death in Avengers: Endgame. Here's how artist Daniele Basso and fans worldwide are remembering the fictional Marvel superhero, Tony Stark.
A town in Italy built a statue for Iron Man following the events of 'Avengers: Endgame'
Fans love you 3000, Tony Stark. Now, there's finally a monument to prove it. According to one Twitter user, "the first monument dedicated to Iron Man has been erected in Forte Dei Marmi, Italy, in the year of his death in the cinematic world. The steel and brass statue entitled 'Man of Steel' was designed by sculptor Daniele Basso."
The plaque that accompanies the statue is written in Italian, but roughly translates to, "the first monument dedicated to Iron Man in the year of his death in the cinematic world, we celebrate Tony Stark as a man who dedicates his life's fortunes to fight for the ideals he believes in… reminding us that we are all the protagonists of our time – that the future of humanity depends on our decisions… that all of us must be heroes!"
The statue features the hero in his classic "three-point landing," standing 400 centimeters tall. According to Movie Web, the artist created the figure in conjunction with the 'Oltre Verso' art exhibit that debuted on Aug. 9, 2019. Since then, fans have been sharing their appreciation for the artist and the fictional superhero.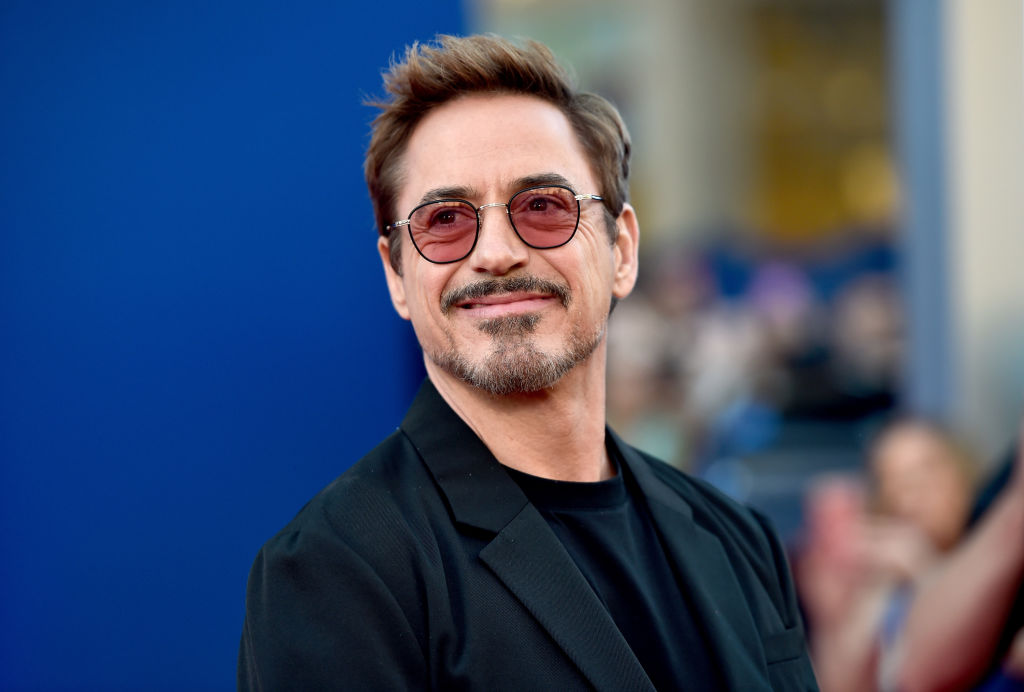 It's been over ten years since fans first met Iron Man/Tony Stark, portrayed by Robert Downey Jr.
Fans first met Tony Stark/Iron Man in 2008, with Iron Man, the first movie produced by Marvel. Since then, he became one of the founding members of the Avengers, a mentor to Peter Parker, and a father. He even sacrificed himself to save the universe.
After such a long tie to a character, the name "Robert Downey Jr." became closely connected to Marvel. During an interview with Off-Camera With Sam Jones, the actor discussed distancing himself from Marvel and, in turn, distancing himself from Tony Stark.
"Initially by creating and associating and synergizing with Tony Stark and the Marvel universe and all this stuff, and being a good company man, but also being a little off–kilter, being creative and getting into all these other partnerships, it was a time when — it's like, what do they say? Owners start looking like their pets. Occasionally you would pull back from it and go 'All right, let me get off the teat of this archetype and let me see where I stand.' And you can feel really buffeted and you can be really spun out by it," said Robert Downey Jr.
Fans across the globe are honoring Iron Man in different ways
From tattoos to cosplay, fans each have their way of celebrating and remembering the character Tony Stark. Some fans look forward to future Marvel movies and new characters. Others turn to Netflix and, eventually, Disney Plus to watch their favorite heroes.
As of August 2019, Avengers: Infinity War and Avengers: Endgame are both available for purchase digitally and physically. Marvel's Spider-Man: Far From Home is still playing in select theaters.
Avengers: Endgame is now available for purchase on DVD, Blu-ray, and 4K Ultra HD.