Is Aaron Rodgers Really Feuding With Brother Jordan Rodgers?
Aaron Rodgers is one of the star quarterbacks of the NFL. He has played with the Green Bay Packers for almost 15 years now, and many fans will agree that Aaron Rodgers has had a fantastic career.
However, his life off the field is a completely different story. Over the years, there have been talks about Aaron's poor relationship with his family, specifically his brother, sports commentator Jordan Rodgers. A lot of fans might be wondering whether these two Rodgers are really feuding or not. Read on below to learn more about this drama and whether or not Aaron and Jordan can mend their rift.
Jordan Rodgers first revealed in 2016 that there was tension with Aaron Rodgers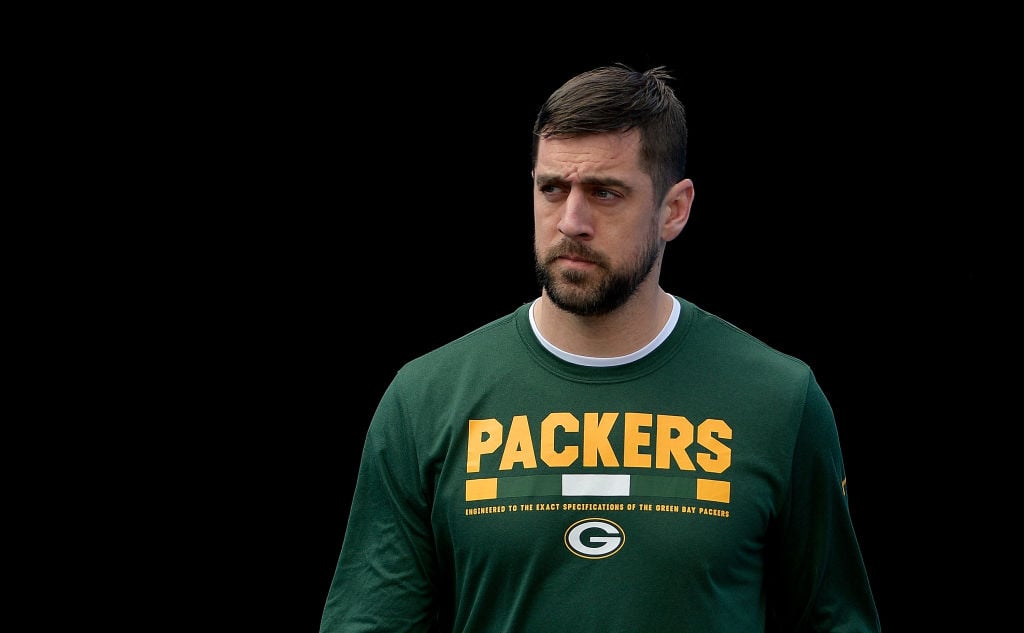 Jordan went public with this poor relationship with Aaron in 2016. At the time, Jordan was a contestant on JoJo Fletcher's season of The Bachelorette. Before taking Fletcher to meet with his family, she shared with her what their situation was like.
"My middle brother won't be there, Aaron," Jordan told Fletcher. "Like I said, I have a great relationship with my brother Luke. Me and Aaron don't really have that much of a relationship. It's just kind of the way he's chosen to do life and I've chosen to stay close with my family and my parents and my brother."
Jordan hinted at the fact that the tension might have something to do with Aaron's fame and career, alluding to "the pressure" and "the demands from people" that Aaron had.
In response to the episode, Aaron later shared that he did not care about it, but thought it was "a little inappropriate to talk publicly about some family matters."
Jordan Rodgers threw serious shade at Aaron Rodgers in 2018
Their alleged feud caught on once again in 2018 after Aaron talked about recovery efforts for the California wildfires. The quarterback urged followers to help him raise money for first responders in Northern California, where the wildfires had devastated several communities, including his hometown.
In response, Jordan threw shade at Aaron's post. He wrote: "PLEASE DONATE, SPREAD AWARENESS & SEND LOVE. But when your own Mom is home alone during the fires, car packed ready to evacuate, & you miss the fundamental first step of compassion; calling your parents to make sure they are safe…. Everything else just feels like an act."
Both JoJo Fletcher and Olivia Munn have spoken up about the family drama
The Rodgers brothers' former and current beaus have spoken out about the Rodgers family drama.
Fletcher and Jordan are currently engaged. Fletcher simply said that she loves Jordan's family, and she believes that whatever is going on between them should be discussed privately.
Meanwhile, Aaron dated actress Olivia Munn from 2013 to 2017. After Munn's breakup with Aaron, she gave more details about his relationship with his family, saying.
She said: "I met the parents only a couple times and before he and I started dating, he hadn't spoken to the parents and one brother for, like, eight months. At the end of the day, there's a lot of complications. I don't think either side of the road is clean. But I do think it's not OK when you try to stand on someone's shoulders and then throw dirt in their face, which is what I think they did with him."
What caused the feud between Aaron Rodgers and his family in the first place?
At this point, it's unclear what the alleged feud between Aaron and his family was caused by. Some people seem to have alluded to Aaron's popularity being a factor. Meanwhile, a source told Us Weekly that Aaron's relationship with Munn was what caused the rift.
The source told the publication: "When he got together with Olivia Munn, his family told him they didn't trust her and thought she wasn't with him for the right reasons. That made him furious and he ended up choosing Olivia over his family."
Can Aaron Rodgers and Jordan Rodgers mend their relationship?
Regardless of what caused the feud, there have been signs that Aaron, Jordan, and the rest of their family could become close again.
Since February 2018, Aaron has been dating racing driver Danica Patrick. According to a report from E! News, Patrick has been doing her best to help the Rodgers family heal old wounds, and the future looks rather bright.
A source said: "Aaron is back on speaking terms with his family, including his brother Jordan, and it's really all happening with the help of Danica, who is bridging the gap between everyone."
The source added: "She is doing everything she can to bring the Rogers clan back together and help them return to being a real family once again."