Is Agent Coulson Dead? Marvel's 'Agents of S.H.I.E.L.D.' Returns May 10
Marvel offered fans a sneak peek at the upcoming season of Agents of S.H.I.E.L.D. at WonderCon in Anaheim on March 30. After an exclusive first look at the season premiere, which airs May 10 on ABC, cast and producers offered some thoughts on working on the longest-running Marvel TV series, and what fans can look forward to in Season 6.
Surprises in store for Season 6
Season 6 picks up one year after the shocking end of Season 5, which saw one version of Fitz (Iain De Caestecker) die and the other lost in space, as well Agent Coulson (Clark Gregg) heading off to Tahiti, resigned to the prospect of his impending death. In the latter case, it was an emotional end to the story of this fan-favorite character. After already dying once in The Avengers before being resurrected for Agents of S.H.I.E.L.D., it seemed like this really might be the last we'd see of Coulson. Or was it? 
Fans will glad to know that Gregg is not quite done with Agents of S.H.I.E.L.D. despite how things ended for his character in the Season 5 finale. Not only did he direct the premiere episode, which he said was "really lucky," he also appears in it. But don't expect the same old Coulson this season.
In a just-released trailer for the show, we see a semi crash into several S.H.I.E.L.D. vehicles and then nearly run over Agent May (Ming-Na Wen). Then Gregg emerges from the truck. But something is wrong. When another characters mentions S.H.I.E.L.D. he responds, "Never heard of it."
What exactly is going on with Coulson — or this character who looks like Coulson — isn't clear, but it's sure to make for an interesting season of the show.
They really love their fans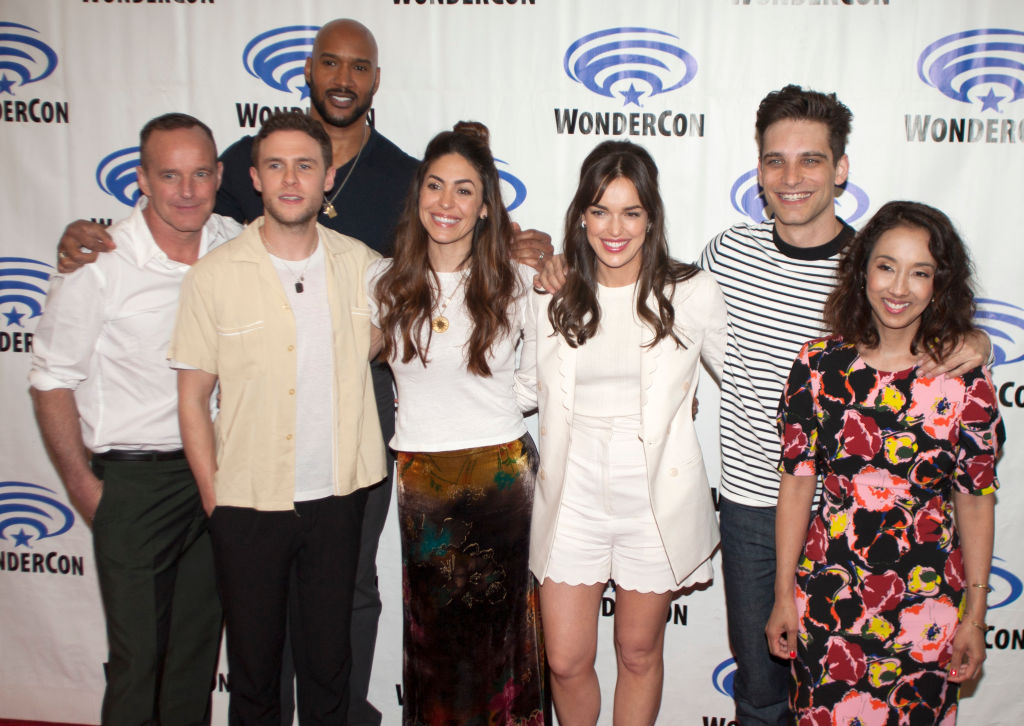 During the Q&A that followed the screening, the cast emphasized how lucky they were to work on a show with such ardent supporters. After all, it was their love of Coulson that was instrumental in making Agents of S.H.I.E.L.D. happen in the first place. 
"I can't think of anybody else that got the bad call that I got from Marvel, which was, 'You're going to have a lot of fun in The Avengers, until you don't,' to then have people like you … just saying, 'no. no. Coulson lives. And here we are seven years later," Gregg said. "It's probably the greatest thing that will ever happen to me."  "
"I had never been on a show with this kind of fandom and external family to our internal family, and I think it's been really special to be part of something that has such a following," Natalia Cordova-Buckley (Agent Elena "Yo-Yo" Rodriguez) added.
As for the program's future, the cast and crew are ready for whatever happens. "We're not ending," said executive producer Jeph Loeb. "We think every season is our last one," executive producer Jed Whedon added.
One thing we do know: The story of S.H.I.E.L.D. won't end with Season 6. ABC has already renewed the show for Season 7, and the team seems ready to keep going for as long as they can.
"It just keeps getting better and better," said Henry Simmons, who plays Alphonso "Mack" Mackenzie. "These writers, they keep me busy, and I love it. I love what they're giving me." 
Read more: 'Avengers: Endgame': Is Robert Downey Jr. Really Done Playing Iron Man?
Check out The Cheat Sheet on Facebook!