Is Ariana Grande Having the Best Year Ever?
It's no secret that 2018 was a rough year for Ariana Grande. She struggled to cope with PTSD from the bombing at her concert in Manchester. She got the painful news that her ex-boyfriend Mac Miller died of an overdose. To top it all off, she went through a bad breakup with Pete Davidson, who she had planned to marry.
But her loved ones and fans alike are happy to see that Grande is bouncing back and that 2019 is being kinder to her. In her musical career and other professional opportunities, Grande seems to have found reasons to smile again.
Ariana Grande's career is on fire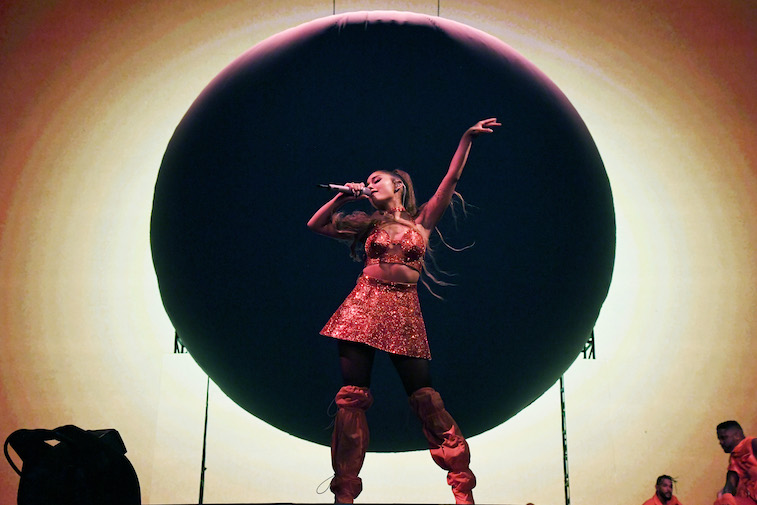 To start the year with a bang, in February Grande won her first Grammy, for Best Pop Vocal Album. She'd been nominated for Grammy awards seven times before, going back as far as 2015, but this was her first win. Since she didn't attend the awards, she had to wait five months for her trophy, but it seems like it was worth it.
Just a few months later she made history as the fourth woman to headline at Coachella. Critics loved her high-energy performance, which included guest appearances by N'SYNC (minus Justin Timberlake), Nicki Minaj, Diddy, and more. Her show the second weekend had a surprise appearance by Justin Bieber, thrilling the audience.
If that wasn't enough, she was nominated for 10 MTV VMA awards, tying for the highest number of nominations with Taylor Swift. She probably won't be able to attend the awards ceremony, because she'll be on tour for her new album Sweetener, but she's sure to be watching the awards this year.
People are wildly enthusiastic about her new songs too. They've been breaking records in the Billboard Hot 100 chart. While her legions of devoted fans never doubted her musical talent, she's really on fire this year.
She went Vogue
Grande has always loved beauty and fashion, and it looks like the scene is loving her back. She appeared on the cover of Vogue for the first time, an honor that many singers, actors, and models crave.
There's nothing quite like a Vogue cover to show the fashion world that you've arrived. In the cover shot, Grande looks stunning and sophisticated on the beach, wearing an oversized black hat.
She was also signed as the face of Givenchy, an honor that thrilled her. In the video announcing the campaign, her look evokes Audrey Hepburn, who she already seems to have felt a connection to.
The video was shot to show off the tattoo on the back of her neck, which is the French phrase "mille tendresse" meaning "a million tendernesses." Grande got the phrase from Breakfast at Tiffany's, which was Hepburn's iconic movie role. It almost seems like Grande knew all along she'd be walking in Hepburn's stylish shoes.
She got to meet Jim Carrey
Grande has been a huge fan of Jim Carrey for years. She even said that her AOL Instant Messenger name when she was in fourth grade was jimcarreyfan42. The two celebrities have had supportive Twitter conversations about depression, which meant a great deal to Grande in her struggles.
So it's no surprise that she was delighted to have a guest appearance in the upcoming second season of Kidding on Showtime. Even though it was just a small role, working with Carrey was the thrill of a lifetime for Grande.
Whether you're a die-hard fan or not, it's good to see Grande rebounding from the blows of 2018. This year has delivered new honors and opportunities for her, and she's looking stronger than ever.