Is Ariana Grande the Next Mega Popstar?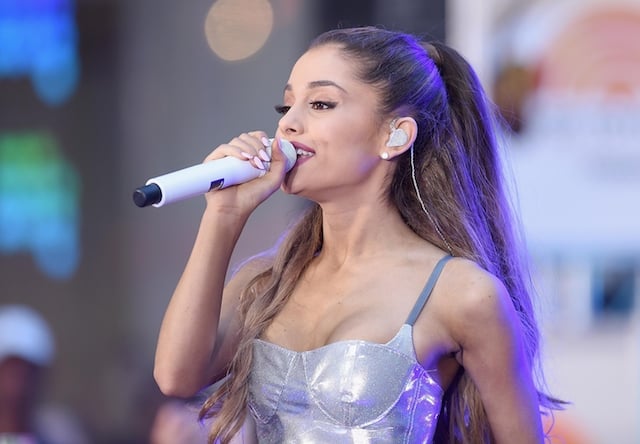 Ariana Grande's latest album My Everything has debuted at No. 1 on the Billboard 200 chart this week, making it her second LP to reach the top spot in less than a year.
It's an impressive feat for the 21-year-old pop artist, who has already been a major name in the music scene this summer. According to Billboard, the album, which hit shelves on August 25, sold 169,000 copies in its first week. That makes My Everything the second largest sales week for a female pop artist in 2014, following Lana del Rey's Ultraviolence, which sold 182,000 copies. The sales also topped Grande's debut album, Yours Truly, which came out early last September, reached No. 1 after selling 138,000 copies in its debut week.
Grande is the first woman to have her first two albums reach No. 1 in the same year since 2010, when Susan Boyle bowed atop the list with consecutive LP's, 2009's I Dreamed a Dream and 2010's The Gift. Per Billboard, she is also only the third woman since the start of the SoundScan era (in 1991) to reach that milestone. LeAnn Rimes's first two albums Blue and You Light Up My Life: Inspirational Songs also debuted at No. 1 in 1996 and 1997.
My Everything features three of Grande's biggest singles so far: "Problem," her track with Iggy Azalea, "Break Free," which features Zedd, and "Bang Bang," her collaborative song with Jessie J and Nicki Minaj. All three of those songs reached the top 10 on the Billboard Hot 100. Grande is only the second female artist to have three top 10 hits at the same time (with Adele being the first).
There's no denying that Grande has had a banner first year in her rapidly growing career. The question is, will she continue to not only reach, but also surpass the same levels of success in future endeavors? Grande has drawn frequent comparisons to Mariah Carey, but having two consecutive No. 1 albums this early in her career also puts her statistically in the same league as Britney Spears, Miley Cyrus, and Beyoncé — all of whom had their first two records win the charts. But it remains to be seen if Grande can replicate that magic again the same way the three aforementioned artists have. Six of Spears' eight studio albums have reached No. 1, while all three of Cyrus' albums have done the same. Meanwhile, all five of Beyoncé's have rocketed to the top spot on the charts.
Of course, not every female artist that peaked early on has managed to stay on top. Ashanti's first two records hit No. 1 in 2002 and 2003, as did Ashlee Simpson's in 2004 and 2005. But both singers failed to garner the same success with their follow-up works (Ashanti's last album dropped this year after a six-year absence and Simpson hasn't released anything new since 2008). Conversely, other best selling artists, like Katy Perry and Taylor Swift, have debuted lower, but then gone on to reach No. 1 with subsequent albums.
Grande does have a dedicated fanbase from her Nickelodeon days on her side. But other former kid-friendly TV stars have gotten mixed results with their musical endeavors. Cyrus has continued to stay in the spotlight post-Hannah Montana (although whether that's due to her controversial nature or not is up for debate) and Selena Gomez reached No. 1 with her first solo album Stars Dance in 2013. Demi Lovato has reached the top 5 with all of her albums, but only topped the charts with her second record, 2009's Here We Go Again. Similarly, Hilary Duff released four records, but only went to No. 1 once with her second album in 2003.
Whether or not Grande will reach pop superstardom à la Beyoncé or Katy Perry is difficult to predict, but there's no question that the young singer is off to a remarkably strong start. If she can continue to keep this type of momentum, there's no reason to believe that she doesn't have a definite shot at becoming the next mega popstar.
More From Entertainment Cheat Sheet:
Want more great content like this? Sign up here to receive the best of Cheat Sheet delivered daily. No spam; just tailored content straight to your inbox.