Is Bill Cosby a Registered Sex Offender? What His Sentence Means
After a two-day hearing, Bill Cosby was sentenced to 3 to 10 years in state prison, CNN reports. He was also denied bail and led out of the courtroom in handcuffs. In April, he was found guilty of three counts of aggravated indecent assault for drugging and sexually assaulting Andrea Constand in 2004. Dozens of women accused him of drugging and sexually assaulting them over the course of his decades-long career, spanning the 1960s to the 2000s.
But what does Cosby's sentence mean? Get answers to some common questions — including whether the comedian is now a registered sex offender — ahead.
What sentence did Bill Cosby receive?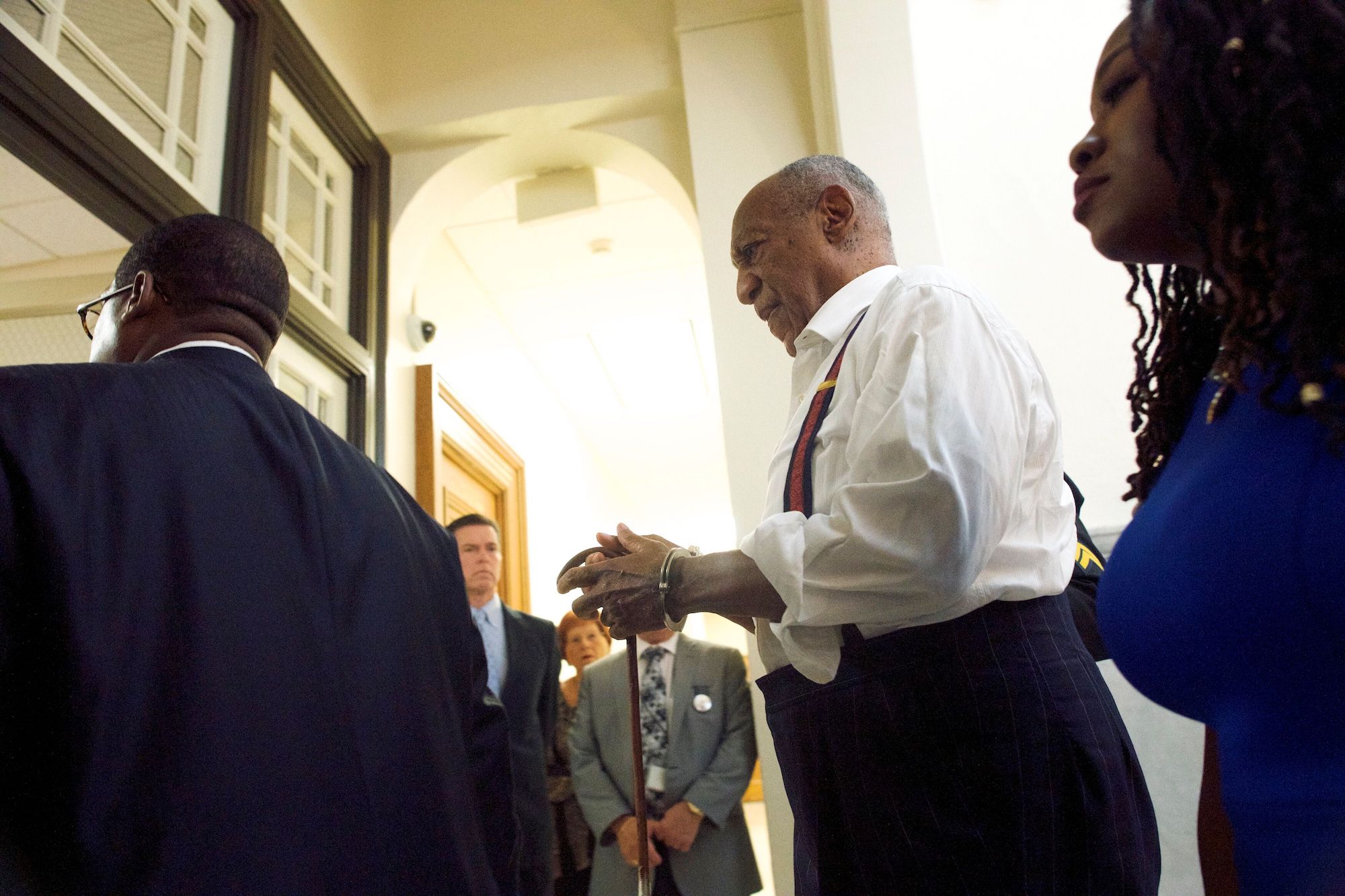 Because he was convicted on three counts of assault, Cosby had faced up to 30 years in prison for the charges. But as CNN reports, Bill Cosby faced a maximum sentence of 10 years after prosecutors and defense attorneys agreed to merge the three counts of his conviction into one.
Pennsylvania state sentencing guidelines indicated 22 to 36 months in prison, plus or minus 12 months because of aggravating or mitigating circumstances. But as CNN notes, the judge didn't have to stick to the guidelines. In fact, he could choose to issue a smaller or larger sentence. But the maximum was set at 10 years.
Prosecutors asked for a sentence of five to 10 years in prison. Cosby's defense attorney, on the other hand, asked for a sentence of house arrest, citing Cosby's age, and the fact that he is legally blind. Judge Steven O'Neill handed down the sentence in a Montgomery County, Pennsylvania court. O'Neill told Cosby, "This was a serious crime. Mr. Cosby, this has all circled back to you. The day has come, the time has come."
Is he in prison now?
Cosby had remained on house arrest since his conviction. That didn't change until the end of the two-day hearing. As Vox reports, Cosby's defense team previously pledged to appeal any prison time. They argued that Cosby should serve his time on house arrest. However, O'Neill said that Cosby isn't entitled to bail as he appeals the sentence. The judge said that Cosby "could quite possibly be a danger to the community." And he ordered Cosby to go to prison immediately.
As The Associated Press puts it, "His Hollywood career and good-guy image in ruins, Bill Cosby was led away to prison in handcuffs Tuesday at age 81, sentenced to three to 10 years behind bars." The AP notes, "The punishment made him the first celebrity of the #MeToo era to be sent to prison." And the sentence "all but completed the dizzying, late-in-life fall from grace for the comedian, TV star and breaker of racial barriers."
Cosby removed his watch, tie, and jacket. He walked out of the courtroom in a white dress shirt and red suspenders, with his hands cuffed in front of him. According to The Associated Press, he must serve the minimum of three years before he becomes eligible for parole. Montgomery County District Attorney Kevin Steele said at a news conference, "Finally, Bill Cosby has been unmasked, and we have seen the real man as he is headed off to prison."
Is Bill Cosby a registered sex offender?
Bill Cosby is now a convicted sex offender. And he will have to register as a sex offender, according to a decision by the judge who sentenced the comedian. Vox reports that in addition to the prison sentence, the hearing also addressed "whether the extensive number of assault allegations against Cosby qualified him as a 'sexually violent predator,' a designation that would require Cosby to register as a sex offender, regularly check in with state police, and undergo counseling." 
A Pennsylvania state board previously found that Cosby should get the classification. And during the two-day hearing, a psychologist for the state argued that Cosby would likely re-offend if given the opportunity. A psychologist for the defense countered that Cosby's age made reoffending unlikely. On Tuesday, O'Neill ruled that Cosby should be given the designation.
The Associated Press characterizes the "sexually violent predator" designation as "a modern-day scarlet letter that subjects him to monthly counseling for the rest of his life and requires that neighbors and schools be notified of his whereabouts."
As Vox points out, roughly 60 women have shared stories of alleged sexual assault, ranging from groping to forced kissing to rape, at Cosby's hands. "Because Constand's case is one of the few to fall within the statute of limitations, her trial is informally considered a representation of the large number of Cosby accusers."
Read more: Bill Cosby Net Worth: What Will Happen to the Disgraced 'Cosby Show' Star's Fortune?
Check out The Cheat Sheet on Facebook!