Is Bradley Cooper's Girlfriend Really Jealous of Lady Gaga?
If you happened to see the 2019 Oscar telecast, you know one of the musical highlights was the duet of Lady Gaga and Bradley Cooper singing Shallow from A Star Is Born. While the rumors have been heating up about Gaga and Cooper possibly having a secret love for one another, there's a big problem behind such thoughts. Cooper has been involved with his girlfriend (Irina Shayk) for several years, including having one child.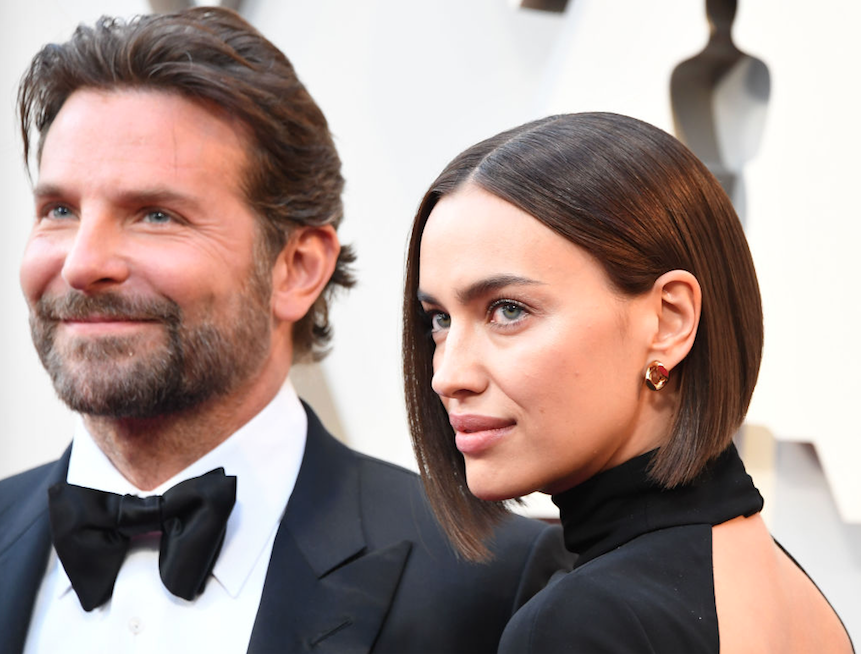 This alone should shut down all conjecture about any feelings Gaga and Cooper might have. Even so, you have to wonder how Shayk feels about the powerful chemistry seen between her boyfriend and Gaga.
Are there any signs of jealousy, or is it simply unfounded? Let's take a closer look at the evidence.
The seating arrangement at the Oscars and Irina Shayk
Those of you who paid attention to the seating arrangement at this year's Oscars may have noticed Lady Gaga wasn't sitting too far away from Bradley Cooper. Someone brilliant set it up so Irina Shayk sat in-between Cooper and Gaga in the front row.
This brought a lot of jokes on social media streams (including from yours truly), though it seemed intentionally designed to quash rumors.
We don't know what Cooper and Shayk have said to one another about this since they keep their lives private. Even so, having Shayk sit between the two seemed to bring more than a little symbolism.
After Lady Gaga recently broke up with her fiance Christian Carino, it almost seemed necessary.
The duet proved the intense Bradley Cooper and Lady Gaga chemistry
Despite being one of the musical highlights of the Oscars, the Shallow duet was also the most sensual. If the two wanted to dispel any rumors about them, it probably didn't work when Cooper walked over to the piano bench to sit with Lady Gaga for the song's final moments. By the last note, it looked like they were about to lay a kiss on one another.
While you can argue it was simply acting, Cooper was clearly singing as himself rather than Jackson Maine. He even said himself he wouldn't be in character.
Yes, this made things even more confusing for some in the message of the song and the presentation.
There shouldn't be any reason to believe Shayk is jealous of Gaga
Before we get out of hand on creating unnecessary rumors, let's tone down any notion Irina Shayk would feel envy over Stefani Joanne Angelina Germanotta. Outside of Gaga having great singing and acting talent, Shayk is a star in her own right.
Consider she's been a popular international model with hundreds of popular pictorials. Plus, she was the first Russian model to grace the cover of Sports Illustrated.
Shayk even has some acting credits, proving she's an equal with Gaga.
She likely has nothing to worry about in thinking Gaga is a threat. Besides, Cooper and Shayk have a daughter, making them a close family without an official marriage certificate.
Cooper and Shayk looked happy together at the Oscars
Rather than focus on how Shayk sat between Cooper and Gaga, look at the photos of the two arriving together on the Oscar red carpet and the parties. They both looked extremely happy, which is already a big tell.
Most of us can easily see the body language when a couple isn't happy being together. In all fairness, they looked happier together than Cooper did during the duet with Gaga. Also keep in mind Shayk was the first to give her husband and Gaga a standing ovation.
No doubt rumors will persist anyway, or at least on Gaga's end in having a secret and unrequited love. Whatever rumors hang on, it appears it really is possible for Cooper and Gaga to just be good friends without causing drama.
Should anything happen, Cooper and Gaga would have to link up at a later time when they're at dramatically different places in their lives.