Is BTS Working On New Music During Their Break?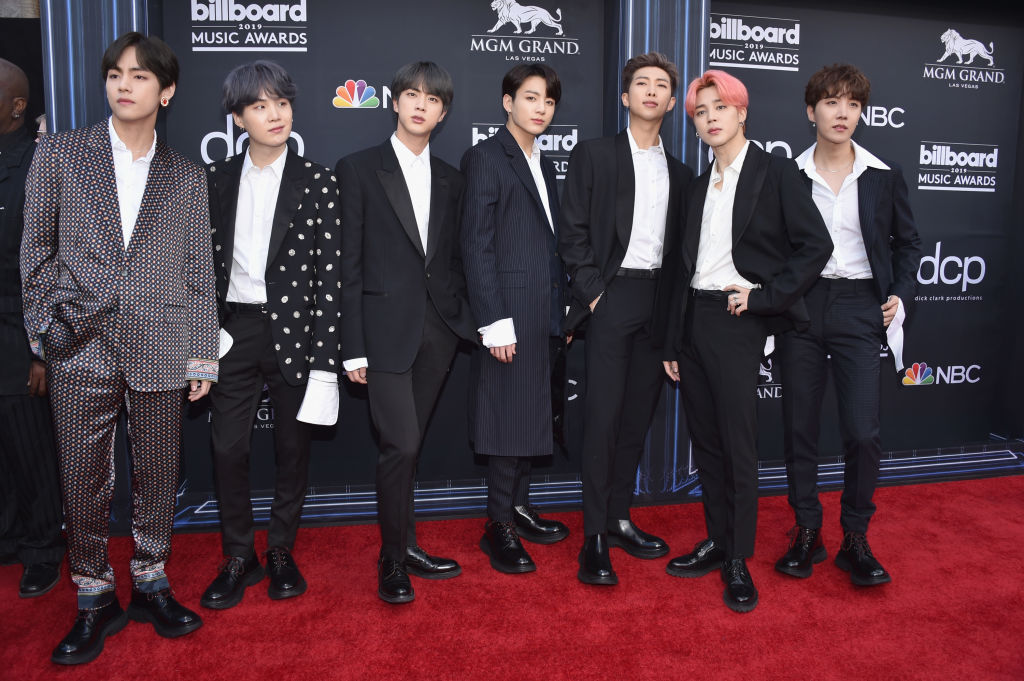 BTS is on hiatus until their Love Yourself: Speak Yourself tour resumes in October. This is the group's first official vacation without a schedule since their debut in 2013. Since going on break, J-Hope traveled to Los Angeles, Jungkook's posts on Weverse caused the app to crash, and Jimin, Jin, Suga, V, and RM all communicated with fans on social media. Even though the band is on a break, fans wonder if BTS is using the break to work on new music.
A report about BTS's break said BTS would work on new music
According to a report published in July 2019, BTS's break would last until their tour resumed in October. The report also said BTS would take the time to work on new music and albums to release in the latter half of 2019. The rumor about BTS's impending break spread for weeks until Big Hit Entertainment confirmed the break in August 2019.
In the official announcement, Big Hit Entertainment said, "This period of rest will be an opportunity for the members of BTS, who have relentless driven themselves towards their goal since their debut, to recharge and prepare to present themselves anew as musicians and creators."
The company also encouraged fans to give members of BTS privacy so they could enjoy their vacation as normal men in their twenties.
RM said during Jimin's VLIVE he planned to work on new music
During the first week of BTS's hiatus, Jimin held multiple VLIVE livestreams with members of BTS. During one livestream, RM joined him. The two admitted they get restless during long breaks, and then RM let it slip that he is working on new music for other members.
According to a translation of the VLIVE, "RM said he'll only stay for a little while, because he's got some work to do in the studio regarding a track a member sent; he said the members have a lot of requests involving music these days."
In the VLIVE, RM said he had multiple requests from members regarding new music. He said he was helping with English lyrics and praised the other members of BTS for their talent with their songs. The biggest bombshell of the VLIVE came when RM asked Jimin if the reason for their break had been disclosed.
"RM really … just …… came in like a whirlwind and dropped …. a lot of info …. that he, Jimin … and I are all unsure about whether it can be shared yet. RM asked JM a couple of times whether the behind story regarding their break has been shared, and JM was all ???," wrote a translator of the VLIVE.
RM's spoiler that BTS's break could have another reason besides the members resting sent BTS fans into a frenzy.
"Namjoon saying that hes helping other members with their songs and that their break was for a special reason…. I THOUGHT WE WERE SUPPOSE TO RELAX FOR THIS HIATUS WHAT ARE WE GOING TO DO W THIS INFORMATION NOW WTF," wrote a fan on Twitter.
Fans think BTS's ARMY ZIP teaser hints at their next comeback
Members of BTS ARMY have several theories about BTS's new album. No title or release date has been announced, but that hasn't stopped fans from speculating. Because of possible clues in the music video for "Persona," fans suspect the name of BTS's next album is Map of the Soul: Shadow. Most fans believe the album will drop in October 2019.
When Big Hit Entertainment released the teaser for ARMY ZIP, the Global Official ARMY Membership, fans picked up on more clues.
"omg what if these are hints for comeback? i mean we all think that mots: shadow will have a dark concept, following the pattern of the ly series. ly her: in search for smfn (love). tear: everything falling apart (fake love). answer: finding the solution (loving urself)," wrote a fan on Twitter.
Several theories developed after the release of the ARMY ZIP teaser. The 2019 membership kits will be sent out in October 2019, which is the month BTS's tour resumes. Based on what RM said, several members of BTS are working on new music. It's possible a BTS album could drop right before the tour starts or after it concludes.