Is Chris Hemsworth Making a Cameo in 'Spider-Man: Homecoming'?
If you are still recovering from the events of Avengers: Endgame, we're right there with you. Avengers: Endgame was well, the end of the Avengers world as we know it. Major changes happened to the team, setting up the Marvel Cinematic Universe (MCU) for a slew of movies to address the effects of these changes.
First on deck, Spider-Man: Far From Home. Avengers actors Chris Hemsworth, who portrays Thor in MCU, and Tom Holland, who plays Spider-Man, recently sat down and interviewed each other about the upcoming movie. Does this mean that we will see Hemsworth make a cameo in the upcoming film?
Spoiler alert: This article contains Avengers: Endgame spoilers. Read on at your own risk.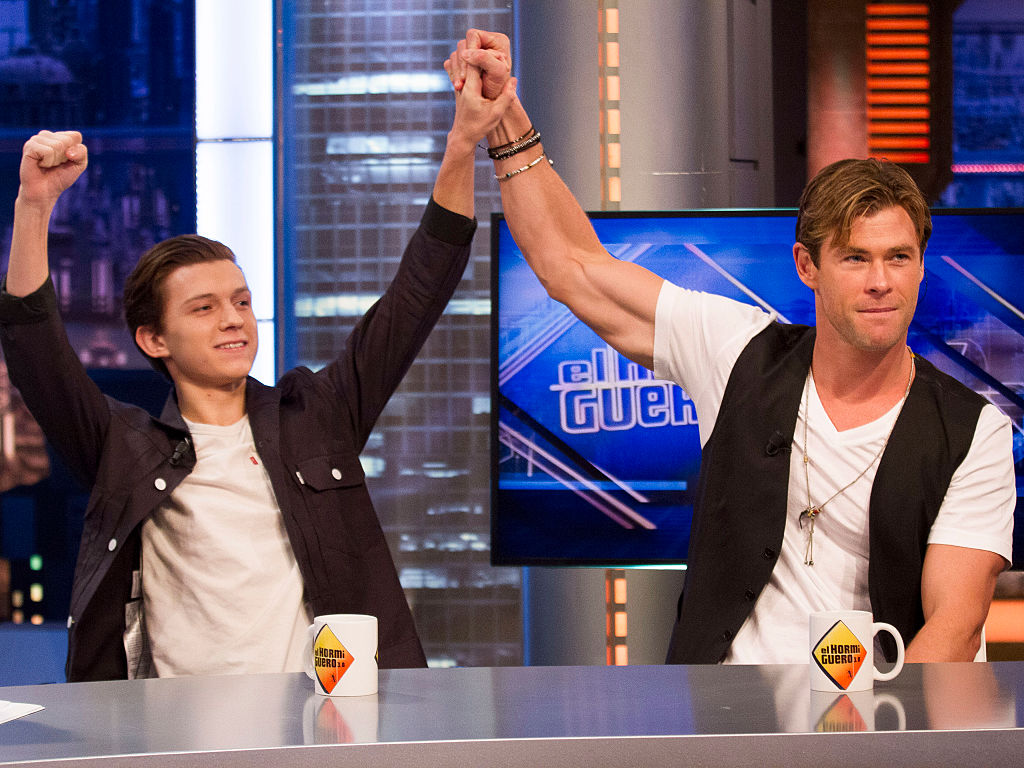 The Marvel Universe continues with 'Spider-Man: Far From Home' this summer
Avengers: Endgame was the end for a few fan favorites in the MCU, but as they say, the show must go on. The MCU has been incredibly successful, and fans are eager to see how the Avengers respond to the fallout of Avengers: Endgame.
You don't have to wait long to check in with one of your favorite superheroes. Spider-Man: Far From Home premieres worldwide on July 2, 2019. The film picks up after the loss of Iron Man and Peter Parker is obviously emotionally affected. The trailer shows how deeply Parker takes the loss when he breaks down to Happy Hogan telling him: "I just really miss him."
You can see his struggle later when he says someone needs to step up and take Tony Stark's place. After the devastating events of Avengers: Endgame, Spider-Man is off to take a school trip to Europe, but of course, that doesn't go as planned.
Tom Holland has Chris Hemsworth to thank for his Spider-Man role
Over the years, fans have embraced Holland as Spider-man. But many fans may not realize that Holland actually has Avengers co-star Hemsworth to thank — at least in part — for the job. Hemsworth and Holland first worked together in 2015 for a different movie: In the Heart of the Sea. By 2016, Holland was playing Spider-Man in Captain America: Civil War.
During an exclusive interview with Entertainment Tonight, Hemsworth remarked: "I mean, look, we worked on In the Heart of the Sea together, obviously, then through Avengers and as they were casting him for Spider-Man, I did what I could do and made a call and said he's one of the most talented people I've worked with and has such a big heart and appreciation." He added that the two share a great mutual respect for one another.
Holland has appeared in three MCU films, with the upcoming Far From Home set to be his fifth overall. According to Den Geek, Holland signed a six-film contract with Marvel, so we should expect to see one more film featuring our favorite web-slinger.
Will Chris Hemsworth have a cameo in 'Spider-Man: Far From Home'?
Sadly, the God of Thunder will not be making an appearance in Spider-Man: Far From Home. At the end of Avengers: Endgame, fans saw Thor leave earth and join the Guardians of the Galaxy, leaving Spider-Man and the other Avengers behind.
In the Spider-Man trailer, Thor's absence is confirmed when Spider-Man asks Nick Fury, "What about Thor?" Fury responds saying that Thor is "off world." Though fans won't seem Hemsworth in the newest Marvel film, we doubt this is the last we will see of him. Since Thor is now a part of Guardians of the Galaxy, there is a possibility that we can see him in Guardians of the Galaxy 3. Hemsworth has said on more than one occasion that he'd be up for playing the role again. Plus, there's always the possibility of Thor 4.