Is Coachella Good for the Economy?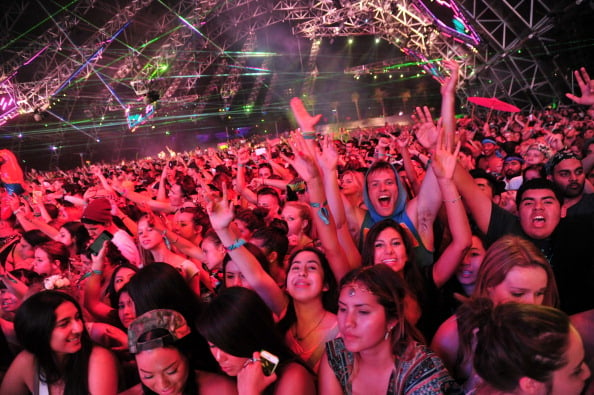 After the dust settles and the hipsters return home following the Coachella Valley Music and Arts Festival, some people are going to sit back and count their cash. The annual, two-weekend festival – which brought 579,000 people to the desert town of Indio, Calif., in 2014 – is also a big boon for the local businesses and governments.
Coachella pumped $254.4 million into the local economy in 2012, according to a study commissioned by Goldenvoice, the festival organizer. The city of Indio receives $5.01 for each ticket sold and expects to take in $2.8 million in music-festival-related fees in 2015. That's not counting additional revenues that come from hotel and sales taxes, plus the money people spend at local businesses on food, drink, transportation, and more.
"It has huge support on a city level. It really impacts our community greatly. Many people would like to see the number of festivals expand," Dan Martinez, the Indio city manager, told the Los Angeles Times.
Coachella is a behemoth among multi-day music festivals, which in recent years have sprouted like weeds across the country. Other towns are eager to attract their own major fest like Coachella or Bonnaroo, since such events have the potential to bring in big money for cash-strapped local governments, boost sales at local businesses, and put a city on the cultural map.
New entrants to the festival scene in 2015 include Rock in Rio USA in Las Vegas, Kaaboo in San Diego, and the Eaux Claires Music & Arts Festival in Eau Claire, Wisc. Those newcomers will be competing with more established events, from Chicago's Lollapalooza to the Hopscotch Festival in Raleigh, N.C. But with so many events on the calendar – and with many of the same artists playing at multiple festivals – have we reached a tipping point when it comes to music extravaganzas?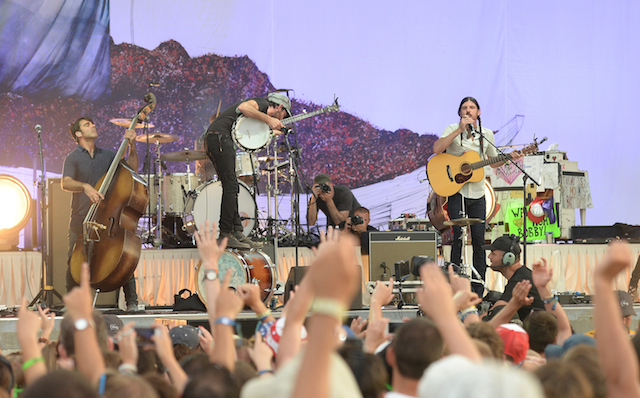 Some people definitely think so. "[T]here are signs that the exponential curve of festival growth is a path to an unsustainable scenario, where too many festivals overshoot talent costs and overrun the ability of fans to buy tickets at all," argued Grayson Haver Currin (who helped found the Hopscotch Festival) in a 2014 article for Wondering Sound.
That's bad news for cities that hope to play host to the next Coachella or SXSW (the latter generated $218 million for the Austin, Texas, economy in 2013, according to Governing magazine). With tickets for many festivals running into the hundreds of dollars, plus the costs of travel, food, and lodging, even the most die-hard fans usually can't afford to attend more than a couple of events.
Average nightly hotel rates for the first week of Coachella were $454, and enterprising local residents can make big bucks by renting their homes to out-of-town visitors. But more people trying to cash in by offering attendees a place to crash has actually started to drive down rental rates, which are 16% cheaper this year than last. Still, average nightly rental rates are higher for Coachella weekends than they are at other times.
While the high cost of attending may deter some people, "music festivals can …. be serious components of local economic development and regeneration strategies," John Connell and Chris Gibson wrote in their book, Music Festivals and Regional Development in Australia. But those benefits aren't automatic. For some festivals held in rural areas without a strong existing infrastructure to support a major event, most of the economic benefit may flow mostly to concert organizers and outside vendors rather than to the local community. When combined with the costs of hosting a major event, the expected payoff may not materialize.
Calculating the real economic impact of a music festival or other event is far more complicated than it may seem on the surface. Figures supplied by festival organizers may not tell the whole story. The organizers of Burning Man, which attracts nearly 70,000 people to the northern Nevada desert every summer, say it brought $55 million to the area economy in 2013, including more than $500,000 in donations to local charities.
But some people dispute that number, arguing that it's hard to know how much attendees are spending and where. Some of those dollars may end up going to big companies, like Wal-Mart, where people stop to buy supplies, and that money quickly flows out of the community.
"Without a survey, the estimates are not defendable," Brian Bonnenfant, a project manager for the Center for Regional Studies at the University of Nevada, Reno, told the Reno Gazette-Journal.
Hosting a high-profile event of any kind can quickly turn into a losing proposition for a city. Glendale, Ariz., which hosted the 2015 Superbowl, actually expected to lose money on the event, in part because many of the people who traveled to the game stayed in the neighboring cities of Phoenix and Scottsdale.
The return on investment may be even worse for multi-day events like the Olympics or the World Cup. "[T]here is strikingly little evidence that such events increase tourism or draw new investment. Spending lavishly on a short-lived event is, economically speaking, a dubious long-term strategy," according to a report in the New York Times.
Hosting a music festival like Coachella doesn't require the same level of investment as a major sporting event, of course. And in some cases, at least, it seems that the economic return can be significant. But in an increasingly crowded landscape of festivals, there's also no guarantee that an event will draw the numbers needed to transform it into an economic engine for the local community.
More from Business Cheat Sheet:
Want more great content like this? Sign up here to receive the best of Cheat Sheet delivered daily. No spam; just tailored content straight to your inbox.