Is Courtney Cox's Instagram Post Another Hint to a 'Friends' Reboot?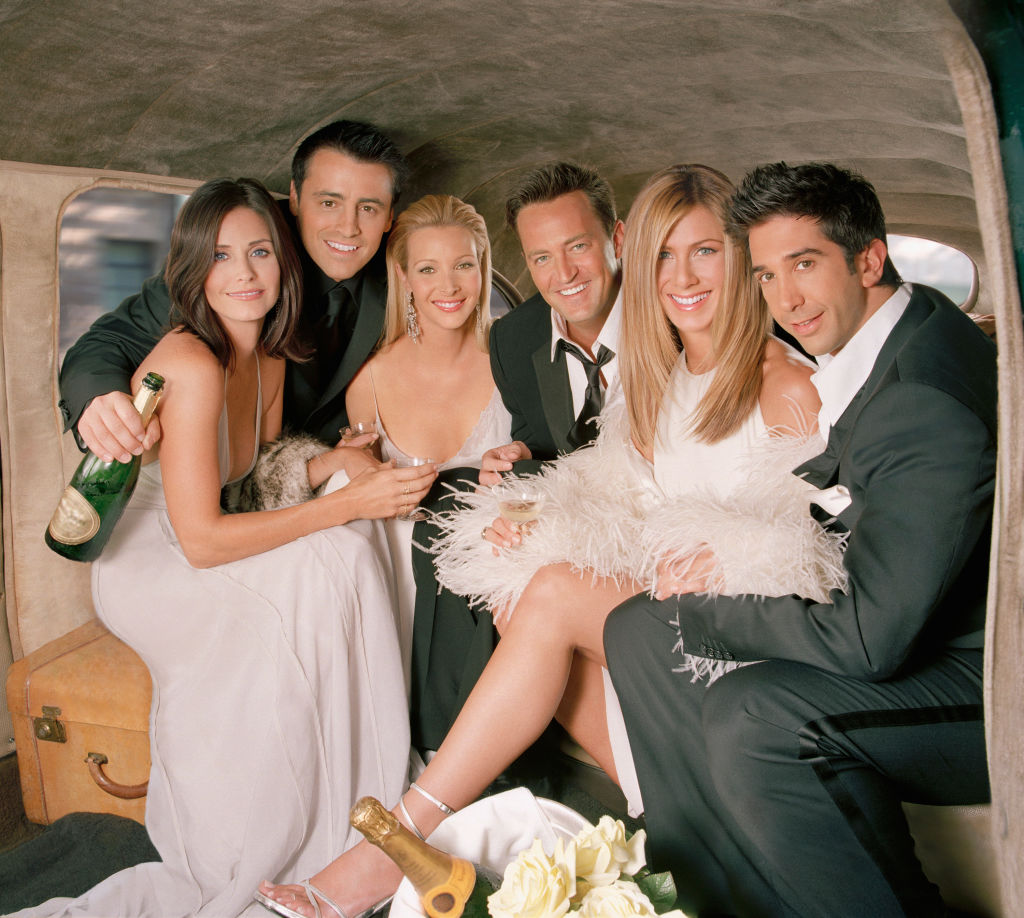 Okay, now they're just toying with us! With all the buzz around Jennifer Aniston's recent comments about a Friends reboot, fans are still holding out hope that the Central Perk six will reunite onscreen. And now Courtney Cox, who played Monica, just posted a selfie that has Friends loyalists chomping at the bit.
A birthday with 'Friends'
Cox, who turned 55 on June 15, celebrated her birthday with some famous Friends, according to E! Online. Posting an Instagram selfie with none other than Aniston, who played Rachel, and Lisa Kudrow, aka the infamous Phoebe, Cox's mini-reunion with her former cast mates is making the topic of a reboot stay in the forefront.
"How lucky am I to celebrate my birthday with these two??? I love you girls. So much," Cox wrote in the caption.
A remaining friendship
Despite not (yet) working on a reboot, the entire cast of the hit NBC show, which includes Aniston, Cox, Kudrow, Matthew Perry, Matt LeBlanc, and David Schwimmer, has remained close since the last episode aired in 2004 as E! Online reported. Over the years, some of the co-stars have been seen together at various events, and have posted some pics on their social media accounts.
For Cox's birthday, Kudrow followed up on Cox's post with one of her own, saying "Just remembering Court, I will ALWAYS be older than you. HAPPY BIRTHDAY lovely Courteney!!"
Cox swiftly posted back, "Only wiser my sweet," Cox replied. "Never older. I love you."
Aniston, who does not have an Instagram account, is often seen hanging out with Cox. Actor David Spade, who is a friend of Cox's, posted a pic on his Instagram account of Aniston with Cox with the caption "Happy birthday to @courteneycoxofficial and her plus one. Xx," referring to good friend Aniston.
When Kudrow was recently asked on Marc Maron's WTF podcast if all members of the Friends cast kept in touch, Kudrow said, "I mean the girls more than the guys… But yeah, we all still get along. We had dinner a couple years ago, everybody, for the first time since we were finished. We just laughed the whole night. It was really fun."
To reboot or not to reboot
Aniston responded to questions of a reboot on Ellen last year, where she simply replied, "Anything is a possibility." More recently, Aniston has been quoted several times recently speaking of the possibility of a reboot, again discussing the idea on Ellen earlier this month, as reported by MSN. "The girls would do it, and the boys would do it, I'm sure," Aniston said this time around.
Though she didn't always sound so sure about the guys. Aniston shared with James Corden last December that it was mostly Joey, Chandler and Ross who weren't feeling the Friends the Sequel vibe, but she offered up an alternative idea. "Listen, the girls always say we would love to do it again, and the boys are a little less excited about it for some reason, I don't know," Aniston said. "And so, we've decided that we'll just do … a remake of The Golden Girls in 40 years…"
While there's always hope we'll see this memorable ensemble together again, for now fans can take comfort in the occasional glimpses we get throughout the years, such as the birthday reunion with Cox, Aniston, and Kudrow. In the meantime, it looks like the Friends are indefinitely on a break.