Is David Fincher the King of Thriller Novel Adaptations?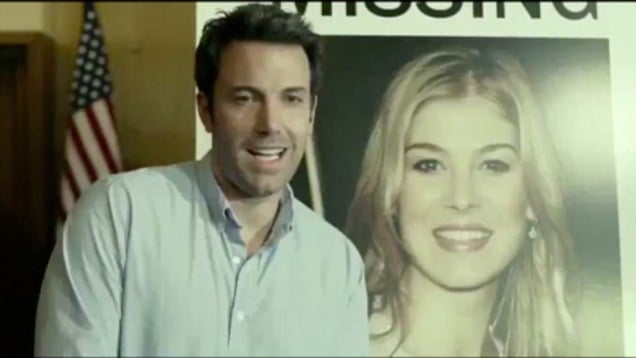 David Fincher's adaptation of Gillian Flynn's popular mystery-thriller Gone Girl has been getting rave reviews from critics, who are saying the movie could be another awards show contender from Fincher after his last two films, The Girl With the Dragon Tattoo and The Social Network, both picked up Oscar nominations and trophies. Fincher's success at bringing Gone Girl to the screen after recently achieving similar results with The Girl With the Dragon Tattoo shows that the director has a knack for transforming entertaining mystery novels into serious films meant to do more than just entertain.
Flynn's novel received decent reviews when it was released, with book critics praising her alternating storytelling format and her dark look at modern marriage, as well as her use of conventional mystery-thriller literary devices in new and unique ways. The book was a major bestseller when it came out in 2012, only beaten that year by the phenomenon that was Fifty Shades of Grey. While the book was praised and sold lots of copies, it isn't the kind of novel that goes on to win prestigious literary awards like the National Book Award or the Pulitzer Prize.
Fincher, with help from Flynn on the screenplay, has made Gone Girl into a movie starring Ben Affleck and Rosamund Pike that could be capable of winning film's most prestigious honors. Rolling Stone critic Peter Travers said: "Working from an incisively shaped script by Flynn herself, director Fincher goes right for the jugular. No one does moral rot like Fincher. And with Affleck and Pike around to put a beautiful face on Mr. and Mrs. Wrong, the stage is set for diabolical fun that stings like a muthafucker."
David Edelstein of New York Magazine said, "The movie is phenomenally gripping–although it does leave you queasy, uncertain what to take away on the subject of men, women, marriage, and the possibility of intimacy from the example of such prodigiously messed-up people." Variety called it an "Oscar-contender" and said it'd do well at the box office, too.
Of course, Fincher has done this all before, with The Girl With the Dragon Tattoo. When that novel was published in English in 2008, followed quickly by its two sequels, the mystery-thriller trilogy became bestsellers. Steig Larsson's books are also the type meant more for entertainment than literary value, driven by a super-cool goth-punk hacker heroine who was just begging to be made into a movie character.
Larsson's native Sweden made film versions of the complete trilogy first, but in the U.S., Fincher was chosen to adapt the first novel and cast little-known actress Rooney Mara as its star. Fincher was able to coax an incredible performance out of Mara, which landed her an Oscar nomination. While the movie's box office performance might have disappointed the studio due to its high budget, throwing the prospect of Fincher doing the remaining sequels into jeopardy, with critics it was a success.
"David Fincher's adaptation of the international best-seller is a triumph of craftsmanship over material," said The Chicago Reader of the movie, and it seems that's something Fincher has done yet again with Gone Girl.
Follow Jacqueline on Twitter @Jacqui_WSCS
More from Entertainment Cheat Sheet:
Want more great content like this? Sign up here to receive the best of Cheat Sheet delivered daily. No spam; just tailored content straight to your inbox.