Is David Spade's Face Really On a Kurt Cobain Tribute?
Kurt Cobain's legacy continues to be celebrated decades after his death. Tributes flooded social media on what would have been his 52 birthday February 20, along with one of the most bizarre honoring the rocker.
Australian street artist street artist Lushsux created a large mural of what is supposed to be Cobain, according to Alternative Nation. He partnered the mural with the Neil Young lyrics, "It's better to burn out than to fade away."
For the past few years, fans reacted to the mural because it undeniably resembles comedian David Spade. Most recently writer Matt Oswalt tweeted this tongue in cheek comment about the mural, considering the image is Spade and the words are Young's. "Happy Birthday Kurt Cobain! Your words and image will never been forgotten."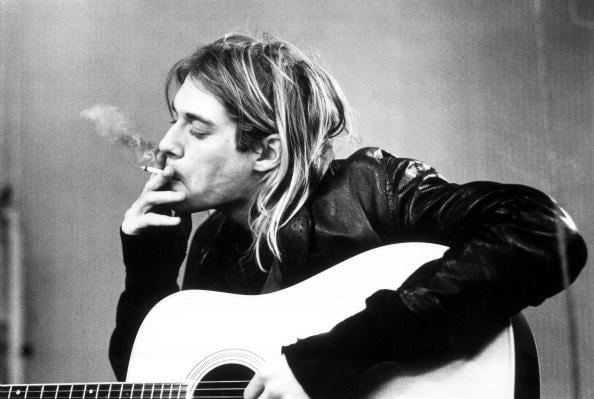 They couldn't resist
A number of actors and comedians jumped onto the thread. Actor Mark Hamill responded, "Nice tribute, but weird they used a picture of David Spade." Comedian Kathy Griffin replied, "I mean…that's David."
Actress Amber Tamblyn was confused. "But also, why is Kurt Cobain David Spade?" Actor/comedian David Cross added, "Honey…" to which Oswalt responded, "for the last time, David, I'm not your honey, I'm your buttercup."
Spade confirms he is in the mural
Could the image just "possibly" look like Spade? Spade confirmed the image is, indeed of him. Spade commented on the mural in 2017 and tweeted, "Everyone is sending me this" along with a picture of the mural.
The mural was created in September 2017 on a building in Lintz, Austria, according to Entertainment Weekly.
But it is really an internet joke
Instead of being grossly off-base, Lushsux likely created the mural from a 2016 tweet about Cobain, AV Club reports. The tweet came from Kurt Cobain Facts with the same image and Young quote. "Kurt Cobain died 21 years ago today. He made REAL music unlike these artists today. R.I.P."
AV Club notes that Lushsux often likes to pull from the internet to create works much like the Spade/Cobain mashup. In fact, Lushsux describes himself as the world's first meme artist, according to Hypebeast.
When asked what kind of artwork he enjoys most, Lushsux's response sounded as though it totally applied to the Cobain murals. "Stuff that will make you stop in your tracks and take a Snapchat with."
Check out The Cheat Sheet on Facebook!