Is Dean McDermott The Reason Tori Spelling's Bank Account is Drained
Tori Spelling's character on BH90210 is a harried mother of six who is having severe financial problems. To reinvigorate her career and refill her drained bank account, she embarks on a campaign to get a reboot of her former show off the ground. While the storyline is fictional, the character's struggle intimately mimics Spelling's real-life problems. Financial institutions are suing the once filthy rich TV star, and she still hasn't reigned in her spending. Is Spelling entirely to blame for her current financial situation, or does her husband, Dean McDermott play a massive role in the family's lack of funds?
Art imitates life for Tori Spelling
When Spelling pitched the idea of a Beverly Hills, 90210 reboot she had to come up with an original storyline. She did just that, and her money woes are being utilized to weave together fact and fiction. Ian Ziering, who is appearing on the famed reboot told Us Weekly; "Tori, who, in the TV series, is a mother of six children and is broke, inspires everybody to get the show back on."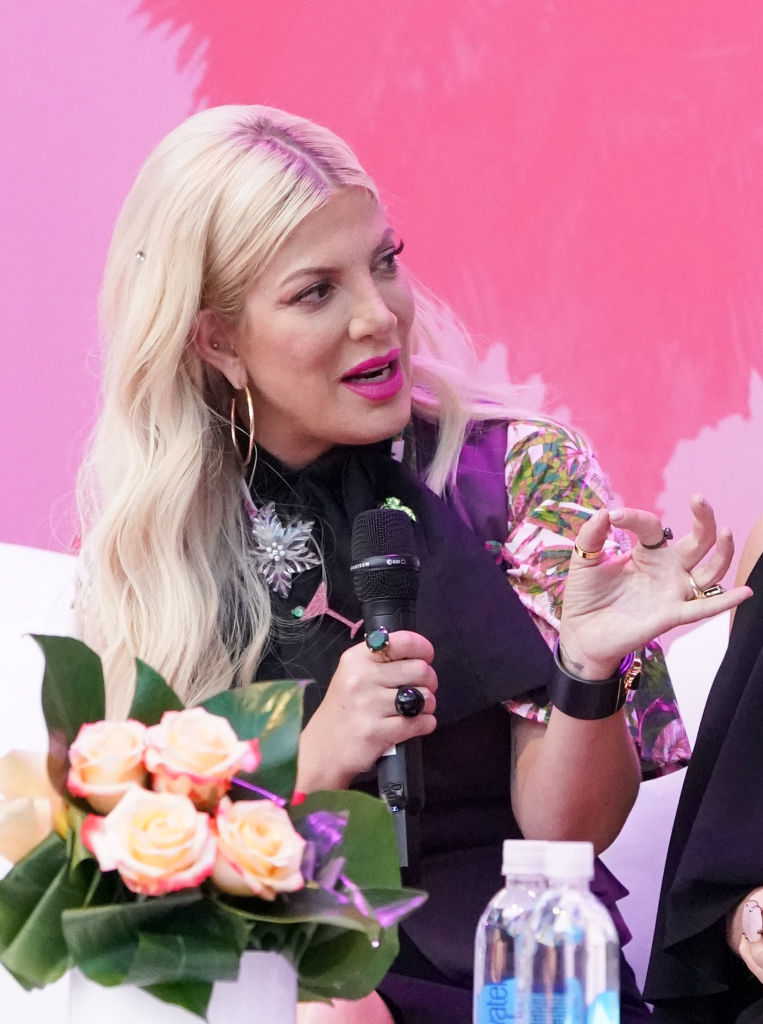 The storyline doesn't seem to be far from the truth. The reboot couldn't have come at a better time for Spelling. She is being sued by multiple lenders and has even been threatened with jail time if she didn't show at hearings. American Express is now knocking on the door, hoping to seize Spelling's TV earnings to satisfy an $88,000 debt.
Why is Tori Spelling out of money?
Spelling is a bit of a spending freak. She admits that she can't manage a budget well, and seems to find it challenging to live within her means. Years after word of her financial troubles surfaced, she plunked down several thousand dollars on a child's birthday party. The 2014 party, according to Hollywood Life, was a spa-themed birthday bash for her then 8-year-old daughter. Stella and 18 of her friends were treated to spa treatments and backpacks full of goodies to take home. The party took place just months after Spelling bemoaned that her bank account was suffering in her 2013 book.
Candy Spelling, her famed mother, has noted that the younger Spelling never could manage cash. She claimed that the mother of five used to enjoy shutting down an entire store and spending upwards of $50,000 in a single trip. The elder Spelling noted her daughter's lack of moderation was the reason she inherited a small sum from her father upon his death. The elder Spelling is rumored to be footing the bill for Spelling and McDermott's kids but has stopped short of bailing the couple out of their financial troubles.
Is Dean McDermott to blame for the family's financial follies?
McDermott isn't a financial Wizkid either. While his career has been far less fruitful than Spelling's, he doesn't seem to shy away from expensive trips and toys. The father of six, is apparently so broke that he can't even manage to pay his child support.
McDermott's ex-wife, Mary Jo Eustace noted that Spelling stepped in to settle McDermott's debt when his child support and alimony payments continued to bounce. She noted that Spelling took it upon herself to take responsibility for McDermott's failure to pay.
In 2017, Eustace went to court over the back child support payments. The court documents were obtained by Us Weekly. In the papers, Eustace claims, "Dean has stopped paying again. In the last six weeks he has been on two luxurious vacations, Iceland & the four seasons in Punta Mita. He resides in a $2 million estate paid by his mother-in-law, Candy Spelling, and has no impetus to work. He owes over $100,000 moving forward, and I believe he has no intention of paying,"