Is Demi Lovato Ready to Give Up Singing for Acting?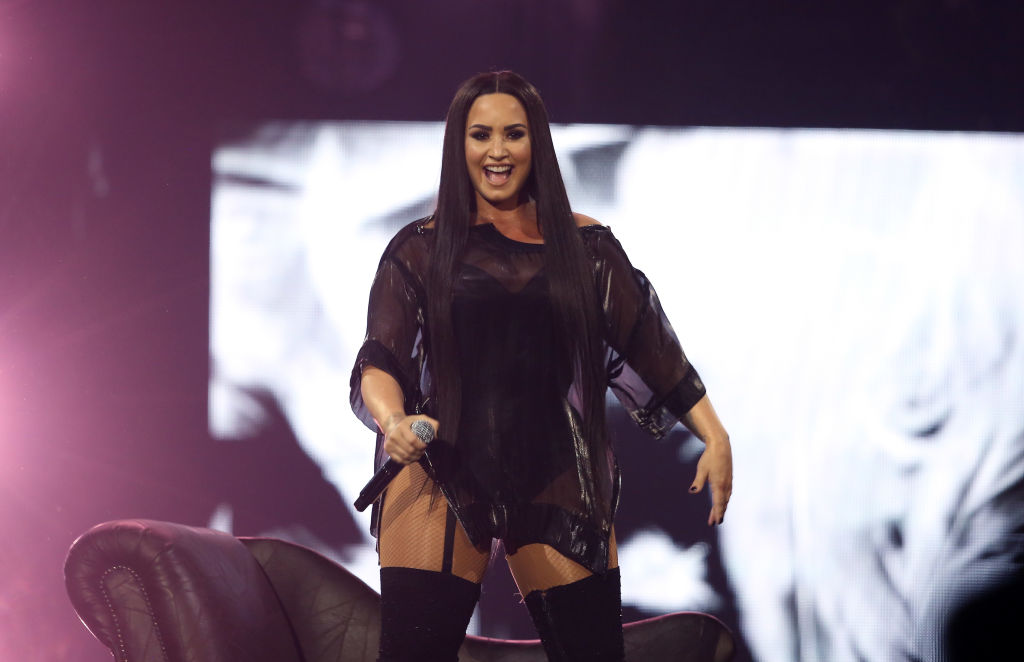 Demi Lovato has been singing songs into people's hearts for years. But the award-winning singer may be turning her back on her music career and going back to her roots in acting. Here's what we know.
Demi Lovato's recovery
After her overdose, Lovato needed to focus on nothing but herself. That's the right thing for her to do in that situation, but it did leave fans without any new material for a long time. After signing with a new manager, Lovato has finally announced that she was working on a new album. Fans have yet to hear any new material.
This long hiatus from making music isn't uncommon for musicians, but Lovato, who's been a lifelong actress, has a lot of other things on her plate too. That's why it's possible that she might step away from the microphone for a time.
Demi Lovato's new projects
According to Entertainment Weekly, Lovato has been shooting episodes of Will & Grace, and she'll appear in three episodes of the show. She's playing a woman named Jenny and although it's a small and recurring role in the final season of the show, she's still getting the chance to flex her acting chops once again.
She's done a lot of film and television projects, but the vast majority of the time she's just playing herself. This will be the first TV role that she's had as a fictional character, outside of voice work she's done, since she guest-starred in From Dusk Till Dawn: The Series in 2015.
That isn't the only acting gig that she's got. She's also filming for a new Netflix original movie called Eurovision, and she'll co-star with Will Farrell. Eurovision is an annual singing contest that involves mostly European countries, so in the movie, which will be a comedy, Lovato will probably get to sing and act.
The details about Eurovision are unknown right now, but if Netflix is willing to pay Farrell and Lovato to work on the movie, then we can expect that Eurovision will be a big blockbuster for Netflix. If Eurovision proves to be successful, then it can potentially reignite Lovato's career as an actress.
Interestingly, Lovato's new manager, Scooter Braun, also manages singers like Hilary Duff and Ariana Grande. Duff, much like Lovato, is known for her music as well as her acting chops.
Duff recently joined the Lizzie McGuire reboot that's being made for Disney's streaming service, Disney+. This may not mean anything, but it's possible that Braun is helping Lovato and Duff get more work in Hollywood than they've both had recently.
What does the future hold for Demi Lovato?
These are just some recent developments in Lovato's life, so we won't know for sure if she's going to become a full-time actress or not. There are perks to being a musician, and like Lovato said in her interview with People, her next album will be her chance to talk about herself and her overdose from her perspective.
She could do that in a movie, but it'd be much harder for her to express something so deep and personal like that on film or TV compared to in a song.
Furthermore, if Miley Cyrus's career is a good example, then Lovato will never escape from being cast as someone who can sing well. Cyrus, another actress and musician, recently had a starring role in the Netflix show, Black Mirror, where she played a singer.
It's no surprise then that one of Lovato's confirmed acting roles will be in a movie about singing. It's very likely that her musical skills, as well as her acting talent, helped get her the role. Even if she becomes a full-time actor, she may have to do a lot of singing anyways.
That's why it's unlikely that Lovato is leaving music for good. She may just be on a break.