Is 'Die Hard' Really a Christmas Movie?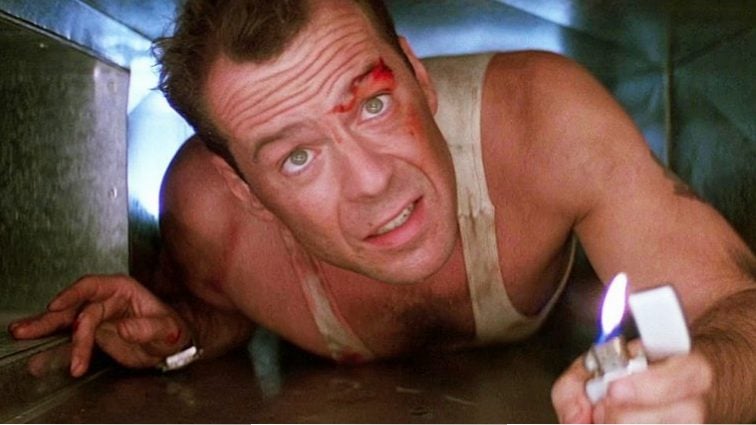 When you think of Christmas movies films like Home Alone, It's a Wonderful Life, Elf, and Christmas Vacation may come to mind. For many people Die Hard is also included on their list of holiday films, but can the action flick really be considered a Christmas movie? Well, we finally got the answer to that age-old question about whether or not Die Hard is a Christmas movie and this is according to none other than the film's writer. The movie's star, Bruce Willis, also recently weighed in on this subject but do they agree?
This burning question has divided people for years. Some believe that because there's no snow, no Santa or reindeer, and the movie came out in July that Die Hard is not a Christmas movie. Others though point out that it takes place on Christmas, contains a couple of famous carols, and the characters make multiple references to the holiday like, "It's Christmas Theo. The time for miracles," and "I have a machine gun now, Ho Ho Ho."
So without further ado, here's screenwriter Steven de Souza's answer to the question as well as Willis' position and the results of a new poll which reveals where most Americans stand on the issue.
The film's writer attempts to settle the debate
In December 2017, CNN reporter Jack Tapper decided to reach out to the Die Hard co-writer to settle the annual debate.
Tapper tweeted at Souza and asked, "I'm sure you weighed in on it before, but I've never heard you or Jeb Stuart offer your take on whether Die Hard is a Christmas movie."
Souza responded to Tapper by announcing that it is, in fact, a Christmas movie writing, "Yes, because the studio rejected the Purim draft" followed by the hashtag #DieHardIsAChristmasMovie.
Yes, because the studio rejected the Purim draft #DieHardIsAChristmasMovie

— Steven E. de Souza (@StevenEdeSouza) December 24, 2017
Bruce Willis declares the opposite
While Souza confirmed that Die Hard can be added to your holiday movie list, the film's star doesn't agree.
At the end of his Comedy Central roast in July 2018, Willis gave his take on the 1988 classic and told the crowd, "Die Hard is not a Christmas movie!"
When asked how he thinks fans of the flick might react Willis said, "We'll see."
New poll reveals what most Americans think
Willis isn't the only one with an opposing view though, a new poll finds that the majority of Americans have a different take than Souza about the film as well.
In December 2018, a poll conducted by the Morning Consult/Hollywood Reporter found that 62% of adults across the U.S. do not view Die Hard as a holiday film while only 25 percent considered it a Christmas movie. More than 70% of adults over the age of 55 answered that they didn't view it as a Christmas movie compared to 61% of adults in the 45 to 54 age group, 51% of adults in the 30 to 44 age group, and 50% of adults in the 18 to 29 age group.
The survey was completed by 2,220 Americans and included a margin of error of two percentage points.
Check out The Cheat Sheet on Facebook!