Is Disney Already Regretting Hiring 'Game of Thrones' Writers for 'Star Wars'?
There were more than a few people who suggested Game of Thrones had some Star Wars allusions in recent years, something maybe not by mere coincidence. We even hinted at the same thing with the idea David Benioff and D.B. Weiss were arguably throwing subtle hints in the final season they were involved in writing a new Star Wars trilogy.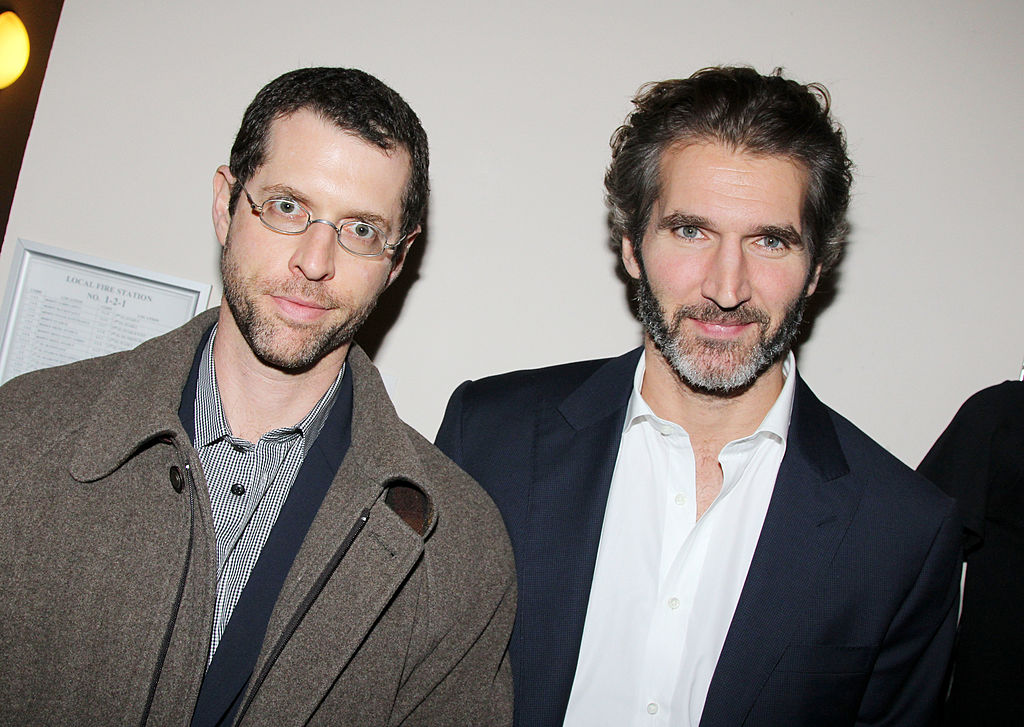 We've all wondered how well they'd fit in the galaxy far, far away, despite GoT having similar complex good vs. evil analogies. On the other hand, let's also be realistic and say GoT was far more adult and goes against the grain of the family-friendly approach to the Star Wars saga.
Rumors are Benioff and Weiss maybe won't have such a huge role in Star Wars after all following the GoT finale backlash.
Did Benioff and Weiss want to bring a little bit of 'GoT' to 'Star Wars'?
As some media outlets note, Kathleen Kennedy from Lucasfilm has never wavered in sometimes removing signed directors who didn't want to adhere to the Star Wars vision. If some might argue not allowing innovative thought into the franchise could easily mean staleness, Lucasfilm doesn't always waver.
Well, the new Star Wars trilogy (and sideline films) have already gone in a lot of exciting new directions. Nevertheless, it still maintains the basic structure and PG/PG-13 writing fans have loved for 42 years.
Is it possible Benioff and Weiss wrote lengthy treatments for their proposed new trilogy and were rebuffed on the direction they wanted? After writing Game of Thrones for close to a decade, they were probably used to having free reign in making things as adult as they wanted. With HBO, the sky's the limit on writing about everything from incest to gruesome death scenes.
Maybe the two writers added a little too much spice to their Star Wars trilogy treatment to a point where production heads decided they didn't want to risk alienating devoted fans.
Fan response to the 'GoT' finale might have also made a difference
We're still seeing a backlash to the GoT finale that even led to a petition in filming the finale over again to suit the whims of viewers. No doubt the petition will never be fulfilled, yet it probably shook Lucasfilm to see such a wide, negative response.
Earlier, the Lucasfilm team praised Benioff and Weiss to the hilt and felt excited they'd generate something different for the Star Wars universe. One has to wonder if things have changed a little, based on fears of what fan response would be to a final movie in a trilogy.
From all reports, it seems Benioff and Weiss will be doing only one Star Wars movie rather than the trilogy they originally planned. Part of the reason for this could be due to a new Netflix deal they signed to create projects for the streaming service.
Considering Netflix will be a hefty competitor with Disney Plus soon (where all Star Wars movies will stream), it opens another door to pondering some competitive conflict.
Then again, maybe the early 'Star Wars' years were a lot like 'Game of Thrones'
The original plan for Benioff and Weiss's standalone Star Wars trilogy was to have it set during the time of the Old Republic. Despite a lot of semi-canonical back story being created for Star Wars, not a lot is known whether that world had a lot of similar situations we saw in GoT. For some, it might seem weird to hear talk about inbreeding, depictions of violent deaths, and even sex scenes in a Star Wars trilogy.
If Lucasfilm agreed to such a thing, it's easy to see why we might only see it in one film rather than three. Certain formulas arguably shouldn't be disrupted just to keep up with HBO and audiences hungry for more realistic adult entertainment in everything.
In the end, it might mean a lot more for Netflix than Lucasfilm in taking on any daring creative challenges.