Is 'Elf' Streaming on Netflix in 2018?
It's hard to believe, but Elf is 15 years old. The Christmas comedy starring Will Ferrell as a man raised as one of Santa's elves who travels to New York to find his real father has been delighting audiences since it was released in 2013.
If watching Buddy and Jovie (Zooey Deschanel) sing their version of "Baby, It's Cold Outside" in a bathroom is part of your holiday tradition, here's what you need to know about how to stream the movie this year.
Elf isn't on Netflix

Unfortunately, you can't stream Elf on Netflix this year. It's also not on Hulu or included with Amazon Prime. (But you can stream It's a Wonderful Life and other great Christmas movies for free on those platforms.)
However, you can rent Elf on Amazon for $3.99, or buy a digital copy of the movie for $8.99. The movie is also available for rent or purchase on iTunes, Vudu, Google Play, and YouTube. The DVD is $12.89 on Amazon.
When is Elf on TV in 2018?
Elf might not be on Netflix this year, but it is airing on AMC several times throughout the holiday season as part of the network's "Best Christmas Ever" series, along with other favorites like National Lampoon's Christmas Vacation, Ernest Saves Christmas, The Polar Express, and Prancer. You can catch the movie on these days:
Tuesday, December 11 at 7/6c and 9/8c
Sunday, December 16 at 8:15/7:15c and 10:15/9:15c
Watch Elf in theaters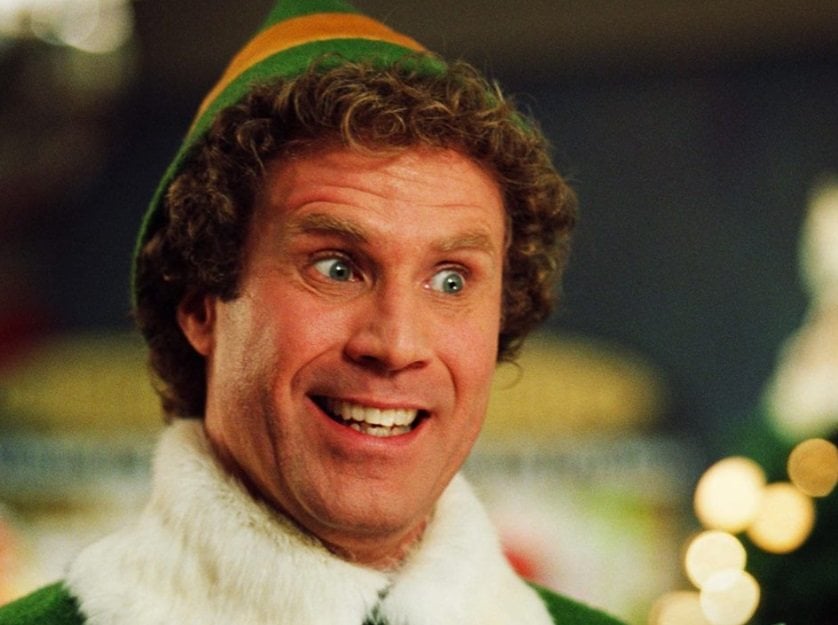 This year, you can also watch Buddy's antics on the big screen at select theaters. It's playing at Alamo Drafthouse Cinemas, Regal Cinemas, and other theaters. Check your local movie listings to see if a screening is happening near you.
Elf has also gotten the musical theater treatment. The movie was turned into a Broadway musical in 2010. The 2018 tour is stopping in Durham, North Carolina; St. Paul, Minnesota; Toledo, Ohio; New Orleans; and Pittsburgh. Local productions are also happening in other cities.
How much money did Elf make at the box office?
Unlike some other holiday movies like It's a Wonderful Life (which performed poorly at the box office when it was first released), Elf was a hit from the start. The movie opened at No. 2 for the weekend of November 7-9, 2003, earning $31.1 million, which was higher than expected. (The Matrix Revolutions was the No. 1 that weekend.)
The movie's total domestic gross was $173.4 million, according to Box Office Mojo. That's an impressive total, but not enough to make it one of the top Christmas movies of all time.
Home Alone earned $619 million at the domestic box office (adjusted for inflation). The Macauley Culkin film is the 42nd-highest grossing movie of all time. The Bells of St. Mary's, the 1945 movie starring Ingrid Bergman, earned $573.5 million and is No 57 on the list of top-grossing films.
Other Christmas movies that did well at the box office include the live-action version of How the Grinch Stole Christmas ($439.7 million), Home Alone 2: Lost in New York ($382.5 million), and The Santa Clause ($315.4 million).