Is Emilia Clarke Single? Find Out Who the 'Game of Thrones' Actress Is Dating
Mystery abounds as we eagerly await the last remaining episode of HBO's smash hit Game of Thrones. As fans speculate who will sit atop the Iron Throne when the smoke clears, rumors also have been ignited regarding who the Mother of Dragons is currently dating. No, not on the show. Daenerys Targaryen is played by Emilia Clarke and her relationship status is not so clear cut.
Did Emilia Clarke date Jason Momoa?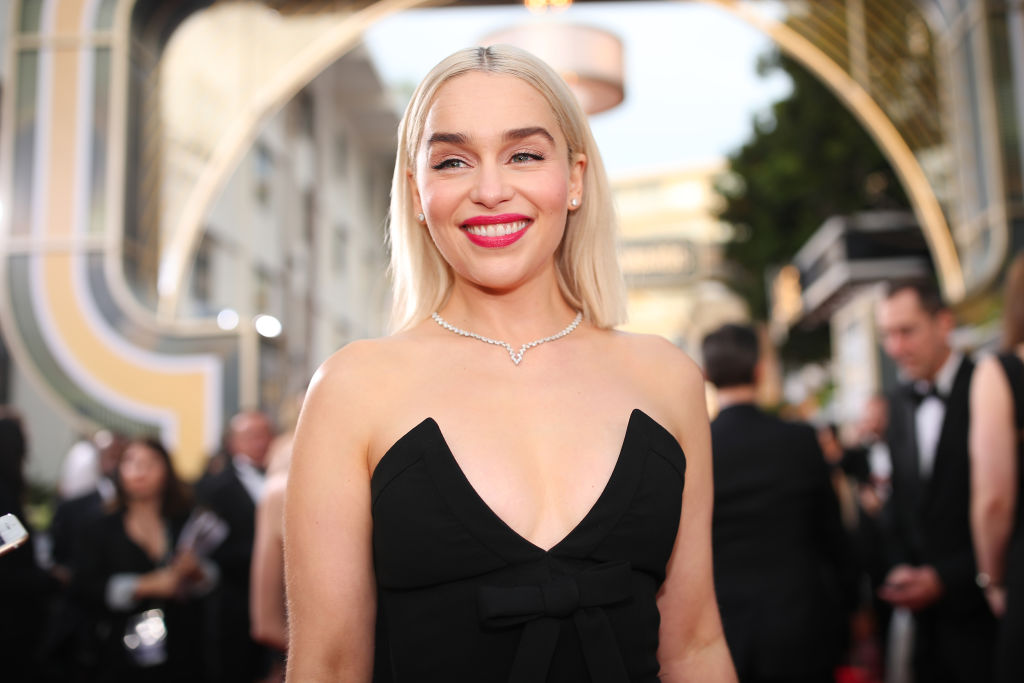 A fan favorite rumor for sure is that our Khaleesi is having a secret romance with Khal Drogo actor, Jason Momoa. The two appear regularly on each other's Instagram feeds in warm embraces, laughing, and otherwise singing each other's praises.
Speculations always pop up when one or the other express their deep affection. Momoa recently announced on his Instagram: "I love you Emilia Clark" in a heartfelt post about his time on Game of Thrones. He mentions how honored he was to be able to be on the show, but specifically uses the word friends in reference to the cast.
That said, the actor is happily married to wife, actress Lisa Bonet. Any affection he feels for Clarke is pure friendship and entirely platonic.
Did Emilia Clarke date Kit Harington?
As much as we love the idea of the Mother of Dragons and the King of the North getting together (or do we?) the real-life pair maintains that they are just really good friends. Spending more than 8 years working on the series Game of Thrones together has brought them closer, especially because they were both young, inexperienced actors when the series began.
When talking about his romantic scenes with Clarke, Kit Harington can't help but laugh a little and even gag. He mentions making jokes and retching noises when they are trying to film a love scene makes it a little more bearable.
Clarke, too, has mentioned the difficulties in filming sex scenes with someone she considers just a buddy. "And for us, as actors it's just weird…" she confides.
"If you're already attracted to someone, and then they play your love interest in the show, it becomes very easy to fall in love." Harrington dishes about falling in love and marrying his costar. But, he isn't speaking about the lovely Clarke. Kit married co-star Rose Leslie in a beautiful Scottish wedding last year.
Who is Emilia Clarke dating?
Rumors tell us: no one. Most recently the star was suspected to be romantically involved with film director Charlie McDowell after posting a cute beach photo of the pair last fall. McDowell even had a few tweets about Game of Thrones which indicated that perhaps he and our favorite Targaryen were an item.
It appears that McDowell recently unfollowed her on Instagram though, and perhaps we jumped the gun in assuming they were a couple.
Even though Clarke has become a household name, she manages to keep her personal life pretty secret. Previously she's been romantically linked to actors Seth MacFarlane, James Franco, and Cory Michael Smith… but who's she dating now? No one knows. Much like the series finale of Game of Thrones which airs later today on HBO, the mystery remains.