Is 'Eye Candy' the New 'Veronica Mars'?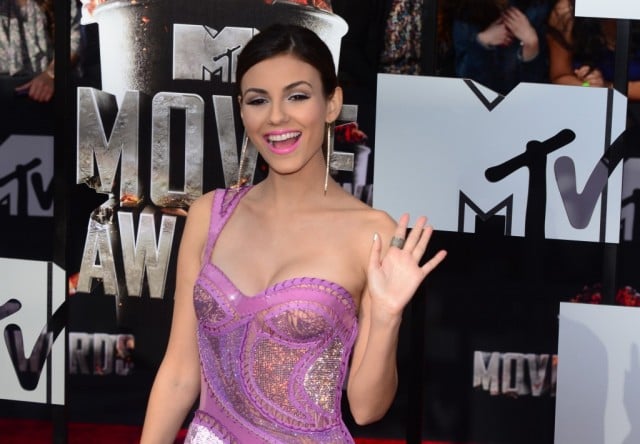 MTV is prepping a new show that sounds like a reboot of the popular cult series about a sarcastic feminist teenage sleuth, Veronica Mars, starring Nickelodeon teen queen Victoria Justice and updated for contemporary audiences. Though the subject matter seems similar, judging by the new trailer for the series, it looks like Eye Candy is getting its politics wrong if it was looking to seduce Veronica Mars' cult audience or even a younger crowd with similar sentiments.
The show, Eye Candy, sees Justice playing a gifted computer hacker and amateur spy named Lindy Sampson who teams up with the New York police to catch a serial killer who meets girls via an online dating site, then stalks and murders them. In order to help catch him, Lindy decides to date him herself to lure him in. Eye Candy is based on the best selling novel by Goosebumps author R.L. Stine.
Eye Candy looks kind of like a sexy, techy version of Veronica Mars, which aired on the CW for three seasons between 2004 and 2007. That show starred Kristen Bell as a high school detective, a former popular girl who works as a private investigator with her detective father while completing her studies. Veronica Mars was one of those shows that gained more of a cult following after it was canceled due to dismal ratings.
That cult following was strong enough to raise money for a Kickstarter campaign to fund a Veronica Mars movie that came out this spring. The Kickstarter was launched by Bell and show creator Rob Thomas and it hit its $2 million goal in under ten hours, eventually raising a total of $5.7 million from rabid fans of the feminist detective.
Like Veronica Mars, Eye Candy promises to deal with issues of rape culture and men preying upon women. One of the reasons Veronica Mars' fans are so crazy about the show is its feminist ethos and lists like this one from Vulture abound online. One of the central conflicts of the show was that Veronica was drugged and raped at a party and she tries to solve the mystery of who her attacker was. She also avenges several of her friends who are sexually assaulted.
Eye Candy seems like it's going to address some similar topics, but at least judging by the trailer the show's handling of them seems at least a bit problematic. Seducing a stalker in order to capture him doesn't seem like a particularly safe or smart method nor does Lindy do a good job of protecting herself when he makes a surprise visit to her apartment, lo and behold knowing where she lives even though she never told him. There are scenes in the trailer of Lindy dancing with him at the club, walking alone with him in a junkyard, and making out with him fairly aggressively, all in the name of her duty as a spy. Not exactly a feminist message from MTV.
Follow Jacqueline on Twitter @Jacqui_WSCS
More from Entertainment Cheat Sheet:
Want more great content like this? Sign up here to receive the best of Cheat Sheet delivered daily. No spam; just tailored content straight to your inbox.