Is 'Family Guy' Canceled Or Renewed for Season 18?
In the realm of iconic television shows, few rank higher than Family Guy. Conceived by the brilliant writer and comedian Seth MacFarlane, the show has been entertaining viewers for 20 years.
With rumblings about possible feature film and new projects in the works for MacFarlane, fans have started to wonder – how much longer will Family Guy stick around?
What is 'Family Guy' about?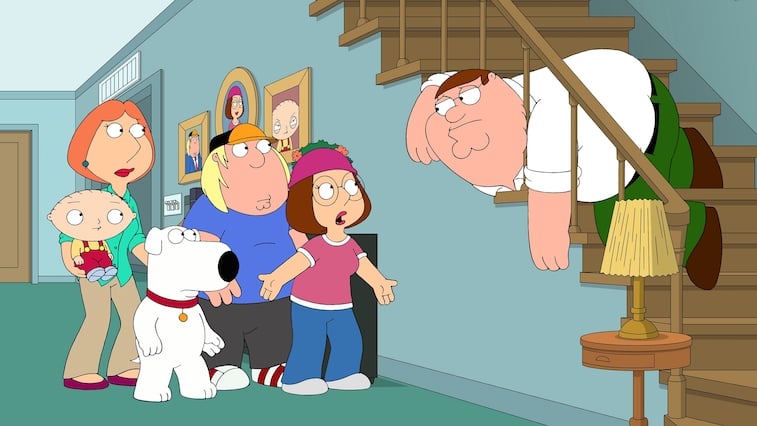 An animated show that features simplistic, overdrawn characters, Family Guy premiered in January 1999.
The show centers around the Griffin family of Quahog, Rhode Island – patriarch Peter, wife Lois, daughter Meg, son Chris, baby Stewie, and the family dog, Brian. There are a whole host of recurring characters as well on Family Guy, including creepy bachelor Quagmire, paraplegic police officer Joe, and various local television personalities.
The show is famous for cutaway humor, and the near-constant barrage of jokes about American pop culture. Family Guy has spawned a veritable empire of merchandise and related material, including straight-to-DVD specials, a slot game, numerous books, and a Star Wars parody.
The Griffin family have become so well-known that many fans consider them a part of television history, and tune in regularly to new episodes.
What do the critics say?
Seth MacFarlane first conceived of the premise for Family Guy in 1995, when he was studying animation. He has served as the brainchild behind the series from start to finish and has been the executive producer for the entire run of the show.
Although Family Guy has a large writing staff, MacFarlane is still very much involved in the day-to-day creation of the show and is still the main voice actor. Other popular actors lend their vocal talents to Family Guy, including Mila Kunis as Meg Griffin, Seth Green as Chris Griffin, and Patrick Warburton as police officer Joe.
While Family Guy has been an overwhelming success for audiences around the world, it has experienced its fair share of controversy. The show has quite a history of raunchy humor, and many critics have, at times, taken issue with some of the harsh jokes featured.
There are also critics who don't particularly enjoy Seth MacFarlane's unique brand of humor – and for those people, Family Guy usually falls squarely in the crosshairs.
Plenty of celebrities have become huge fans of the show over the years as well. Stars such as Robert Downey, Jr., Dwayne "The Rock" Johnson, Lauren Conrad, and Rihanna have all admitted to loving the show.
The success of Family Guy has given Seth MacFarlane many good opportunities as well. Over the years, the writer/comedian has worked on several big movies, including Ted and A Million Ways to Die in the West.
In addition to Family Guy, MacFarlane has earned renown for his other TV shows like American Dad and The Cleveland Show, a Family Guy spinoff. He's also become one of Hollywood's go-to hosts for various events and even hosted the Academy Awards in 2013.
Is the show returning for the 18th season?
In spite of the mixed reception with critics, fans still love the show, even after 20 years on the air. Therefore, in February 2019, many fans were overjoyed to learn that Family Guy had been renewed for an 18th season.
While there is no set release date yet, new episodes will likely start premiering in late 2019. MacFarlane will also be kept busy working on his hit new science-fiction show The Orville, which is also a Fox series.
Stay tuned to The Cheat Sheet for more news about the upcoming season of Family Guy, and to find out when new episodes will be available for streaming!