Is Gavin Rossdale Threatened By Blake Shelton's Relationship With His Boys?
Blake Shelton has spent a lot of time being a stepfather to Gwen Stefani's three boys, Kingston, Apollo, and Zuma. While Shelton has been on daddy duty the past few years, Stefani's ex-husband, Gavin Rossdale, knows the country crooner has developed a strong bond with his sons. But is Rossdale threatened by Shelton's growing influence on his little ones?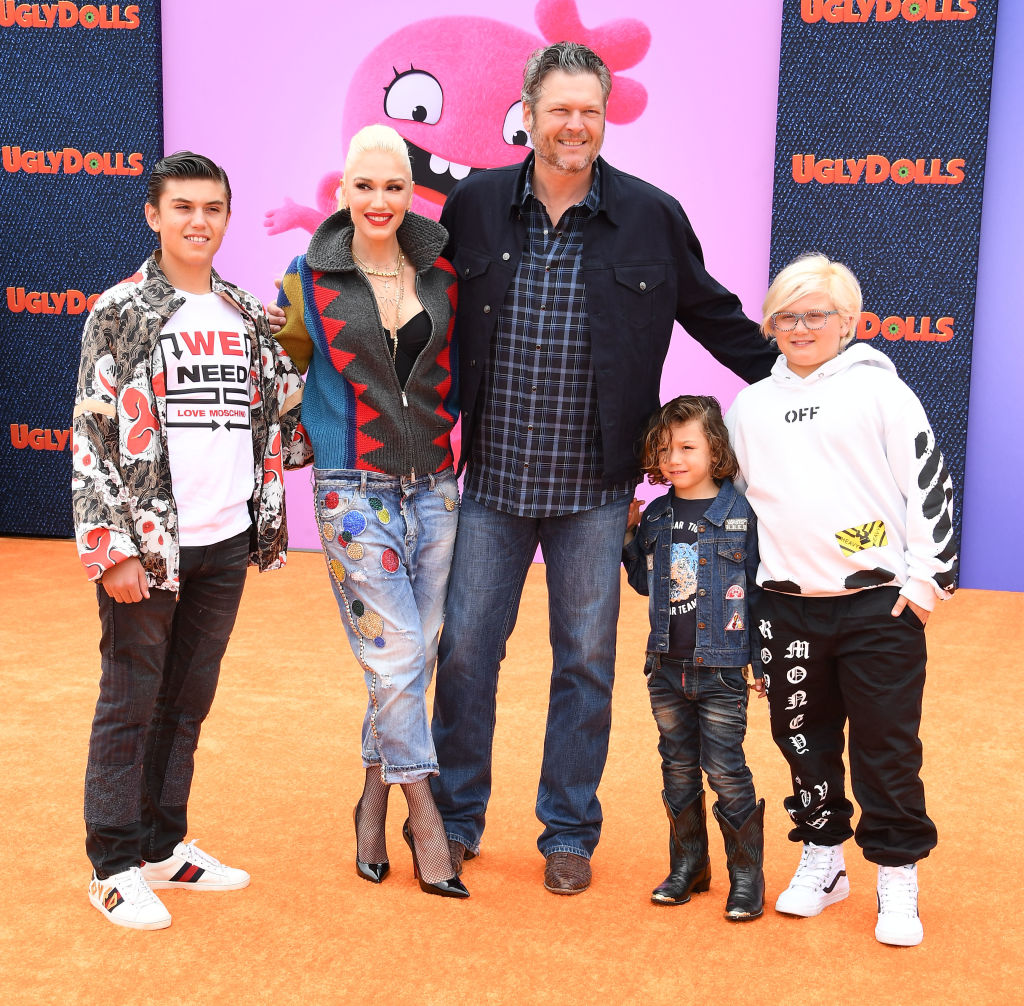 Rossdale is worried about losing time with his family
Rossdale is undoubtedly thankful that Shelton is good to his boys, but he still worries about how much time they are spending with The Voice star. An inside source told Hollywood Life that Rossdale has a difficult time watching Blake Shelton with his sons and wonders if they are spending too much time with him. While he is appreciative of Shelton's positive influence, and the fact that he takes the boys fishing and hiking on his ranch in Oklahoma, Rossdale feels like he should be spending that time with his boys.
"It is challenging for Gavin to watch his boys grow closer and more attached to Gwen's boyfriend Blake," the insider dished. "However, Gavin reminds the boys that he will always be their real father because he fears any hurt the boys may endure should Gwen or Blake decide to split one day."
Luckily, Stefani is on the same page and knows that it is important for her children to spend quality time with their father. The only tricky part is that Rossdale lives and works in London. But whenever he is in Los Angeles, Stefani makes sure he sees the boys. She is also very flexible when it comes to holidays and is always willing to split time with her former husband.
Blake Shelton respects Rossdale
Although Shelton has been an amazing stepfather to Stefani's kids, he understands that Rossdale is their father and does not intend to get between them. Shelton, who has been married several times, does not have any children of his own and loves being a father figure to the boys.
While he is always willing to spend some alone time with Kingston, Apollo, and Zuma, he respects Rossdale and has reportedly told the Bush frontman that he is only there for extra support.
Shelton and Stefani started dating in 2015, months after she finalized her divorce from Rossdale. Their romance also came on the heels of Blake Shelton's breakup with Miranda Lambert. Despite suffering heartache, the two have been going strong for the past four years, though they have yet to take their relationship to the next level. But with how things are going, it seems like only a matter of time before they tie the knot.
Did Rossdale recently shade Blake Shelton?
During a concert in Las Vegas last month, Rossdale seemingly dissed Shelton while performing alongside his band, Bush. Rossdale reportedly said "F*ck country music" in front of the crowd at the Barbershop Cuts & Cocktails while drinking a glass of wine.
Rossdale did not mention Shelton by name, though people in the audience felt like the insult was clearly aimed at Stefani's boyfriend. Rossdale allegedly laughed after he made the joke and gave everyone the middle finger.
Blake Shelton, of course, has a built a successful career in the country music industry. In fact, he is arguably one of the most popular country music stars in United States at the moment. Rossdale may have not mentioned Shelton by name, but he might as well have. Clips of the performance have since surfaced online, though Shelton and Stefani have yet to comment on what happened.
Blake Shelton and Gwen Stefani plan her 50th birthday
Despite all of the drama, Shelton and Stefani have been busying themselves planning the No Doubt alum's 50th birthday party. Stefani's bash is not for another six months, but Shelton has reportedly gotten a head start on the planning.
Sources say that the country crooner wants a large and lavish birthday party to mark the important milestone and he's looking at several locations to host the event. Shelton reportedly wants most of the partying to take place in Las Vegas before flying to other hotspots for a special birthday weekend.
With such grand plans in the works, fans are naturally wondering if Blake Shelton is getting ready to pop the big question. Unfortunately, sources claim that Shelton does not want to mix an engagement with the birthday festivities and will likely do that at another time. Exactly when that happens, of course, is a tightly guarded secret.