Is Jennifer Aniston Wrong About a 'Friends' Reunion Actually Happening?
Those rumors of a Friends reunion just won't leave the minds of those who can't resist thinking it could still happen before everyone dies. We've written various times about the possibilities of such a reunion, yet always shot it down based on factors related to cast feelings.
One thing we do know is the women of Friends are down on doing a follow-up. A good reason for this is Courteney Cox, Jennifer Aniston, and Lisa Kudrow still look exactly as they did when the show was going. The guys? Well, not quite as much.
Aniston recently brought up more prospects about them reuniting, but how much longer can they stretch this fantasy?
Jennifer Aniston keeps talking about a 'Friends' reunion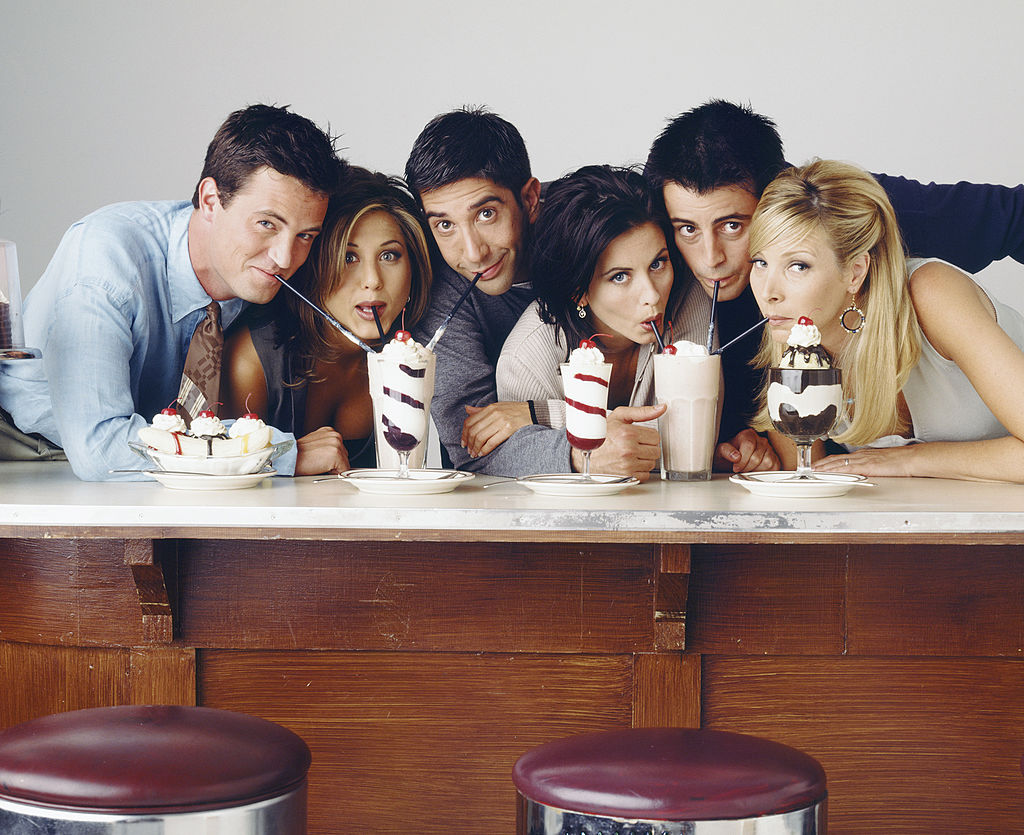 It seems The Ellen DeGeneres Show has become the central hub of Friends stars talking about having a reunion. Aniston appeared on Ellen's show this month to mostly talk about her upcoming Apple TV project The Morning Show. Ellen couldn't resist asking Aniston about the hopes for a Friends reunion, something Ellen asked Cox on the show earlier this year.
As always, Aniston said she's up for it, along with the other girls. She even said offhandedly the guys are up for it, even if we've seen evidence they haven't.
Case in point: Matt LeBlanc gave an interview with Cosmo last year. During the interview, LeBlanc said he'd never consider a reunion because the show depicted a finite period of time for the characters. Plus, he noted nobody wants to see middle-age Joey have a colonoscopy. We say don't write it off completely.
Why there won't be a 'Friends' reunion
If you can argue the guys from Friends don't want to depict any comedy about their middle-age, one of the head writers and producers of the show also nixed the idea.
Matthew Perry has gone on the record to solidify the male stance, but you might have seen Marta Kauffman talk out against reuniting the cast. In interviews done earlier this year, Kauffman simply said a reunion would likely disappoint fans because there wouldn't be any meaningful story to tell.
With these individuals not being crazy about the idea, are they just giving knee-jerk reactions rather than thinking about real creative possibilities? A one-shot reunion movie would at least appease fans. Also, they'd need some careful character analysis to find a funny plot making sense.
The closest thing to a 'Friends' reunion fans will get
Lisa Kudrow has gone on the record of saying a reunion probably should be done in some form, not necessarily as a reboot of the series. As we insinuated above, a one-shot reunion might be better to give closure to the characters.
Should that be impossible, maybe an NBC retrospective with the characters reuniting in a short vignette would be the best choice? This would show fans what happened to each character without an hour or two of elaboration.
When you ask most fans what they want in a reunion, they usually say they just want to know where the characters ended up and if they're happy. Perhaps the best route is giving them a happy ending in a short reunion segment.
For a reboot series, we'd need to see more romantic conflict, something the writers knew how to do well with these four iconic characters.
A 'Friends' reunion will have to explore aging
Older characters on TV aren't seen nearly enough, and there's arguably a bias there. After all, look at The Golden Girls and how successful it still is in reruns. At least the Friends cast aren't yet in their 80s.
Only being 50 isn't a bad place to mine some new territory, particularly if they're bewildered about living in the 2010s after coming of age during the blissful '90s. Astute writers would be the ones able to convince the entire cast to come back after presenting a can't-miss script.