Is Joseph Gordon-Levitt the Right Choice to Play Edward Snowden?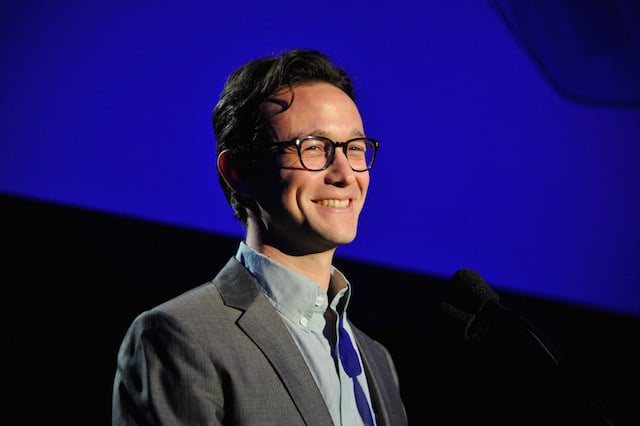 Oliver Stone is moving forward with his Edward Snowden biopic and according to a report from Deadline the director wants Joseph Gordon-Levitt for the starring role. Ever since the NSA scandal broke last summer, filmmakers have been working to bring the story of the whistleblower who exposed the U.S. government's deep invasions of privacy to the big screen.
Stone is the perfect political filmmaker to tackle this subject material with a liberal bent, more likely to paint Snowden as a brave hero than a tattle-tale who endangered the lives of millions of Americans. Stone has gone to Russia to meet with the NSA whistleblower and given his long history of acclaimed political films like Nixon, JFK, and Platoon, the director won't likely whitewash Snowden as a complete hero, but will go deeper into the vast moral grey area behind Snowden's decision to leak documents on government surveillance from the NSA to U.K. newspaper The Guardian.
The filmmakers have purchased the rights to two important books about Snowden. Snowden's Russian lawyer Anatoly Kucherena wrote a novel called Time of the Octopus about an American whistleblower who heads to Russia to seek asylum and that whistleblower's relationship with his attorney. Guardian journalist Luke Harding has reported extensively about Russia and wrote the book The Snowden Files: The Inside Story Of The World's Most Wanted Man, which Stone and his producing partner Moritz Borman have optioned as well.
So Stone is the right man to direct the movie, and it's going to be based off solid source material, but is Gordon-Levitt the right actor to play Snowden? He has a definite smart-nerdy vibe about him which will be perfect for playing the highly intelligent but also stereotypically nerdy Snowden. Gordon-Levitt has been an under-the-radar type actor throughout his career, taking supporting roles in blockbusters rather than being the hunky leading man and starring only in smaller, indie-type movies like (500) Days of Summer and his directorial debut Don Jon. That underdog feel lends itself better to playing Snowden than a big-name A-list star.
Gordon-Levitt has also shown he can do suspenseful action stuff with supporting roles in Christopher Nolan movies like Inception and The Dark Knight Rises. While Snowden's story doesn't exactly make for an action movie, it will be suspenseful and full of international intrigue, aspects of which were seen in the aforementioned Nolan movies.
A handsome leading man type wouldn't be right for the role, so choosing an actor better known as an under-the-radar supporting guy was a good idea for Stone, though there are other names floating around that some are saying could be better for the role. Michael Cera is another actor with both a nerdy vibe and indie cred who is considered to be underrated. A big role like this could give him the chance to prove himself outside comedy, and if you slap a pair of wire-rimmed glasses on it he'd have the looks to play Snowden easily.
Some have also mentioned Daniel Radcliffe as a good possibility for the part. As well as the nerdy image, Radcliffe has shown that he is a serious actor post-Harry Potter with his work on Broadway and would have the looks for Snowden. A role like that could help him achieve the epic task of overcoming the typecasting of playing Harry Potter during his teenage years.
There is another movie about Snowden in the works from the producers behind the James Bond franchise that will also be based on a book written by a Guardian journalist who helped break the case to the world. Columbia optioned the rights to Pultizer Prize-winning journalist Glenn Greenwald's book No Place to Hide: Edward Snowden, the NSA, and the U.S. Surveillance State. That movie will be moving forward to with its own version of the story, though Deadline said it doubted anyone was going to beat Stone to the punch on bringing Snowden to the screen. But that film could have an advantage, when it does get off the ground, if it does a better job casting the leading role than Stone's picture.
More from Entertainment Cheat Sheet:
Follow Jacqueline on Twitter @Jacqui_WSCS
Want more great content like this? Sign up here to receive the best of Cheat Sheet delivered daily. No spam; just tailored content straight to your inbox.