Is Justin Bieber Still Struggling With His Mental Health?
Justin Bieber recently released new music for the first time since he was featured on DJ Khaled's "No Brainer" in 2018. Before that, Bieber had taken a break from the music industry to focus on his mental health. In 2017, he canceled the remaining dates of his tour because he was struggling with his mental health and felt he wasn't able to give the fans the show they deserved. Now, Bieber is married and just released new music with Ed Sheeran, so he seems to be in a better place. But is he still struggling?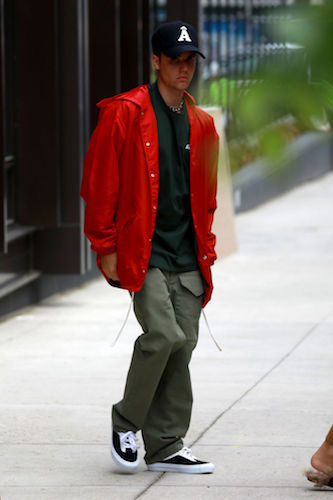 Bieber hit a road block with his mental health in 2017 and took some time off
By the time Bieber canceled his tour in 2017, he was dealing with some serious mental health issues. "I got really depressed on tour," he revealed to Vogue. "I was lonely. I needed some time." The pop star shot to fame so quickly that it essentially took away his valuable teenage and young adult years. Fans worshipped him, and he admitted the fame went to his head. Eventually, it started to take a toll on his mental stability, and he found himself so absorbed in what his life had become that he wanted to take a step back and find himself. He eventually canceled his remaining tour dates and went quiet for a while.
Bieber married Hailey Baldwin in 2018, which seems to have made him extremely happy
Rumors about a relationship between Bieber and Baldwin first surfaced back in 2014, but she shut the rumors down when he posted a photo of himself with Baldwin and said the two are just close friends. Plus, he was still on and off with Selena Gomez at the time. But in 2016, things heated up between the two, and Bieber made their relationship official when he posted a photo of them kissing to his Instagram account. However, the two broke up that same year. Then, in 2018, they got back together — and wed later that year. Bieber has said Baldwin is his biggest supporter, and the two seem very happy together.
Although Bieber still battles with his mental health, he has made great strides
When one struggles with their mental health, they need to take active steps to better themselves; mental illness is just as much an illness as cancer or heart disease, but instead of taking care of your body, you're taking care of your mind. Bieber took a step back from the spotlight to focus on himself, and he noted that he's been taking several medications for problems such as ADHD, depression, and anxiety. In his March 2019 interview with Vogue, he said that he stepped back from music altogether to try to be a better man and better husband. Today, he is in a much better place, though he said he's still growing as a person.
He just released a brand new song with Ed Sheeran, which shows he's back to making music
Bieber feels that he's now where he needs to be, and he recently returned to the hobby that made him famous. On May 10, Bieber and friend Ed Sheeran released a new song, "I Don't Care," which put the pop star back in the public eye. While mental health is something that should always be taken seriously and something Bieber will likely always have to focus on, he has put music back into his life, which shows that he feels he's in a good enough place to continue the career that he started. His music abilities are hard to deny, and hopefully he'll continue to grow into the person he's trying to be while also putting out new music for fans.
Check out The Cheat Sheet on Facebook!