Is Kate Middleton a Better Boss Than Meghan Markle?
Kate Middleton has been quietly preparing for her new role as queen consort, working closely with Queen Elizabeth and taking on even more royal engagements than ever before. In addition to her extra workload, the Duchess of Cambridge is a full-time wife and mother, taking care of her three young children.
While a schedule that busy might make most normal people act out of stress, Duchess Kate has risen above that. According to a recent news report, Middleton is actually an exemplary boss, treating the royal staff with great kindness and dignity — a direct contrast to the reports of Meghan Markle's alleged treatment of the palace staff.
Kate Middleton treats the staff 'with respect'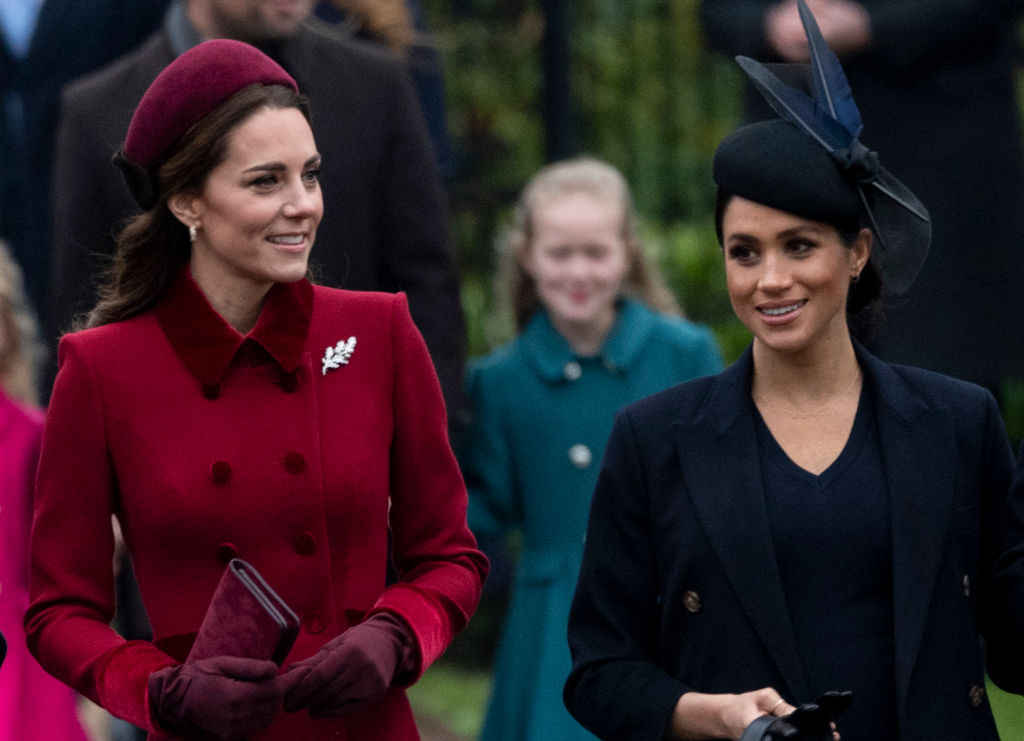 For years, Middleton has been one of the public's favorite members of the royal family. They love the genuine, sweet way that she connects with people and the hands-on way that she parents her children. As it turns out, Middleton's fan club extends to the palace staff.
A new report features interviews with royal sources who claim Duchess Kate is an excellent boss and treats the staff with courtesy and respect, wanting "everyone's voices to be heard." The source says Middleton takes the time to listen to everyone's ideas, including those from the junior staff members. Furthermore, the report states the duchess doesn't get angry if someone makes a mistake, and has forged some close connections with staff members because of it.
The report draws some interesting comparisons between Middleton's treatment of the staff and the way that Markle, who lived in Kensington Palace for a time after her marriage to Prince Harry, reportedly did. According to their sources, Middleton actually had to intervene when the Duchess of Sussex got into spats with staff, claiming the way Duchess Meghan was speaking to them was "unacceptable."
The palace staff reportedly had problems with Meghan Markle
Although Markle has suffered from the negative press from the very beginning of her romance with Prince Harry, the reports reached a fever pitch after she moved into Kensington Palace. Rumors started swirling that the palace staff was having a hard time adjusting to Duchess Meghan's "demanding" ways and that they had given her the unflattering nickname of "Me-gain." Supposedly, Markle drew the ire of the staff due to her habit of sending work-related emails well before waking hours and being a "diva" with her demands.
Adding fuel to the fire was the fact that several hired hands quit in a very short period of time, leading the public and the media to believe the Duchess of Sussex was hard to work for. While some sources spoke out in Markle's defense, the damage had been done and people started referring to her as "Duchess Difficult."
Kate Middleton has had more experience with the royal family's staff
Whether or not Markle truly has burned bridges with the staff at Kensington Palace, the fact is that comparing Middleton and Markle's approach to hired help might not be entirely fair. After all, Middleton has grown up surrounded by British rules and traditions, which includes the presence of household help much more than American homes do. Middleton has also been in the royal family for years and has grown quite close to many of the family members and staff.
Markle is still a relative newcomer to the ways of the royal family and might just have gone through a harsh learning curve. She has also spent many years of her life in the direct, bustling world of Hollywood, where early morning emails and strict daily agendas were likely the norms for her. If there's any merit to the reports, she might just need a little bit more time to adjust.