Is Kate Middleton Excited For the Arrival Of Prince Harry and Meghan Markle's Baby?
Meghan Markle and Prince Harry are getting ready to welcome their first child in late April. But ever since Meghan and Harry tied the knot, there have been rumors that Meghan and Kate Middleton don't get along. Kate and Prince William have three children together, and there's no doubt the kids will spend time together. But is Kate excited about the arrival of Meghan and Harry's baby — or not?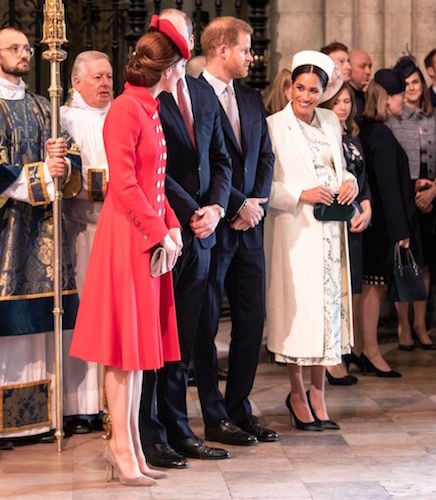 Meghan and Harry have kept details about their baby under wraps
Meghan and Harry didn't wait long to have children. The couple's entire romance has moved fairly quickly. The two began dating in 2016, and about a year and a half later, they were engaged. The couple had said they were excited to start a family, but nobody thought things would happen so fast. Only a few months after they wed, in October 2018, the two announced they were expecting their first child. But besides that, few details have been released. The couple has said they don't know the baby's gender, and name possibilities have been speculated but not revealed.
There have been rumors about a feud between Kate and Meghan ever since Meghan and Harry married
When Meghan and Harry began dating, people instantly wondered how well the actress would get along with the Duchess of Cambridge. However, after it came out that Kate was supposedly crying at a wedding-related dress fitting for Princess Charlotte, the rumors started and didn't stop. Every day, it seemed the two women were in the news about their supposed feud. There were stories that Kate yelled at Meghan for speaking badly to Kate's staff and that the two brothers were also feuding. However, all four family members attended Christmas mass together in 2018, and it didn't look like there was any noticeable tension.
Despite the rumors, those close to the family say Meghan has actually asked Kate for parenting advice
Although the public has been led to believe Kate and Meghan don't get along, those close to the royal family remain vocal that the two do have a good relationship. Meghan has reportedly spoken with both Kate and William about parenting advice for their little one. Nobody knows what it's like to raise a royal baby in this day and age the way Kate and Will do, so Meghan and Harry don't have too many people to turn to. But asking for parenting advice at least shows a high amount of respect between the women.
Kate has said she's excited for her children to have another playmate
When asked about whether Kate is excited for the new baby, she's made it clear that she is. She has said she can't wait for her kids to have a new playmate. "It's such a special time to have all the kiddies and a cousin for George and Charlotte, as well as Louis, so it'll be really special," Kate once said in response to whether she was excited about the little one on the way. Even if Meghan and Kate aren't best friends, it doesn't mean they hate each other and aren't happy for one another. They seem to be very cordial, and hopefully things will only improve even more once their kids start spending time together.
Check out The Cheat Sheet on Facebook!