Is Kelly Clarkson Helping 'The Voice' Winner, Chevel Shepherd with Her Album?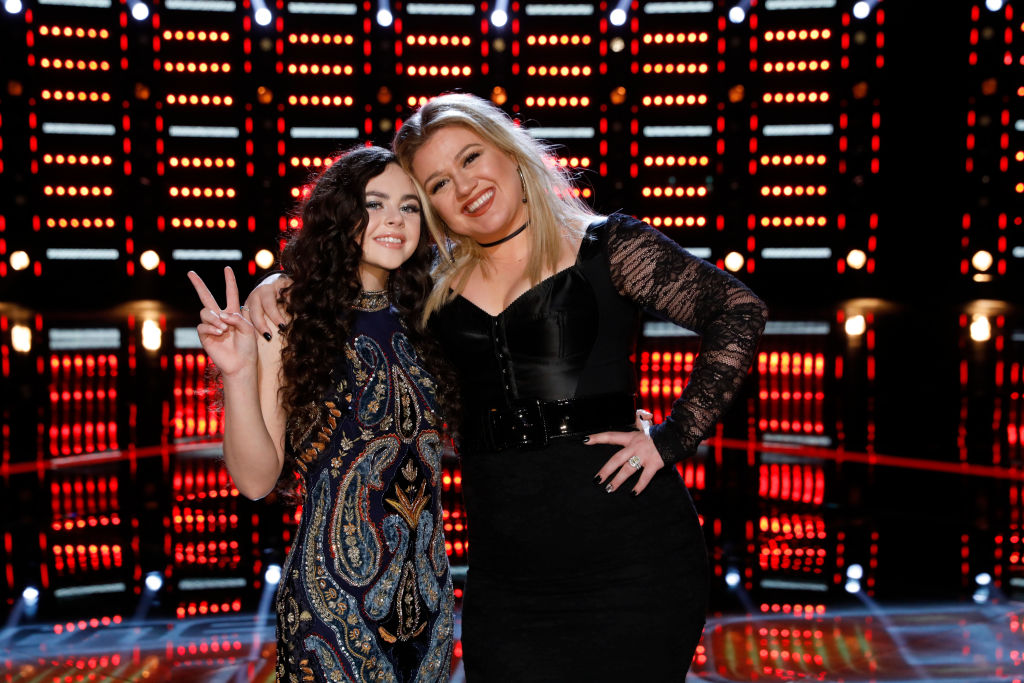 Season 15 ended with Chevel Shepherd winning it all making Kelly Clarkson the winning-coach on The Voice a second time in a row. Clarkson was pretty proud of the young singer but is she still working with her? Here is what Shepherd is up to now and if she's still in touch with Clarkson.
Chevel Shepherd previously said she would take a break before making an album
The young singer revealed her plans shortly after winning the show. She wasn't going to start recording right away.
"I'm just going to be a normal teenager for a little bit and then work on an album," she said according to USA Today. "I want to start putting my own classic country music out there and show the world who Chevel really is and who she really wants to be as a country artist."
She also revealed what kind of music fans can expect from her. "I love Loretta [Lynn] and Dolly [Parton] and just the honky-tonkish but classic country sound," said the singer. "I want to put out an album like that."
Clarkson already started molding Shepherd into an artist in Season 15 by giving her an original song called "Broken Hearts." The coach cried when she performed it.
"I just love her so much, and I love this song. I've loved this song for so long and I just, I knew it was going to find the perfect home," she said. Is Clarkson continuing to help the young country artist?
Shepherd said Kelly Clarkson is helping her find songwriters for her album
Clarkson was very supportive of Shepherd on The Voice before she won. It doesn't seem like Shepherd expected to win and is still amazed by it.
"It still hasn't sunk in if I'm being honest," Shepherd told KOB4. "It really hasn't. It's been crazy, it's been lots of fun. I've gotten a lot of great opportunities so I'm really thankful and I'm loving every second of it."
She was also asked if there has been any progress on her first album. "I'm going to start working on an album really soon," revealed the reality star. "We're still trying to look for writers. I'm looking at some with Kelly [Clarkson]. She still texts me, she calls me."
So the coach has carried out her promise of helping Shepherd after the show. Another way Clarkson has been supportive is getting the young singer to perform with her.
Clarkson had Shepherd sing at her concert
Making an album isn't the only key to success in the music industry. Staying in the spotlight is important too and Clarkson has helped with that by getting Shepherd to perform with her.
"Of course, she invited me up to her show in Glendale, and that was really cool," revealed Shepherd. "I was really thankful for that. It was tons of fun and she sang backup for me, which is crazy to have Kelly Clarkson singing backup for your song. No 16 year old would ever picture that or imagine doing that."
It sounds like life after The Voice for Chevel Shepherd has been pretty great, and that's with the help of Kelly Clarkson.
Read more: 'The Voice': What Chevel Shepherd Plans to Buy with Her Season 15 Prize Money
Check out The Cheat Sheet on Facebook!