Is Kristen Dunst's New Series 'On Becoming a God in Central Florida' Based on a True Story?
Showtime might be home to your next TV obsession. The network's new series On Becoming a God in Central Florida is earning rave reviews from critics for its funny, pointed look at a Florida woman (Kirsten Dunst) who vows to get revenge on the pyramid scheme that ruined her life. 
In the show, set in 1992, Dunst plays Krystal Stubbs, a waterpark employee who lives in an Orlando-adjacent town. Her husband Travis (Alexander Skarsgård) has been brainwashed by a "cultish, flag-waving, multibillion-dollar pyramid scheme" called FAM (Founders American Merchandise) that's run by a man named Obie Garbeau II (Ted Levine). Krystal needs to find a way to provide for herself and her daughter, and she proceeds to scheme her way to the top of the FAM pyramid, but at the cost of becoming what she hates, as Dunst told Stephen Colbert. 
Is 'On Becoming a God in Central Florida' based on a true story?
On Becoming a God a Central Florida isn't based on real events. But some elements of the series — in particular the multi-level marketing (MLM) scheme at the heart of the show — certainly seem inspired by real life.
"It's about this Ponzi scheme in the '90s which is kind of like an Amway or Herbalife," Dunst explained to Colbert.
Krystal discovers that her husband has spent thousands on FAM's useless products, which she now needs to sell. "[T]here's so much and she has to sell it but, meanwhile, she has no one to sell it to!" Dunst told The Wrap. "So she needs to find people who will buy this product that she doesn't give a rat's ass about. It's basically crap, she thinks it's all crap."
Burned by MLMs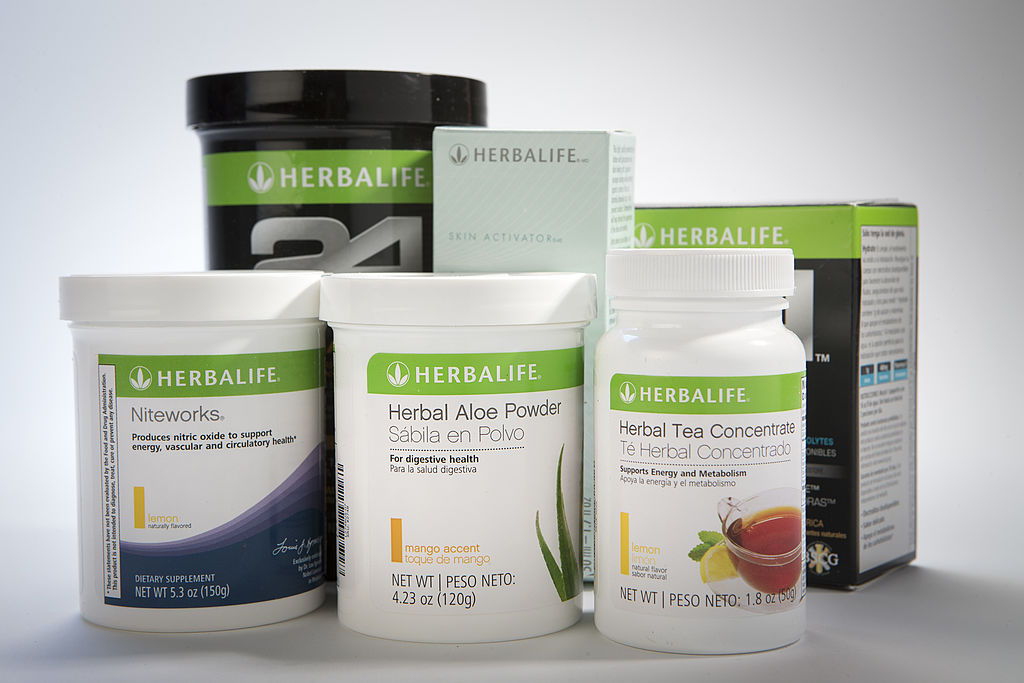 The story of someone who gets caught up in a pyramid scheme and ends up with a garage full of impossible-to-move product might sound familiar. That's because it isn't unlike the real-life horror stories some people have about MLMs.
Companies like Amway, Herbalife, LuLaRoe, and Mary Kay have long been targets of criticism. Naysayers argue that the companies exploit people's desire to start their own business and get rich, but too often lead them into debt.
Usually, only those who get involved in an MLM early earn significant amounts of money. That's because participants don't just make money from the products they sell. They are also paid a commission from the sales of those who they recruit into the business, as well their recruits' recruits, and so on. 
"Network marketing counts on the multiplication factor. You may be selling, but for many of these businesses the big bucks come from recruiting others. You become a distributor and in turn recruit other distributors, who then recruit their own team. The higher up the line you get, the more money you earn," Michelle Singletary explained in the Washington Post. "But many people can't recruit enough folks and they end up spending a lot of their own money."
Lawsuits and claims of cult-like behavior  
MLMs have been subject of numerous lawsuits and investigations. In 2016, the FTC ordered Herbalife to restructure its business so that people were paid based on what they sell, not the number of people they recruit. The state of Washington is currently suing LuLaRoe, alleging it is a pyramid scheme.
Some have gone so far as to describe MLMs as cults, citing questionable recruitment tactics and financial exploitation. Plus, people who join are made to believe that failure is their fault, not the result of a flawed system. 
"As part of the cultic conditioning that takes place, [what] you're taught right from the beginning is that if you fail, it's your own fault," attorney Douglas Brooks told the Huffington Post. "The system is perfect. You just didn't follow it well enough, or you didn't stay with it long enough.
Check out Showbiz Cheat Sheet on Facebook!