Is Kylie Jenner Moving On From Travis Scott With Drake?
Kylie Jenner might have found herself a rebound in Drake. Weeks after parting ways with Travis Scott, Jenner was spotted getting extra cozy with the rapper while celebrating his birthday in Los Angeles. Jenner hasn't said anything about the romance, but sources claim the two had a special connection going on.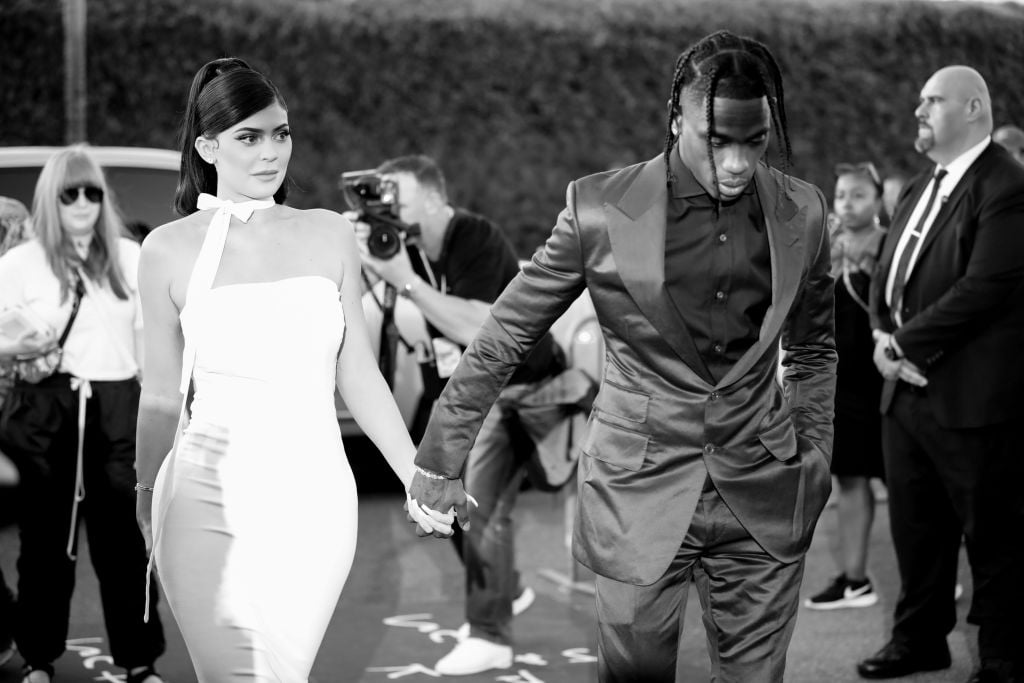 Is Jenner moving on with Drake?
Jenner was invited to celebrate Drake's birthday at L.A.'s Goya Studios. Sources claim that Kylie Jenner spent a lot of time with the Canadian rapper and his close friends, sparking rumors that a romance might be in the works.
"She spent the most time near Drake and his friends," the insider dished. "Kylie was rapping to songs and dancing with her friends while she was next to Drake, but they weren't dancing together, they seemed to have a connection though."
According to Us Magazine, Jenner drank some fancy champagne throughout the night and really enjoyed herself. The party comes several weeks after Jenner and Scott called it quits.
The insider added that Jenner and Drake talked with each other for a long time and appeared to have fun together. Although the source couldn't confirm that anything romantic happened, they definitely felt like Jenner was comfortable hanging out with Drake.
The insider also said that Jenner had a great time at the party — which is probably what she needed following her split from Scott. Apart from a slew of other celebrities at the event, Corey Gamble, who is dating Jenner's mother, Kris Jenner, was also in attendance.
While the two had fun at the party, Jenner's presence could mean that things are better between the rapper and the Kardashians. After all, Jenner wouldn't dream of going to the party if Drake was still beefing with her famous sisters.
Are things better between Drake and the Kardashians?
Drake's relationship with the Kardashians has been hit and miss. In 2013, Drake rapped at Jenner's Sweet 16 and went on to develop a close friendship with her mom. He was even spotted at the Kardashian's 2015 Christmas Eve bash and everything seemed good until Kanye West got involved.
In his joint project with Pusha T, West slammed Drack on two different songs, and his collaborator claimed that the Degrassi alum had a secret child.
In 2018, their feud was reignited after West found out that Drake was following his wife, Kim Kardashian, on social media. As fans will recall, Kardashian previously dismissed rumors of an affair with Drake.
West went on an epic tirade against Drake after the discovery, bashing him for thinking it was a good idea to follow his wife. West has since deleted the tweets.
It is unclear if Drake and West have settled their beef, but Kylie Jenner's appearance at the rapper's birthday party suggests that they have made amends — at least for now.
Has Travis Scott moved on as well?
While Jenner was partying it up with Drake, Scott's rumored hookup opened up about their romance. Kylie Jenner and Scott have been very low-key about their breakup. The two claim that they simply grew apart over the years, while some sources say that she caught him cheating with another woman.
Scott's rumored new girlfriend, who calls herself @YungSweetro on Instagram, has denied the reports and asked people to leave her alone. She also claims that nothing happened between her and Scott, though fans did not believe her story.
After getting frustrated by all the rumors, Sweetro went on a mystery rant about how she wishes some people would tell the truth. She then seemingly assured the Kardashians that it wasn't her fault and that the internet was just spreading lies.
Turning her attention to Scott's former girlfriend, the Instagram model alluded to the idea that Jenner was super jealous of her and was doing everything in her power to put an end to her career.
She did not mention Kylie Jenner by name, but a lot of fans were convinced that her tirade was directed at her.
"It's just sad to see how someone with all that money and fame is still concerned with little insignificant me…" she wrote.
Despite all the rumors, inside sources say that Jenner and Scott are doing great following their split. They are determined to raise their daughter, Stormi Webster, together and have allegedly not ruled out getting back together.
Kylie Jenner's appearance with Drake, of course, could change that, but it is good to hear that they are working together on the parenting front.