Is Meghan Markle Breaking Royal Protocol With Her Modern Fashion Choices?
Meghan Markle, the new Duchess of Sussex, certainly knows how to make a fashion statement! We've seen her in everything from ripped jeans and a button-down shirt to elegant sparkly dresses, and no matter what she chooses to wear, Meghan always manages to look fantastic! However, the royal family is known for having strict guidelines when it comes to what they are allowed to wear, especially at royal events. Royals in the past have always been seen following all fashion rules, but not Meghan. Is Meghan Markle breaking royal protocol with her modern fashion choices?
What are the Royals expected to wear?
https://www.instagram.com/p/Bs8EI3fnpJH/
When it comes to royal attire, the queen has quite a few rules in place. Skirts should hit at just above the knee, nail polish is always to be a neutral color, no wedge heels, pantyhose are required, and many more. While most of the royals follow the dress code each and every time they are seen, however, one of the newest members of the family has been known to put her own twist on the royal style. Meghan Markle, in the time since she married Prince Harry, has been seen wearing several outfits that are more Hollywood than royal, shining in the spotlight and loving every second of it!
What does Meghan Markle wear that does not follow guidelines?
Fans are used to seeing Meghan's sister in law, Kate Middleton in conservative skirts and elegant evening dresses for royal engagements and events. Meghan herself, however, is a bit of a rule breaker, as she has recently been seen in dark nail polish and a one-shoulder black dress that was daring and edgy. Although Meghan looked absolutely beautiful, fans couldn't help but wonder if Queen Elizabeth was in approval of her look. The Duchess also recently stepped out in a tight mini dress that fit snugly over her baby bump. Looks like Meghan is not afraid to put her own take on things when deciding what to wear.
How else is Markle breaking the royal fashion rules?
Meghan's one-shoulder dress wasn't the only bold move she has made in the short time she has been a royal! The Duchess of Sussex was seen on her and Harry's official tour of Australia wearing wedge heels, a known dislike of the queen. Not only that, but she took them off for a walk on the beach, something no royal has ever dared to do. In late August, Meghan also decided to skip the pantyhose, going for bare legs while wearing a black jacket and an exceptionally short skirt.
How about Markle's hair?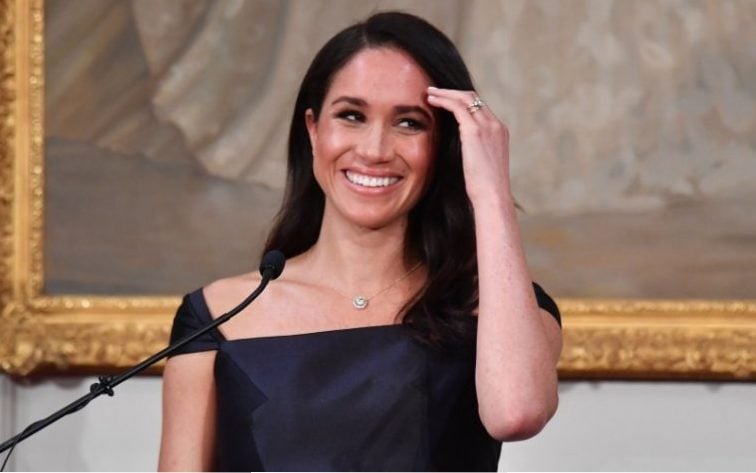 Just like at her royal wedding back in May, Meghan likes to wear her hair in casual styles that look effortlessly beautiful! When her long, dark locks are not down in loose waves, she can be seen sporting her signature messy bun, usually with a few loose pieces framing her face. While we have seen Meghan's hair occasionally styled in a perfect updo, fans love her slightly tousled, pulled back look that many try to replicate themselves!
Does Markle wear hats?
One royal rule that Meghan does seem to abide by is wearing a hat to certain engagements, and she definitely wears them well! She was seen wearing a flattering black beret at Westminster Abbey recently for an Armistice Day service, as well as an attractive, wide-brimmed, green hat that she chose for the christening of Prince Louis. She has also been seen in several fascinators over the last few months, a look that certainly agrees with her! It seems that Meghan Markle is making quite the modern royal fashion statement, and she is looking great while doing it!