Is Meghan Markle Friends With 'American Idol' Star Katharine McPhee?
Images of a smiling duchess on the arm of her husband, Prince Harry, are easy to find. What's not to simple to locate are recent pictures of Meghan Markle hanging out with pals. If we told you that Meghan is friends with American Idol star Katharine McPhee, would you be surprised?
Here's what we know
On Thursday, McPhee reached a long way into her past for an image she posted on Instagram. Although she did not explain where or when the picture was taken, it clearly shows two much-younger versions of herself and Markle.
"Meghan and I did musicals together as kids. She grew up to be the Duchess of Sussex and I grew up to star on the West End, so same life if you ask me. #TBT"
Not all of the comments elicited by McPhee's Instagram image were kind. One even went so far as to offer congratulations to the 'respective plastic surgeons' of Markle and McPhee. Nonetheless, the suddenly-famous picture of a young Kate McPhee and the future Duchess of Windsor mugging for the camera is fun and refreshing. Cosmopolitan magazine noted that while today's royal may be hard to befriend, the aspiring actress in the Instagram image looks 'kinda relatable' and approachable.
Who does the Duchess hang out with today?
When you're a member of the Royal Family, it can be hard to maintain friendly relationships outside the palace. Not every acquaintance can be trusted, after all. In Markle's case, some of her closest American family members -including her dad and half-sister- have said things in the press and on social media that make them less than welcomed at Buckingham Palace.
So, who does Meghan spend time with?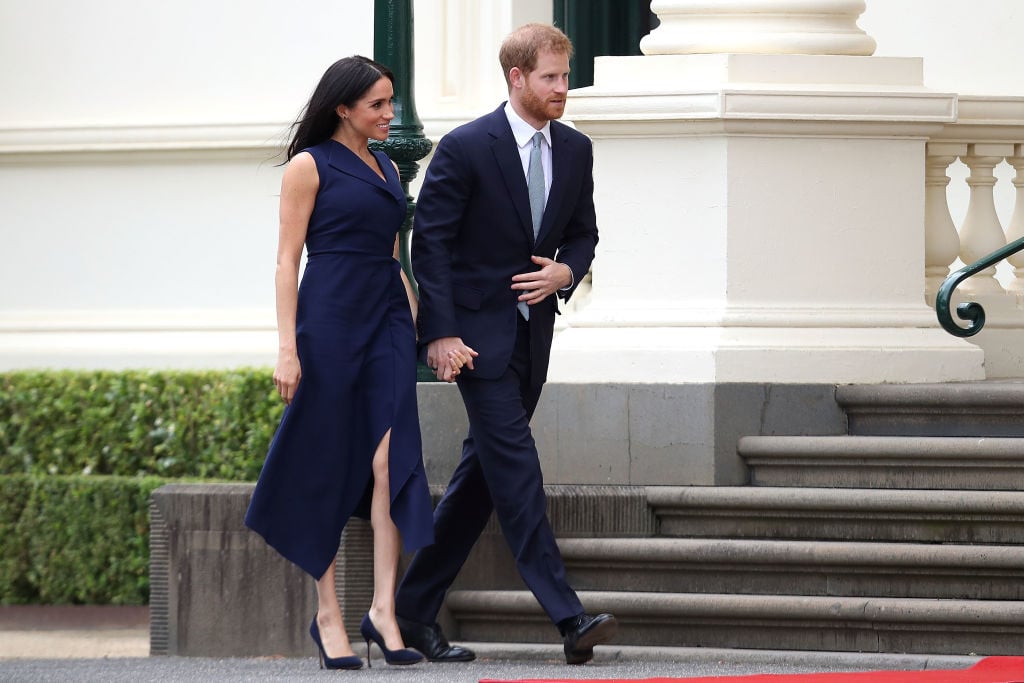 A peek at their wedding guest list shows a selection of friends close to the young royals. Of course, several of Meghan's castmates from Suits were there, as were her good friends, tennis ace Serena Williams and actress Priyanka Chopra. Chopra and Markle text each other daily and have remained close since the royal nuptials. Will we see double dates in the future? Maybe. According to all reports, Meghan and Harry had a great time with Priyanka and her fiance, Nick Jonas when they visited England.
Markle may have been in musicals with McPhee back in the day, but her current BFF is probably Jessica Mulroney. Royal watchers will remember Mulroney's kids, Brian, John, and Ivy, who served as pageboys and a bridesmaid at the wedding. Last summer, Markle raised royal eyebrows when she hopped aboard a commercial airliner and zipped off to Toronto to spend a few days with her best friend, reported PopSugar.
According to the Daily Beast, Markle also keeps in touch with her friends Daniel Martin, a makeup artist, and her childhood pal, Benita Litt. Victoria 'Posh Spice' Beckham and Markle are good friends, too, but they're both so busy with their own lives, they don't often get a chance to hang out, despite the fact that they are neighbors in Oxfordshire.
What's Katharine McPhee up to these days?
Today, McPhee is living in London and gearing up for a West End run of the Broadway play, Waitress in which she'll reprise her eponymous role. It's the first time the play has been done in the UK, and the actress is undoubtedly excited.
Will McPhee reprise her friendship with Meghan Markle?
It could happen. Now that they're both living in the London area, there's no reason the childhood acting buddies won't get together for some friendly chit-chat. If the duchess and the former American Idol singer do get together backstage after a performance of Waitress, the conversation is sure to be interesting.