Is Meghan Markle Impressing Queen Elizabeth More Than Everybody Thinks?
Meghan Markle has been nothing but a target lately, only because of her family drama and the immediate assumption she can control it. As much as she clearly wants to settle things, it's not easy when you're a royal and have to go through courtiers to make sure proper communication takes place.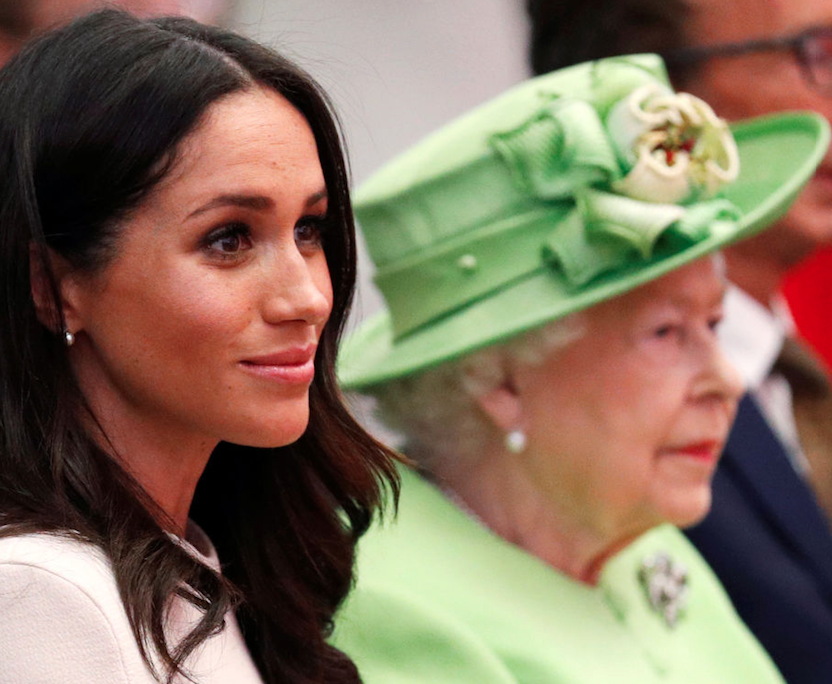 While all of the Markle family drama is still unresolved (and likely to flare up again), everyone should give credit to Meghan for keeping her dignity amid it all. The fact is, she's impressing Queen Elizabeth more than people think.
As much as the paparazzi try to make the Duchess of Sussex crash and burn with rumors, her actions speak louder than a headline.
Queen Elizabeth is impressed with Meghan Markle's work ethic
One thing Meghan Markle learned before coming a royal is the importance of working hard to achieve what you want. When you're trying to make it as an actress in Hollywood, hustle is everything, along with putting in long hours to show your worth on the set of TV shows or movies.
Not many royals who are around 7-8 months pregnant would want to or be able to take on royal duties with boundless energy. Even Kate Middleton and Princess Diana didn't travel overseas when in the final trimesters of their pregnancies.
For Markle, though, she seems to relish the work. She and Harry went to Morocco recently as only starters to take on various royal appointments. As a result, the queen has been very impressed and may have written a "thank you" letter to Meghan.
Transitioning to royal life was likely easier than the media thinks
Coming from a commoner background was probably the best training ground for being a royal. When you consider Meghan had to deal with paparazzi already as one of the stars of Suits, you know she's probably had a strategy in mind on how to deal with it.
Of course, as a royal, the paparazzi have hounded her like flies. We've seen evidence of her using clever turns to outwit them so she can keep herself stable and sane.
Thanks to Meghan's strong work ethic of climbing the showbiz ladder, she already had a natural drive to put in work time for future gain. All of this was quite different from previous royal wives, even if Diana was considered a commoner.
Now, if only Markle's family drama could calm, she might turn into the happiest married royal in history.
The queen could bestow one special gift to Meghan as another thanks
Recently, British royal watchers reported the queen might bestow a Letters Patent to Meghan and Harry. If you're unfamiliar with what this is, it bestows the royal title of Prince or Princess automatically when the child is born.
For some, this might be a royal dream come true. Others might think it's an outdated form of royal protocol, including the royal baby perhaps shunning such a designation someday when the Windsors become even more down to earth.
Regardless, it's a good feeling to know the queen is impressed by Meghan after the media keeps insinuating she's not. How the queen will react to Harry and Meghan allowing their child to be gender fluid is another thing. The official statement from the royals said this rumor doesn't hold muster.
Will the media respect the queen's good graces with Meghan?
We deem the media treatment of Markle far from fair, no matter if she likely isn't perfect (like everybody else). Thankfully, the queen seems to realize it's no easy road being a royal in the 21st century compared to when she learned the ropes at the same age.
Considering there's sometimes a divide between the generations on the value of hard work, at least the queen and Meghan see eye-to-eye on working hard to make a difference.
While the royals have had things handed to them on a silver platter, they've all had to put in more work than people know to uphold royal traditions and reputations.