Is Meghan Markle Really Kate Middleton's Rival?
For months, it has been rumored that Kate Middleton and Meghan Markle do not get along.
The news media has scrutinized every aspect of their behavior, from the way they've interacted at royal engagements and events to how Kate reacted to the announcement that Meghan was pregnant with her first child. At one point, not too long ago, the royal feud rumors seemed to be dying down just a little, since the sisters-in-law were photographed greeting each other with a warm and friendly kiss on the cheek while at Westminster Abbey.
However, the gossip has picked back up again, leaving many royal fans to wonder if Meghan Markle is really Kate Middleton's rival. Let's take a look.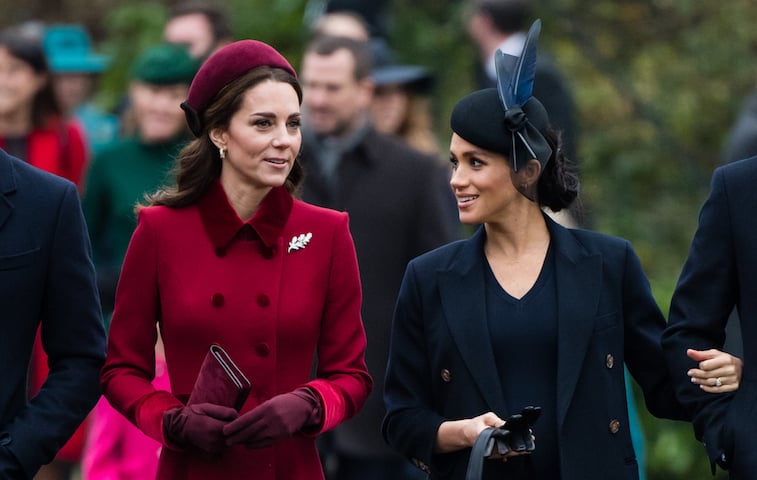 Kate has been in the spotlight for years
Ever since Kate married Prince William in 2011 and became an official royal, her every move has been criticized. The media, as well as the public, were constantly talking about every single outfit choice Kate made, not to mention her relationships with just about every other member of the royal family. It seemed that nothing the Duchess of Cambridge did was private, and it was almost as if fans were living her life right along with her.
We knew when she cut her hair, when she was spending time off with her family, and even immediately when she went into labor. This can't be an easy way for Kate to live since there is just about nothing she can do without being watched.
Meghan and Harry enjoy their privacy
Although the Duke and Duchess of Sussex have only been married for about a year, they enjoy their privacy. Both of them are used to being in the spotlight, and it looks as if they are going in a different direction. When Meghan and Harry relocated to Windsor, naturally it was rumored that the move was due to the supposed feud between Kate and Meghan.
In an attempt to have the birth of Baby Sussex be a private event for the family, the couple has let the world know that they won't be announcing the birth for a few days at least, and we don't know when we will get our first glimpse of the royal newborn.
There is no competition for the throne
When we try to figure out whether Meghan and Kate really are feuding, we should definitely take into consideration that the two duchesses are not in competition with each other. Kate's husband, Prince William, is in the direct line for the throne, meaning that one day, Kate herself will be a queen consort.
Harry, on the other hand, is currently sixth in line to become king, and if Kate and William have more children, he will be pushed back even further. It is not as if Meghan is trying to win over the public so that she could someday be crowned queen of England, as the British line of succession just doesn't work that way.
Is Meghan really Kate's rival?
Chances are, the answer is no. There is no reason for the sisters-in-law not to like each other, and by contrast, they seem to have gotten along just fine since Meghan has been a part of Harry's life. Kate and William even paid her a special visit on Easter Sunday at her and Harry's new home.
The Duchess of Cambridge may actually be somewhat relieved that some of the attention is off of her, as she has been dealing with the pressure for more than just a little while. It would appear that everything is running smoothly between Kate and Meghan and that fans have nothing to worry about.