Is Meghan Markle Still on Maternity Leave?
Ever since the royal baby Archie was born, fans have been missing Markle in her public life, and eager to get a look at how she's doing. New mothers need time to bond with their babies, and Markle is no exception.
She has been on maternity leave since the birth, and has only been seen twice- once when she presented Archie for a photo opp, and last week at Trooping the Colour. Do these recent appearances mean Markle is heading back to public life? When will her maternity leave be over? Here's the details.
Meghan Markle attended Trooping the Colour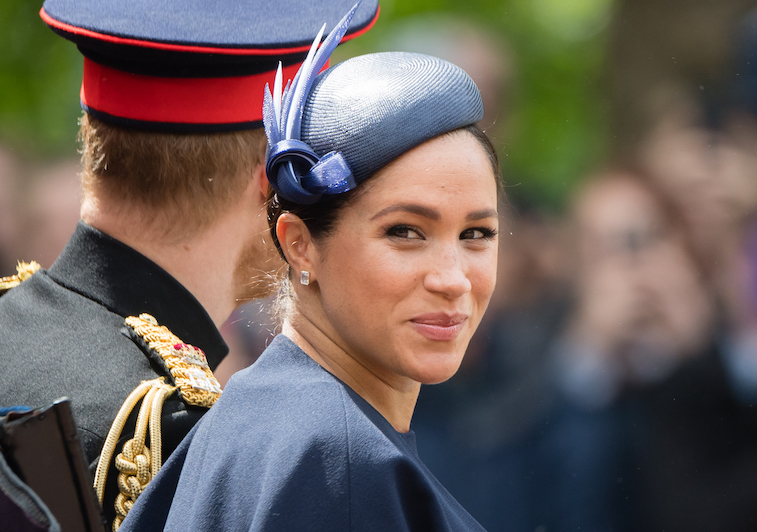 Last week we got a glimpse of Markle for the first time, since she presented us with baby Archie last month. Markle attended the queen's official birthday parade, Trooping the Colour. Dressed in navy blue, and with a huge smile on her face, Markle rode with Prince Harry in a horse-drawn carriage.
As far as we know, this is the first time she's left Archie since he's been born. The couple hired their first nanny recently, and this gave them an opportunity to leave him with her at Frogmore Cottage, while they paid respects to the Queen for her birthday.
According to Us, Markle found it difficult to leave her newborn son for the first time. "She has spent almost every moment with him and saying goodbye was very difficult," a source said. "But Meghan truly wanted to be at the celebration for the Queen."
Why did Markle attend Trooping the Colour when she skipped President Trump's visit last week? Although a state visit is an important event, for the British, nothing beats Trooping the Colour. It's been a tradition for over 260 years.
This year, the event involved over 1400 parading soldiers, almost 300 horses, and 400 musicians. There was also the traditional gathering of the royal family on the balcony of Buckingham Palace, where Markle and Prince Harry joined the Queen, along with Prince William, Kate Middleton, and their children, among others.
Meghan Markle will be attending Wimbledon
The next time Markle is scheduled to make a public appearance is at the oldest tennis tournament in the world, Wimbledon. The event starts June 28, and according to a source for Us, Markle is "very much looking forward to attending."
Wimbledon is a major event for the United Kingdom, and it's traditional for the royal family to attend. The tournament has a strict dress code, and has been held at the All England Club in Wimbledon, London, since 1877.
Is Meghan Markle done with maternity leave?
Even though Markle is starting to make more public appearances, she is not done with maternity leave. A source told Vanity Fair:
"The Duchess is still on maternity leave and will not be returning to full time work until the fall. It was important to her to be at Trooping the Colour today out of respect to the Queen. She mirroring what the Duchess of Cambridge did on her maternity leave. You'll probably see her at a few engagements but she won't be back to work properly until later in the year."
The way Markle has chosen events to attend during her maternity leave is similar to the way Middleton has handled her maternity leaves in the past. After she has Prince Louis, Middleton didn't appear until Markle and Prince Harry's wedding.
Then for her second event, Middleton also attended the 2018 Trooping the Colour parade. Both women have stayed home with their new babies, with the exception of major family events.
Markle is expected to return to full time royal duties in October.