Is Mysterio Tricking Spider-Man Into Thinking He's a Good Guy in 'Far From Home'?
Marvel Cinematic Universe fans are still reeling from the events that occurred in Endgame. And while we may be talking about The Avengers for months to come, we're already gearing up for the immediate aftermath that's about to take place in Spider-Man: Far From Home. The trailer's out for the new Spider-Man film, and it shows Peter Parker mourning the loss of one very important character while also fighting villains and attempting to take a European vacation with his high school classmates.
That's not all we see in the trailer, either. Fans get their first glimpse of Jake Gyllenhaal as Mysterio, and it looks like he may be teaming up with Spider-Man to stop evil. Is this really the case, though, or could Mysterio be fooling us all and actually turn on Spider-Man when our hero least expects it?
Who is Mysterio originally in the comics?
Mysterio is a beloved super villain traditionally in comic lore. According to IGN, Quentin Beck, the man behind the mask, was a former special effects artist and is particularly gifted at creating illusions to trick Spider-Man. As far as his costume is concerned, he's adorned with gadgets and weapons as well as a helmet that looks like a fishbowl to ensure he has a portable air supply.
Older Spider-Man fans may remember Mysterio appearing as early as the '60s, and he later infamously joins the Sinister Six to help defeat Spider-Man once and for all. With Mysterio being one of Spider-Man's oldest foes, Gyllenhaal certainly has big shoes to fill — but he seems totally prepared and excited to join the MCU as such an iconic character. Interestingly enough, the Daily Express notes Gyllenhaal said of Mysterio in an interview with Empire, "Villain or hero, I don't think that's how you can define him."
Mysterio looks like he'll be a new mentor for Spider-Man in the Far From Home trailer
Given what we've seen from the Far From Home trailer, it looks like Mysterio is completely on Spider-Man's side. Samuel L. Jackson's Nick Fury is seen introducing Quentin Beck and Peter Parker, and he explains, "Beck is from Earth, just not ours. The snap tore a hole in our dimension." And later in the trailer, it looks like Parker and Beck get even more personal. Beck asks Parker what he wants, and Parker explains he just wants to go back on his European vacation and tell the girl he likes (presumably Michelle Jones) how he really feels about her.
We know Spider-Man is young, so we wouldn't be surprised if he looks up to Mysterio as a mentor of sorts, especially with Iron Man out of the picture. And given what we're seeing in the trailer, there's no indication that Beck will turn on Parker — but that could be a twist in the movie that we just don't know about.
Could Mysterio actually be the main villain?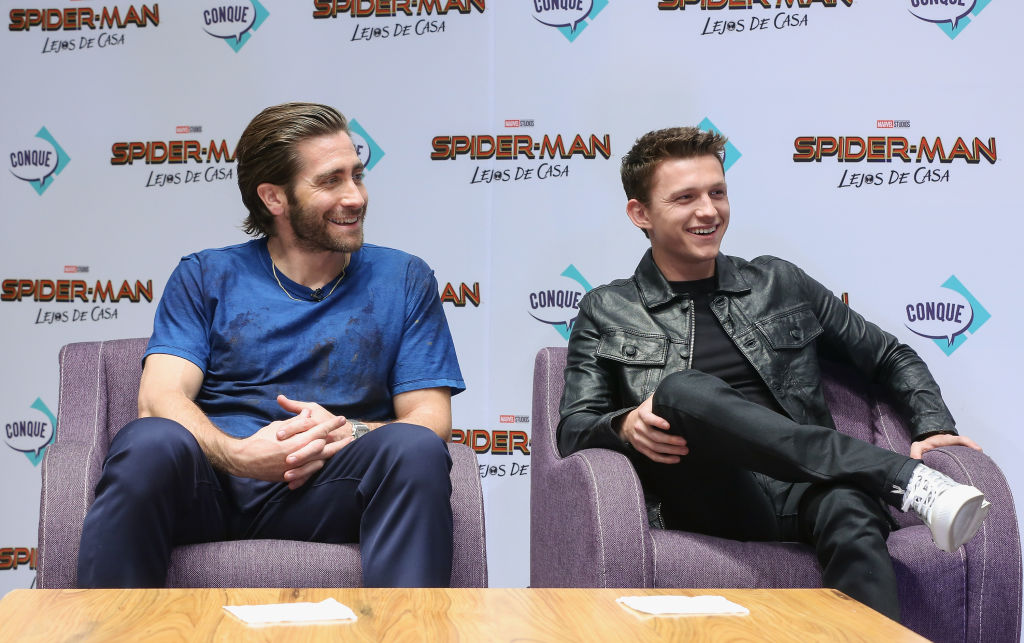 There are still a lot of unknowns with this film, but could Mysterio actually be the main villain this whole time? The Daily Express notes Parker may be desperate enough for a new father figure that he could fall under Mysterio's masterfully deceptive lies and illusions quite easily. Not only that, but Amy Pascal, producer for Sony Pictures, gave this cryptic insight: "The villain character always has to come from the story we want to tell about Peter first."
Or could Mysterio actually be the good guy helping Spider-Man this whole time? We Got This Covered notes director Jon Watts said, "Mysterio enters the comic as a hero. So, I always took it right back to the source material and what made that character exciting initially." And Empire also notes Watts said, "The idea of Mysterio as a hero was something we had never explored before. Having the power of Marvel behind you means that you can make those crazy swaps."
It seems we'll only get to speculate before the film comes out regarding the truth. But we also know that this movie has some hard-hitting scenes, as Tom Holland already admitted that there's one scene where "audiences will feel like they've been punched in the face." Could it have to do with a Mysterio twist? We'll find out soon.
Check out The Cheat Sheet on Facebook!