Is Nickelback Still Touring In the U.S.?
Whether you love them or hate them, Nickelback has made an impact on the world of music that has left a lasting impression on many of their fans. That being said, the band has slipped out of the spotlight somewhat, and former fans may be wondering if Nickelback is still touring in the US. Never fear, however.
According to Nickelback's official webpage, the band just recently wrapped up its Feed the Machine tour, but they did hit a few US cities. So what is the band up to these days?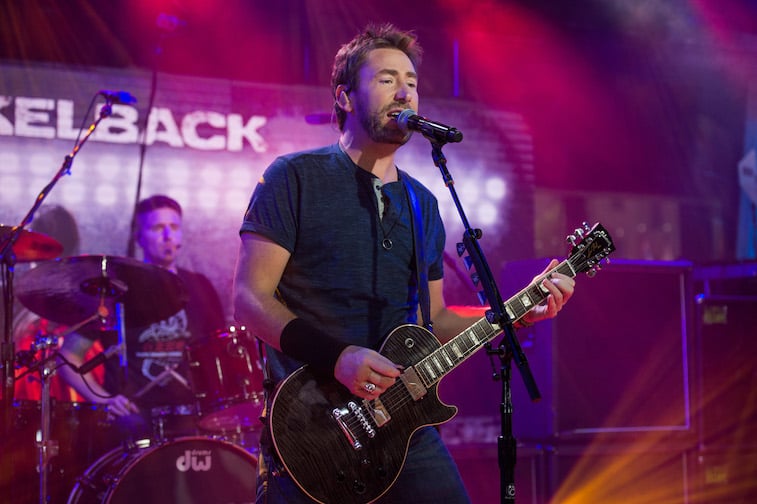 Chad Kroeger
Ever since his divorce from Avril Lavigne in 2015, we haven't heard much from Chad Kroeger. Nicki Swift reports this could be due to a lot of reasons.
One reason is the fact that Chad Kroeger had been accused of recycling lyrics, and hasn't had a real hit in a long time now. He also accused Stone Sour of trying to be like Nickelback.
No matter how good of an artist you are, the public isn't kind to artists who diss the competition.
There are other reasons Kroeger may not be in the spotlight anymore. Like many other celebrities before him, Kroeger has been accused of getting plastic surgery. While he's never admitted to doing so, the public can be harsh on celebrities who constantly change their appearance.
These days, it appears that Kroeger is single. If he has a lady in his life, he's keeping it under wraps. He may be too busy on his current Feed the Machine tour, which is currently in Rio, to do much dating.
Ryan Peake
When he's not touring with Nickelback, Ryan Peak and his wife Treana Peake are working as activists.
According to ET Canada, in 2015 the guitarist and back up vocalist did a video where he and his wife both trekked 6 kilometers through a jungle to get water. While this alone would prove to be grueling for most people, Peake had to carry a 40-pound can of water.
The challenge, which was to raise awareness for the people of South Sudan who do this every day, only lasted five days. It was still an eye-opening experience for the couple, however.
Mike Kroeger
Chad Kroeger's brother, Mike, is obviously still touring with the band. He's the bass player for Nickelback, so he's not going anywhere anytime soon.
Kroeger's still married with kids, however, so he's trying to split his time between putting on shows, practicing with the band, recording, and spending time with his wife and kids.
Kroeger told the New Hampshire Union Leader, "I'm married, I got two kids, and I just like to be around them. And my children are getting to an age now where it's looking like they're getting ready to fly the nest. They're 18 and 16, so I don't know how much longer they're going to be here. So I'm trying to enjoy that as much as I can and spend time with them."
One thing that may be surprising about Kroeger is the fact that he's a heavy metal fan, and expressed that he wouldn't mind releasing a metal album. So will Nickelback be going in a different direction?
According to Kroeger, probably not. While he's a fan, he doesn't think he could convince his brother to go in this direction.
Daniel Adair
According to All Music, Daniel Adair is no stranger to the world of rock and roll. Before joining Nickelback, Adair was the drummer for 3 Doors Down.
He's also played with other acts such as Bo Bice, Theory of a Deadman, and Martone.
We don't know much about his private life, as he keeps much of his private life out of the public eye, but that's OK. Everyone's entitled to their privacy, and we see plenty of Adair on stage as he plays the drums for Nickelback.