Is Padma Lakshmi Single? Find Out Who She Is Dating
Hosting the fan-favorite foodie show Top Chef, Padma Lakshmi is also an executive producer and consultant for the popular, long-running series on Bravo according to IMDB. She's also appeared in a number of different movies and other television shows over the years. When filming the cooking segments, the former model admits to consuming up to 8,000 calories per episode.
Together, with co-host Tom Colicchio, they've sampled some of the most delicious, best (and worst) dishes prepared by professional and amateur chefs from all over the world. It makes some of us wonder how this pair is able to stay so slim-and-trim, lean-and-mean on-screen.
Padma Lakshmi is dating Adam Dell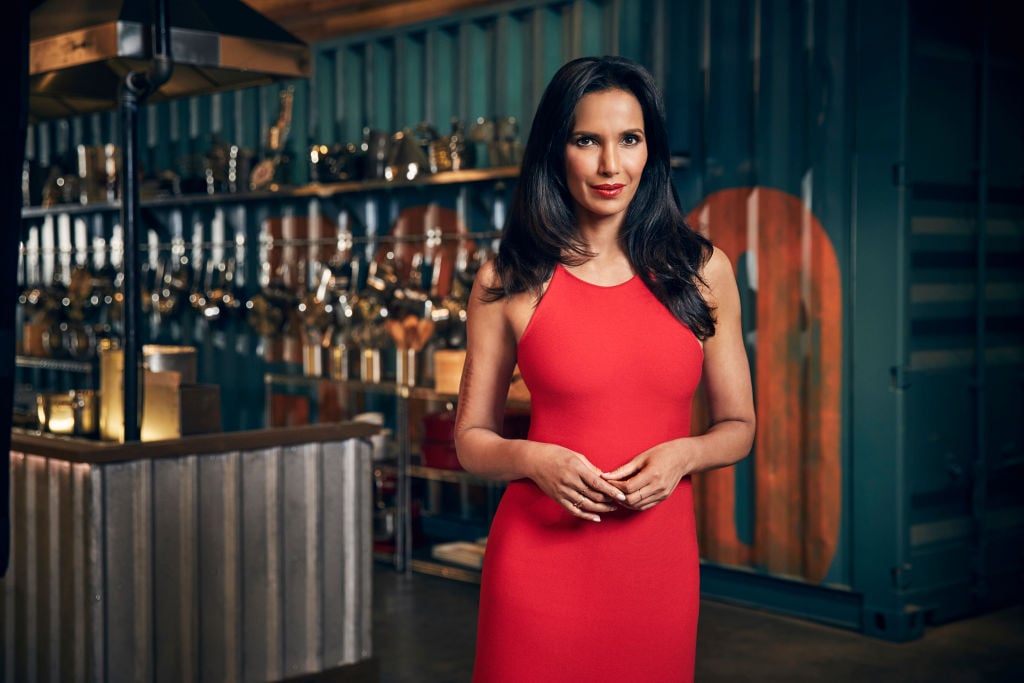 We're also curious about her life off the TV screen, and many of us already know she's dating American capitalist Adam Dell, and brother of computer company Dell founder Michael Dell. Although Lakshmi and Adam Dell have had a pretty checkered past, the two seem to be very happy together.
The rumor mill was really swirling when the pair were spotted strolling in New York City walking hand-in-hand and Lakshmi was sporting an enormous diamond ring. Despite the placement of this ring on her left hand, reps for the actress insist the couple aren't engaged. If they are to get hitched in the future, this will be the second marriage for the celebrity who was married to controversial novelist Salman Rushdie for eight years before divorcing in 2007.
Padma Lakshmi briefly dated Richard Gere
Seen alongside Julia Roberts in Pretty Woman and Runaway Bride, Richard Gere was once partnered up with Lakshmi in the past. The couple dated briefly dated back in 2014 and split up after six months of seeing each other. This could have been a short rebound relationship for them both as Gere had ended his eleven-year marriage to Carey Lowell in 2013 and it was the first man Lakshmi dated following the death of her billionaire boyfriend Teddy Forstmann.
Padma Lakshmi's past drama with Adam Dell
Dell and Lakshmi dated for a short while and broke it off in 2009 when the latter moved on to have a relationship with the successful businessman and philanthropist Forstmann. She would later give birth to a girl named Krishna in 2010 and kept the identity of the father a secret from Dell and began raising the child with Forstmann.
Dell must have done some math and a DNA test confirmed he was the father and petitioned the court for custody of his daughter. According to the lawsuit filed by Dell, things were pretty nasty between the two since he claimed:
He saw his baby when she was just two days old but Lakshmi refused any further visits
While pregnant, Lakshmi told Dell she hoped he wasn't the father
He attempted to discuss how the two could co-parent the child, but Lakshmi declined
Dell would eventually learn his name did not appear on Krishna's birth certificate and in another searing blow, allegedly Lakshmi was teaching her little girl to call her boyfriend "Papa."
Padma Lakshmi and Adam Dell have made up
These two feuding folks eventually settled amicably out of court in 2012 and they began to raise their daughter together sans a romantic relationship between them. However, after five years of co-parenting little Krishna together, they began dating again in 2017 and once again, they seem very happy together and appear to be totally in love.
Celebrity psychic to the stars, Tyler Henry, met with Lakshmi, who was seeking approval from her former lover Forstmann from beyond the grave for her current relationship with Dell. On an episode of E!'s Hollywood Medium, Lakshmi wanted "to know if I have his blessing to be with who I am with." Tyler gave her a "thumbs up" from Teddy and that he was "100 percent" okay with Lakshmi partnering with the father of her child.