Is Pete Davidson Already Dating Again After His Recent Breakup?
It feels like just yesterday that we were reporting on Saturday Night Live star Pete Davidson's breakup with actress Margaret Qualley. That's because it was like, five days ago.
Although the couple was only together for a few months, we had hoped Davidson would cool off on the whirlwind–romance-with-a-gorgeous–brunette life cycle that seems to keep repeating itself in his life. But what can the man say? He's out here looking for love, as we all are.
Pete Davidson just went through a breakup
Once Upon a Time In Hollywood actress Margaret Qualley and Pete Davidson were spotted amiably ambling around Italy together this past August. However, the couple reportedly broke up last week. A source close to the former couple told Us Weekly that the two remain friends.
Davidson has been through a whopping four breakups in the last year and a half (Margaret Qualley, Kate Beckinsale, Ariana Grande, and Cazzie David). The frequent "Weekend Update" guest apparently moves on quickly.
The 'SNL' star is already out on lunch dates with models
In true Pete Davidson fashion, he appears have hopped right back in the dating scene. A fan spotted the comedian out to lunch with 18-year-old model Kaia Gerber at Sadelle's in New York City.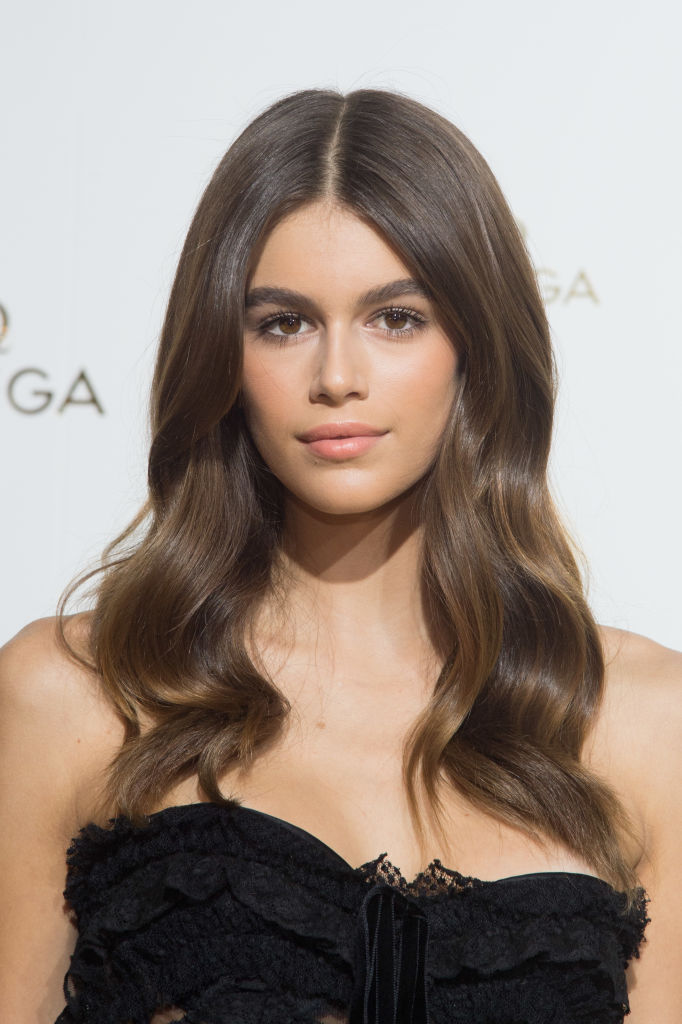 Davidson was also seen leaving Gerber's apartment on Wednesday–in a different outfit than we wore to the restaurant–but that could mean anything.
An insider told Page Six that Davidson and Gerber most likely met in May at a fashion show for Alexander Wang, in which both Davidson and Gerber walked the runway.
Page Six's source confirmed that the Saturday Night Live cast member was indeed there to see the model, but claimed they are "just friends."
What about their age difference?
In what is now becoming Pete Davidson lady-friend canon, Kaia Gerber is the daughter of someone famous; her mother is model Cindy Crawford. Two of Davidson's exes, Margaret Qualley and Cazzie David, have famous parents as well (Andie MacDowell and Larry David, respectively).
While Pete Davidson seems to have a type (shockingly beautiful famous women with brown hair), he's dated across the age spectrum. Kate Beckinsale, who he dated earlier this year, was 20 years older than him, and his other partners have been close to Davidson in age.
Kaia Gerber, however, is seven years younger than Pete Davidson; the model just turned 18 last month. Although Davidson and Gerber could very well just be friends, Twitter took the dating rumor and ran with it–and they didn't have too many kind words for Davidson.
"Is she even 20 yet?" inquired one user.
No, Robert, she's not.
Some tagged Cindy Crawford, Gerber's mother, in their Twitter comments, one accusing the comedian of "jumping from one girl to the next" and imploring Crawford to "come get her child."
Another tweeter wrote, "He is not good enough for her and too old for her."
Other tweeters remarked on the unbelievable ability of Pete Davidson to date women who appear considerably out of his league.
One Twitter user posted a clip from AMC's Breaking Bad in which Aaron Paul's character Jesse is crying and screaming, "he can't keep getting away with it!"
Others were just plain impressed.
One user simply penned, "he scores good."
Whatever your take on the the comedian's runway model rebound–er, new friend–we hope Davidson takes some time before jumping into romance. We don't want to have to write another Pete Davidson break up article next month. But we will if we have to.