Is Pete Davidson Ready to be a Dad?
Pete Davidson seems to be ready for a lot of things lately. On the one hand, he says he's ready to quit Saturday Night Live. And on the other hand, he says maybe he's ready to be a dad. Is Davidson having a midlife crisis at age 26?
Whatever the case, he's got a lot of people talking. That's generally true, as disbelieving members of the public see he's dated the likes of Ariana Grande and Kate Beckinsale, but the talk lately has reached a fever pitch, with talks that his days at SNL are numbered. 
Pete Davidson skipped 'SNL' this week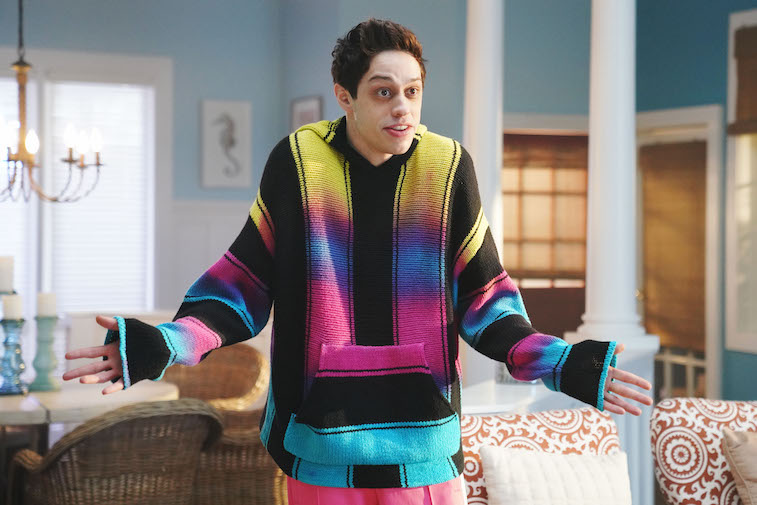 In recent weeks, much has been made of comments that Davidson made in a lengthy interview with Charlamagne Tha God. Davidson talked about how he's not happy on the show, and other cast members aren't happy with him either.
"You don't ever want to pull the trigger too early. Everybody's always been like, 'You'll know when you know, and it'll be all right,'" he said. "I personally think I should be done with that show because they make fun of me on it."
Ironically enough, when Adam Sandler recently hosted the show and sang about how he was fired, Davidson tried to join in the song although he was obviously not fired. One can't help but wonder if that routine got him thinking. 
Making the situation stickier is that according to Page Six, other cast members have expressed displeasure with Davidson and the alleged favoritism he gets. The situation got so tense that recent host John Mulaney tried to stick up for him, but Davidson did not appear at all in the most recent episode, hosted by Daniel Craig.
Does Pete Davidson want to be a dad?
To some, Davidson may seem too young to be the settling down type, but in his interview with Charlamagne, he said that's his nature, and Charlamagne having known Davidson said he could vouch for his loving nature.
Some of that may be informed by the fact that Davidson lost his father, a New York City firefighter, in the Sept. 11 terrorist attack. 
"I just want a kid. That's all. It would keep me around, keep my head up. I want to be there for something that I didn't have growing up, he told Charlamagne.  In fact, Davidson is so eager to look after a child, he's considered adoption, and that admission made the rapper incredulous because Davidson is still young. 
"I think people are afraid of the Davidson seed," he joked. But there may be some truth to that because more than a few people have looked at Davidson and looked at people he's dated, and said, "How did he get with her?"
Pete Davidson is trying to focus on matters other than his dates
Davidson will forever be linked with Ariana Grande, maybe not so much because theirs was such a grand romance but because she wrote a song called "Pete Davidson," and no matter what happens, that song will be on Spotify, Apple, or wherever people get music And maybe that's why Davidson is keen to have that not be the emphasis at this point.
"What can I say? I love love, but I'm pretty done with that. I'm going to try and stay away from that. It's just a lot," he said, adding, "I think you grow a lot as a person. I've learned a lot from the awesome chicks that I've been with, and they're all cool."
As for Saturday Night Live, maybe he'll go and maybe he'll stay. He said he was "happy to be there as long as (producer) Lorne (Michaels) likes me." But at the same time, he made it sound like he didn't have much more to give.
"For what I can do on the show, which is just barely anything — and it's just Weekend Update," he said. "I feel like I've done 30 of those and I just feel like, yeah, I've done as much as I can over there."