Is Prince Charles Closer With the Queen Than His Siblings?
Prince Charles is far and away the most important member of the royal family among his siblings. His status as future king sits high above his two brothers and sister, who have fallen much lower in the royal lineup as Charles' own family has expanded. But despite being public figures, the royal family is also bonded by blood; at the end of the day, they're family, and Charles and his three other siblings all share the same parents: Queen Elizabeth and Prince Philip. But who, among the four children, has the closest relationship with their mother, Queen Elizabeth?
Charles and the queen spend plenty of time together for royal reasons
It's no secret that Charles is the most well-known of the queen's four children. Charles was still very young when his mother became queen, and after his grandfather died, he became second in line for the throne. For years, he's been working alongside his mother to perfect his role in the royal family and learn how to care for the Commonwealth after she's gone. Now, Charles is 70, and he has a family of his own. His son, Prince William, will take over after him, and William also spends plenty of time with the queen for that reason. But it doesn't necessarily mean Charles' family is the closest to Elizabeth.
Charles definitely got on his mother's bad side when his high-profile affair broke
Although Charles spends the most time with his grandmother from a royal standpoint, he definitely fell out of her good graces when his affair with Camilla Parker Bowles unfolded in the 1980s. Charles and Camilla had been involved prior to his marriage to Princess Diana, but since Camilla was deemed unfit for the future king, he settled for Diana — but the love affair never came to a close. About five years after Diana and Charles wed, he once again began dating Camilla behind Diana's back. When everything came to a head, it looked horrible for the royal family. The queen always had a lot of respect for Diana, and her tragic death in 1997 didn't help anything. Charles and Camilla had become the black sheep of the royal family.
Princess Anne is Elizabeth's only daughter, and the two grew closer in Anne's teenage years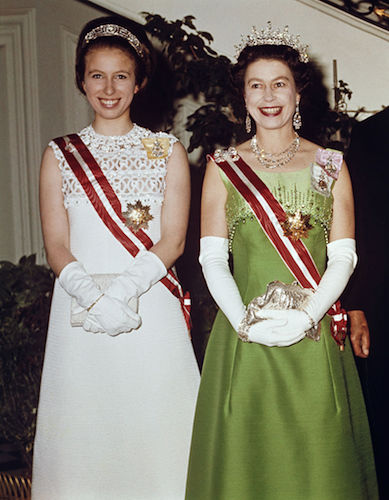 Though Anne isn't in the spotlight much these days, she has a very close relationship with her mother. Growing up, Anne spent a lot of time with nannies as Elizabeth was traveling the world performing royal duties. But by Anne's teenage years, she and the queen had grown much closer. They bonded over their love of horses, and they often discussed fashion together. Anne has publicly denied that her mother didn't care for the kids very well (which Charles has said in the past). Today, the queen and her daughter still have a very close relationship.
Prince Andrew is the queen's youngest child, and she was more relaxed raising him and Prince Edward
Elizabeth waited about a decade after Anne and Charles were born before having more children. By the time Prince Andrew and Prince Edward were born in the 1960s, Elizabeth was much more confident in her role, and sources say she was a more relaxed mother. She spent additional time with her kids, and she and her youngest, Edward, still remain extremely close today. Edward has been a large help in the royal family, taking over a lot of his father's responsibilities after he retired in 2017. And those close to Edward and his wife, Sophie, have said that Sophie is like another daughter to the queen — they're even closer than the queen and Kate Middleton.
It's unclear which of the queen's children has the closest relationship with their mother, but it doesn't appear that Charles is any closer to her than his siblings. If anything, Anne and Edward both appear to have very strong relationships with Elizabeth. Despite the drastic differences in royal hierarchy, the queen has always remained close with each of her four children, plus their children as well.
Check out The Cheat Sheet on Facebook!