Was Prince Harry By Meghan Markle's Side During Baby Sussex's Birth?
Prince Harry and Meghan Markle have been eagerly awaiting the arrival of the royal baby for months now and so has the public. Harry has said for a while that he's excited to have children and can't wait to be a father. But with so much royal responsibility, Harry was often traveling and making appearances without Meghan while she was in the later stages of her pregnancy. Now that she's delivered the baby, was Harry by her side in the delivery room?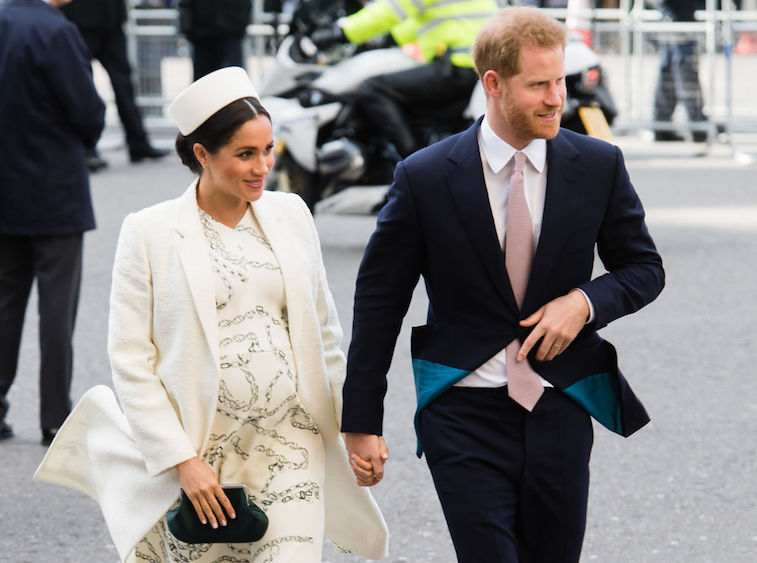 Buckingham Palace announced that Meghan Markle has officially welcomed a baby boy
For the past several months, outlets have been reporting that Meghan's birth would be kept completely quiet. That's why people were extremely shocked when Buckingham Palace announced that Meghan had officially gone into labor in the early hours of May 6. And soon after, the couple welcomed a baby boy. It's still unclear what hospital Meghan is in, since some suspected she would not have the traditional Lindo Wing birth that other royal women had.
The palace confirmed Harry was by Meghan's side
In the palace's statement, they confirmed the Duke of Sussex was by his wife's side during the arrival of their first child. This doesn't come as a surprise; Harry has been incredibly excited about this baby since before he and Meghan were even pregnant. Those close to the duke have said he's been ready to settle down and be a father for years. Now, he'll officially get to retire his "cool uncle" title and pick up a brand new "dad" title. Although Harry has been attending several engagements without Meghan for the past few weeks, he most definitely wouldn't miss the birth of his first baby.
It's unclear when the couple will officially announce their baby's name
Although the word is out that Meghan has has welcomed a boy, it's not clear when the couple will officially announce the birth of their first child. Meghan and Harry reportedly wanted to keep the baby's birth private, and some thought no announcement would be made until several days after the couple welcomed their child. However, now that we know she's in labor, it's possible the couple is rethinking their birth plan and will announce the baby's name soon after he is born. Meghan reportedly won't take photos on the steps of the Lindo Wing, though; some outlets have reported the two will have an official photoshoot on the grounds of Windsor Castle several days after the baby is born.  
The couple might already be thinking about baby no. 2
Although Meghan is likely only focused on baby no. 1 in this moment, the couple may already be planning for baby no. 2. Both have said how thrilled they are to become parents, and with Meghan getting a bit older, she may want to try for a second baby shortly after the first. Although it is definitely possible to get pregnant at 37 (Meghan's age), fertility does decline with time, and if Meghan and Harry want the greatest chance at having multiple children, they may decide to try again sooner rather than later. For now, we'll patiently await the announcement about the couple's first little one.
Check out The Cheat Sheet on Facebook!