Is Prince Harry The King of Dad Jokes? (Yes, He Is)
What is it about becoming a dad that gives men such an awkward sense of humor? Whatever it is, the phenomenon is so common that we have a term for it: Dad Jokes. The newest dad in the royal family has even caught on. Prince Harry is enjoying his transition into fatherhood so much that he's been cracking dad jokes left and right. Here are some of the best.
Prince Harry joked through Archie's birth announcement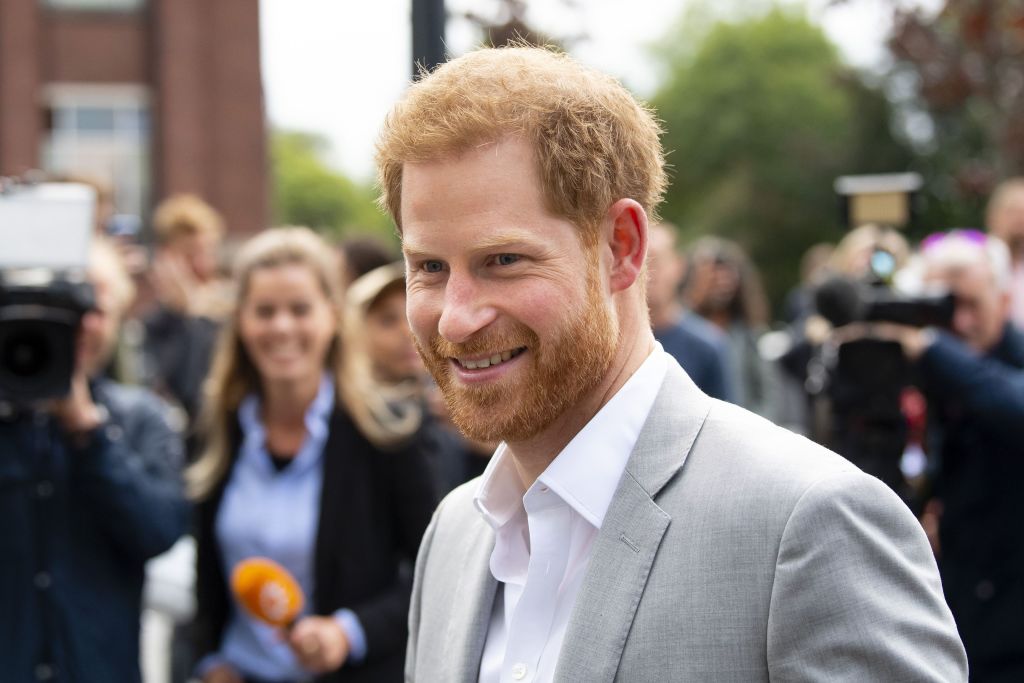 After the birth of Archie, Prince Harry appeared to the world through a press video to announce his son's arrival. He bounced with joy as he spoke, and charmed viewers with his excitement. A couple of dad jokes even worked their way into the announcement.
First, Prince Harry joked that Archie already had a bit of scruff on his face, just like dad. "He's already got a little bit of facial hair," he said. "Wonderful."
Then, Harry made a joke that many new parents can relate to. "I've had about two hours' sleep," he said.
But that wouldn't be the last time Prince Harry joked about lost sleep. Just recently, during his speech at the launch of Travelyst, Prince Harry defended his use of private jets, but he also joked about sleep.
"Having spent last night here, I don't know about you guys, but it was definitely the best night's sleep I've had in the last four months," he said, according to Hello!
Prince Harry made dad jokes before becoming a father
Prince Harry is so good at his dad game that he started making dad jokes even before Archie arrived. While visiting Morocco last February with Meghan Markle, shortly after their pregnancy announcement, someone congratulated them on the news. Prince Harry turned toward his wife and faked shock. "What, you're pregnant?" he said with a straight face.
Luckily, Markle took it well. She simply laughed and played along. "Surprise!" she said.
"Is it mine?" Harry quipped back without missing a beat.
The room they were speaking with and the royal couple all loved the joke. It was perfect practice for his transition into a dad joke comedian. But Prince Harry has been making jokes for a long time.
Long before he became a dad, Prince Harry made a "dad joke" about his own dad. In 2016, Prince Harry visited the Amazon rainforest in Guyana and was given a colorful headdress full of feathers. He took a photo that was very similar to one that his own dad took in the Amazon 16 years prior. Harry said: "My father told me what an amazing time he had when he was far younger and had more hair as well."
We're not sure how Prince Charles reacted when he found out that Prince Harry had been making fun of his baldness, but hopefully he chalked it up to Prince Harry practicing for his future role as the king of dad jokes.
Prince William can make dad jokes too
While Prince Harry is the king of dad jokes, his brother and father of three, Prince William has been known to let one loose every once in a while as well.
After the birth of Archie, Prince William spoke with the press and expressed his joy at the arrival of his new nephew. He said that he and Kate Middleton were thrilled and looking forward to meeting the child. And then, because he's a dad too, and he probably wasn't able to resist, Prince William made a dad joke.
"I'm very pleased and glad to welcome my own brother into the sleep deprivation society that is parenting," he said, to the delight of the crowd and parents everywhere.
Obviously, dad jokes run in the family, but even a father of three can't beat Prince Harry. Prince William may wear the crown one day, but Prince Harry will always be the king as far as dad jokes are concerned.