Is Rob Kardashian Dating Anyone? Here's What We Know After Rob Kardashian and Natti Natasha Flirted Online
As we all know, Rob Kardashian has been really busy these days. He's been back in the gym, tending to his daughter Dream, and filming for Keeping Up With The Kardashians. But with so much on his plate, does he have time to date?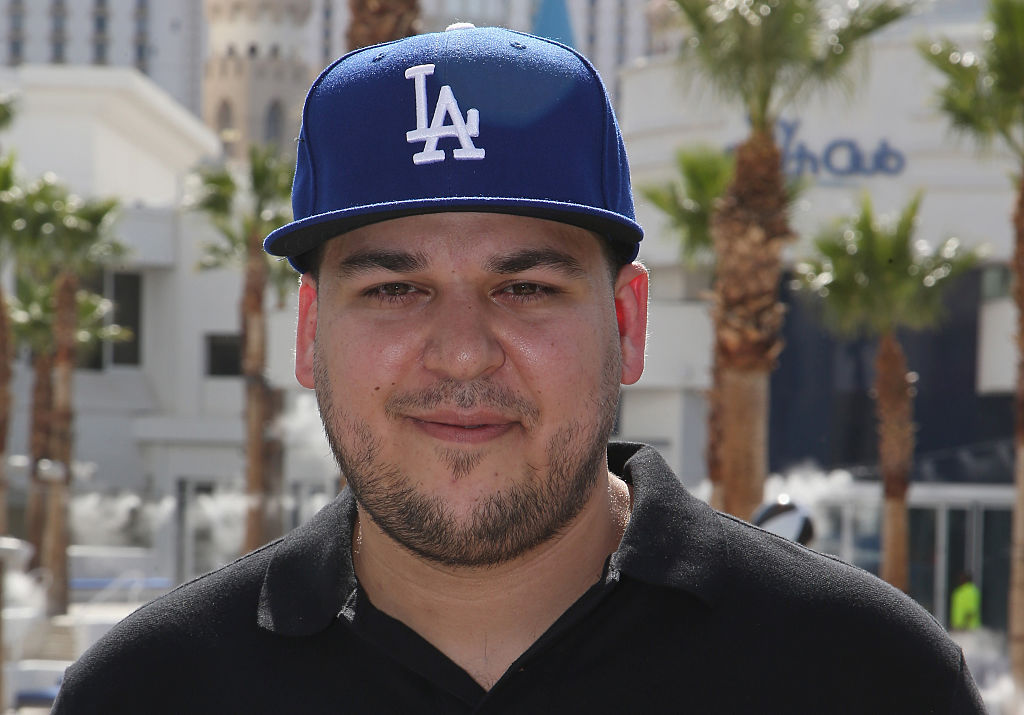 Recently, the television personality got flirty with singer Natti Natasha. But are they the real deal? Here's what we know about whether Kardashian has a new lady in his life.

Does Rob Kardashian have a girlfriend?

The reality star hasn't confirmed anything, but it appears that he's at least interested in the Latin pop star.

Kardashian and Natasha flirted hard on social media on several occasions in June 2019. One time, they traded troves of romantic emojis on Twitter. Days later, the singer sent Kardashian a heartfelt tweet for Father's Day to which he responded, "Thank uuu see u soon."

Rob Kardashian and Natti Natasha are friends

That's at least what a source told E! News. The insider explained that despite the seriously flirty messages between the two, Kardashian is totally single. "Rob is not dating," the source declared.

But that's not to say his relationship status won't change soon. "He would love to find someone," the insider continued. "He flirts on social because he's trying to have some fun."

Who is Rob Kardashian's most recent girlfriend?

In January 2019, the reality star sparked romance rumors with Love & Hip Hop cast member Alexis Skyy. About a week later, Skyy had already started using the "L" word, but it looks like the fling fizzled just as quickly.

Before that, he was with Blac Chyna, with whom he shares daughter, Dream. The pair dated off-and-on from early 2016 to the middle of 2017. The rocky relationship came to an end that July when a big fight prompted Kardashian to post sexually explicit photos of Chyna on social media.

What has Robert Kardashian been up to?

As of writing, Kardashian has been totally focused on himself and his family. When he's not in the gym, he's spending time with Dream.

"He knows he's happier being out of the spotlight and just being a father," a source told E! News. "Dream definitely brings out the best in him and he's a great dad. He's doing his best to avoid drama and to live a quiet life with his daughter."

The insider added that Kardashian feels "best about himself" when he and Dream are together.

Does Rob Kardashian have a job?

Yes. It appears that Kardashian makes money from Keeping Up With The Kardashians, but he has very rarely appeared on the show in recent years. After a hiatus, Kardashian finally got back in front of cameras in 2018 for the show's 16th season.
He also has a new clothing line, Halfway Dead. The brand, released in June 2019, includes graphic tees, hoodies, sweatpants, and more.
Kardashian used to own luxury sock line Arthur George but sold it to Kris Jenner in 2018 after struggling to keep it afloat amid legal troubles with Blac Chyna. Kardashian said in court documents that things got so bad he even had to move back in with his mother, Kris Jenner.

"Kris pays for a lot of Rob's lifestyle," an insider once told People. "She definitely helps out."
So, there's that. Rob Kardashian and Natti Natasha are not a thing. It looks like the reality star is single, and simply focused on living life with his loved ones.