Is Robin Wright the Emmy Favorite With Steely 'House of Cards' Role?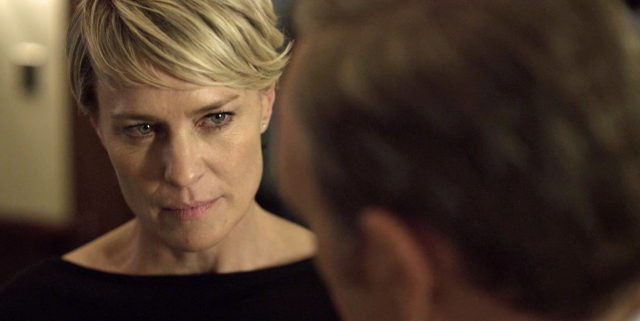 Kevin Spacey's portrayal of ruthless politician Frances Underwood might get the majority of the attention when it comes to Netflix's House of Cards, but anyone who watches the series will tell you that Robin Wright's Claire Underwood is just as much a force to be reckoned with. Her steely and complex portrayal of Claire has rightly been compared to a modern-day Lady Macbeth, with terrifying undercurrents that sometimes give way to a fragile core. Needles to say, the role isn't a simple one and Wright is nominated for "Outstanding Lead Actress in a Drama Series" for a second year in a row in as many tries because of it.
Wright's role on House of Cards represents the actress' first major role on a television series since she first got her start on the soap operas The Yellow Rose (1983-1984) and Santa Barbara (1984-1988.) Since then, her career has overseen a series of ebbs and flows that began when she was cast as Buttercup in 1987′s The Princess Bride. From there, well-received roles in films like Forrest Gump, Moll Flanders, and She's So Lovely soon followed, but a true breakout role alluded her throughout the 2000s, despite a series of strong turns in independent films. But now, Wright's star has catapulted to the top of the A-list as she continues to match Spacey on one of the country's most talked about shows.
Additionally, the second season of House of Cards saw Wright move behind the camera for the first time in her career, directing the well-received tenth episode of the second season, "Chapter 23″ — and according to Wright, the experience was positive enough that she's already starting to look past acting. "I have the bug. I love it," Wright told a group of reporters at a House of Cards press day earlier this year. "I wanna keep doing it. Kinda wanna stop acting … not kidding."
But before she decides to take up directing full-time and leave acting behind, she can rest easy knowing that there's a good chance that this will become the most successful year of her long career; after losing out last year to Homeland's Claire Danes, this could very well be Wright's year to take home the Emmy. With Homeland's status trending downward this season and Wright's portrayal of Claire Underwood getting all kinds of buzz, it's difficult to see any other actress winning the award over her – and it would be a shock if anyone did. In what is basically a perfect storm for Wright, the actress has the combination of commercial popularity, critical acclaim, and veteran status with the Television Academy that makes her an early shoe-in for the award.
But award politics aside, the fact that Wright stands out so starkly from the other talented actresses on the list tells you a lot about just how good she was this season (and last season) on House of Cards. A series that originally appeared destined for Spacey to run wild has now become almost a two-header, with the interaction between Frank and Claire Underwood becoming the centerpiece of the entire show. The fact that unlike Frank we still don't know exactly what Claire wants from this whole mess makes her one of the most interesting characters to watch.
[mediagraph-partner content_url="8486264a437fe65e7f9c63ac"][/mediagraph]
More From Wall St. Cheat Sheet: