Is the Royal Family Mad About Meghan Markle's Feminist Comments?
Meghan Markle recently made headlines for a comment she made about feminism. Markle's commentary about hoping that her baby will be a feminist has some fans wondering how that went over with the Royal Family.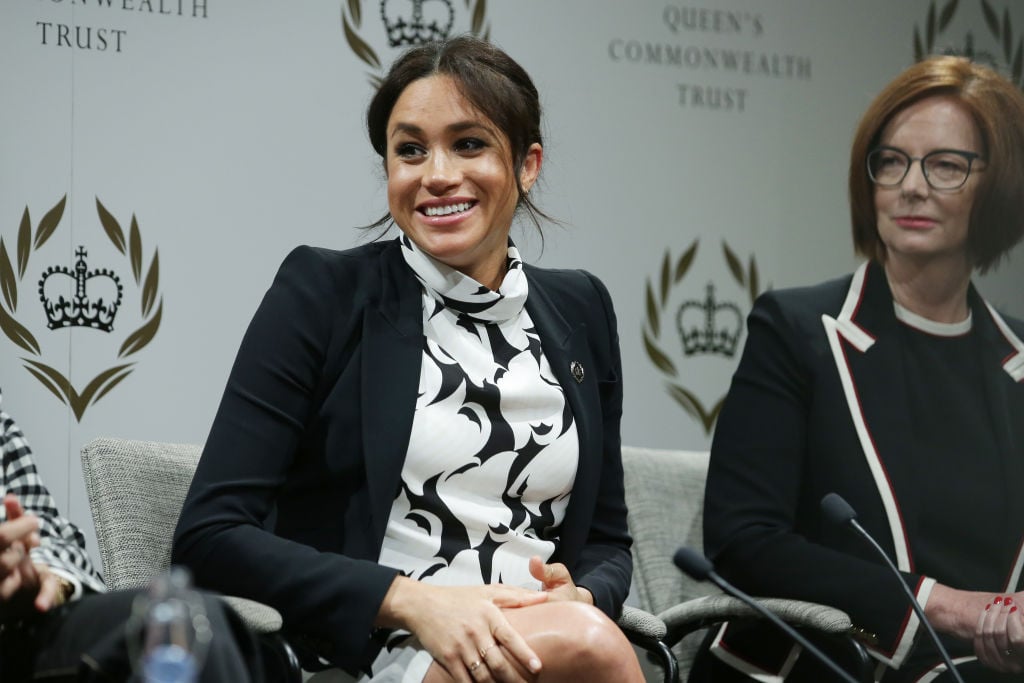 Meghan Markle is vocal about supporting gender equality
Markle has been quite vocal about her views on gender equality and women's rights, with the Duchess of Sussex discussing female empowerment and education during a 2018 tour of the South Pacific.
She told the students at the University of the South Pacific at the time: "Everyone should be afforded the opportunity to receive the education they want, but more importantly the education they have the right to receive."
She added that, "for women and girls in developing countries, this is vital. Providing them with access to education is the key to economic and social development. Because when girls are given the right tools to succeed, they can create incredible futures, not only for themselves but also for those around them."
Similarly, during the couple's trip to Morocco, Meghan Markle and Prince Harry visited the 'Education for All' boarding house in Asni, which gives girls access to secondary education.
Markle is the 'feminist princess of our dreams'
Vanity Fair's Michelle Ruiz explained the significance of Markle's feminist statements in the ABC News special Meghan's New Life: The Real Princess Diaries. Ruiz noted: "In these times and for this family it is pushing the envelope to give speeches on feminism."
Ruiz added: "It's certainly something the Queen doesn't do, nor does Kate Middleton do. Meghan is the feminist princess of our dreams. And for Americans, we sort of take pride in that, because we say 'look there's our American girl over there, shaking up the monarchy.'"
Markle's remarks that Baby Sussex will be a feminist
During an International Women's Day panel at King's College London, Markle was asked about her baby bump. She shared: "It's funny, I've actually been joking the last few weeks. I had seen this documentary on Netflix about feminism, and one of the things they said during pregnancy was 'I feel the embryonic kicking of feminism.' I loved that, so boy or girl, whatever it is, we hope that that's the case with our little bump."
Is Markle's comment frowned upon by the Royal Family?
While many applauded Markle's sweet comment, editor-in-chief of Majesty magazine, Ingrid Seward, isn't quite sure that the royals appreciate Markle's beliefs.
Seward told Yahoo UK's The Royal Box: "I don't think the Royal Family are ready for any feminist comments at all."
She added: "Some of the more old-fashioned courtiers just recoil when they see some of the things that Meghan says and is liable to say because they feel it might get her into trouble, because she might be putting her feet into the political abyss."
"The Royal Family don't talk about politics because they don't want to be criticized for that. Meghan is sort of walking a very tight, tight rope there," Seward explained.
Markle was just given a new role
The Queen just made Markle the Vice-President of The Queen's Commonwealth Trust, perhaps showing her support of the Duchess of Sussex's views.
Kensington Palace shared the news in an official statement, noting: "The Duchess of Sussex will today become Vice-President of The Queen's Commonwealth Trust. The Trust, of which Her Majesty The Queen is Patron and The Duke of Sussex is President, exists to champion, fund and connect young leaders around the world who are driving positive social change, serving their communities and providing hope, work and self-employment opportunities for others."
The trust shared more details of Markle's role, noting: "In this new role, the Duchess will highlight the trust's partnerships with young people across the Commonwealth, and in particular its work supporting women and girls."